Meet Dr. Emily Knox, 2019-20 iSchool Centennial Scholar
September 20, 2019
by Elena Carrillo, University of Illinois, Chicago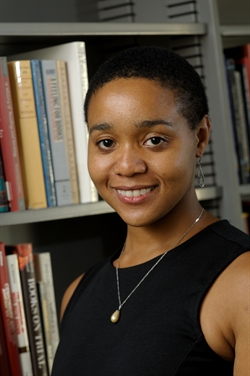 Emily Knox
Emily Knox received the honor of being named the 2019-20 recipient of the iSchool Centennial Scholar Award in recognition of outstanding promise and accomplishments in information science. Knox is an Associate Professor and BS/IS Program Director at the Illinois School of Information Sciences who has a doctorate in Communication, Information, and Library Studies from Rutgers University and was the 2015 recipient of ILA's Intellectual Freedom Award. 
In addition to numerous other achievements, she has recently published scholarship focused on information ethics. This year she co-edited a book called Foundations of Information Ethics with John T. F. Burgess, Assistant Professor in the School of Library and Information Studies at the University of Alabama, in which she also authored a chapter. She also recently published an article in the International Journal of Information, Diversity, & Inclusion (IJDI)  titled "Silencing Stories: Challenges to Diverse Books".
What was your dream job as a child? How did you become inspired to pursue work in information ethics?  
My dream job was to become a professor like my dad but I thought I would be a professor of religious studies.  Eventually, I became a librarian like my mom and I later combined both of my parents' jobs and became a professor of library and information science.
My primary research interest is intellectual freedom and censorship but I inevitably end up discussing ethics in that work.  We had an Information Ethics course on the books here at the School of Information Sciences but it hadn't been taught in awhile.  I was able to teach the course and have been interested in information ethics ever sense.
What do you consider the biggest threat to intellectual freedom today? What is the most important weapon in our arsenal to defend it?
The biggest threat to intellectual freedom is the lack of understanding of the importance of freedom of expression. It's my belief that the voices of marginalized people can only be heard when there is strong support for intellectual freedom. The term "free speech" has been distorted in our political atmosphere but it is times like these when the right to free speech is vital for the survival of our democracy. The most important weapon we have is championing the rights of others to speak out and amplifying diverse voices.  
What will the library of the future look like? What hope do you have for the future that is most important to you?
I always tell my students that when people think of "library" they mean the public library down the street that they went to when they were children.  Libraries have always been diverse and they will continue to be so. This means that there will be one-room public libraries like the one I just visited recently in Plymouth, CA and giant research libraries like the one here at Illinois, along with digital libraries and other "libraries without walls."  The most important thing for a library to do is to meet the needs of its users.
I'll keep this library focused and say that my hope for the future of libraries is that they continue to be supported by the communities they serve.
As President of the Board for the Freedom to Read Foundation, are there any current initiatives or opportunities you would like to promote to your colleagues in IACRL? 
The FTRF is always looking for new members!  Please join us. We are a legal and educational organization that supports everyone's access to information.  If you hear about a court case involving libraries and the freedom of expression, FTRF is the way to get involved.  We also have several grants and scholarships to support intellectual freedom education and advocacy.
You recently published an article in the International Journal of Information, Diversity, and Inclusion titled "Silencing Stories: Challenges to Diverse Books". What is your personal favorite banned or challenged book?
This is a difficult question to answer because so many books have been challenged but of the more recent books it's The Hate U Give by Angie Thomas. Thomas's book is timely and illuminating.  It's known as the "Black Lives Matter book" but it's so much more than that. It's a coming of age story with a protagonist who discovers her own voice.