Meet the new Vice President/President Elect: Sue Franzen
September 20, 2019
Interviewed by Andrea Jakubas, Illinois Institute of Technology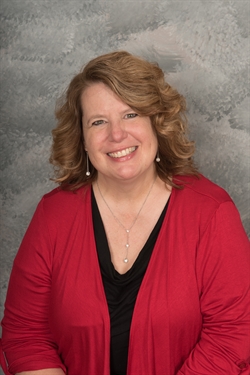 Sue Franzen
Congratulations on your election! What projects or opportunities are you most excited about?

Thank you! I am looking forward to the upcoming IACRL unconference and luncheon at the ILA conference in Tinley Park, October 22-24. Both are wonderful opportunities for academic librarians to network, get to know each other, and discuss important topics. IACRL membership is another topic about which I am passionate. I hope to persuade more of my academic colleagues to join the association because we are stronger as a group. IACRL has many exciting continuing education opportunities coming up, and I'd love for my peers to participate in them. 
What advice do you have for members who are considering running for a leadership position, in ILA or elsewhere?
Getting involved in our state organizations is incredibly important! As a leader, one can influence the future of our profession within the state of Illinois by creating new opportunities and advocating for our institutions. As a bonus, library leaders meet librarians throughout the state and from a variety of library types, which enriches our perspectives. I get so many great ideas from talking with others!
You are an active library advocate. In your opinion, what are the most pressing issues facing academic libraries today?

Academic libraries face many of the same issues as other library types. As librarians, we are often working harder because our libraries can't afford to hire more people or even fill positions that are vacated. The state funding crisis has hit many academic libraries hard, and although funding is improving some, we've all had to do more with less. Another related issue facing academic libraries is the rising cost of materials, especially electronic resources and journal subscriptions. I am excited about the work academic librarians across the country are doing to promote open access resources and encourage their use in academia.

Can you share three titles that have earned a space on your personal or professional bookshelf?
One of the most important professional books on my shelf is Embedded Librarian: Innovative Strategies for Taking Knowledge Where It's Needed by David Shumaker. I am invested in embedded librarianship, and Shumaker has influenced my evolution as an embedded librarian. Fiction is my passion, so it's difficult to choose just two personal favorites. My first choice is usually a historical mystery, including the Mary Russell series by Laurie King and the Sebastian St. Cyr novels by C.S. Harris.  
If you received a surprise day off, how would you spend it?

I love road trips! I would get in the car and take a drive without a plan. A few weeks ago a friend and I drove north until the road ended and then turned randomly. We ended up in Pontiac, IL and had a lovely afternoon at the Route 66 Museum, a local wine bar, the Pontiac-Oakland Auto Museum, and a sidewalk café followed by a walk along the Vermillion River that runs through town. I enjoy exploring new places and the spontaneity of not planning in advance.