Member Spotlight: Tracy Ruppman
September 20, 2019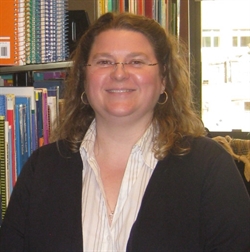 Tracy Ruppman
Interviewed by Emily Gilbert, Rasmussen College
IACRL: How did you decide to pursue librarianship?
Tracy Ruppman: I didn't really decide; it just sort of happened. Or maybe I was destined for it, and I hadn't known it. Halfway through my freshman year, I started volunteering in my high school library to get out of my study hall period. During my senior year, I worked at the public library (shout out to Peoria Public Library, Lakeview Branch) after school and the following summer. When I went to college at Loyola University Chicago, I figured the library would be a good place to get a job, so I worked in the cataloging department until graduation. Shortly after, I was hired for a full-time position in the serials department. After a couple of years, I switched to the reference department. About three and a half years later I decided to get my MSLIS from the University of Illinois, Urbana-Champaign.
IACRL: What are your main duties at Loyola?
TR: My title is Reference and Instruction Librarian and Liaison to the School of Education. So I do a lot of reference work and one-shot instruction sessions, primarily for students and faculty in the School of Education. In addition to that, I am also the supervisor for graduate assistants at the Reference Desk at Lewis Library. We don't have a library program, so these graduate assistants are in various other master's and doctoral programs at Loyola. I train them to answer basic reference and directional questions, and to assist patrons in the use of photocopiers/scanners and printers.
IACRL: What do you like best about your job?
TR: Working with and mentoring the graduate reference assistants is very high on my list. I've tried to get more than a few of them to give up the master's program they are in and consider a library program. None of them have done so (yet), but I keep trying! 
In my capacity as liaison, I really enjoy working with doctoral students who are embarking on their dissertation journeys. It's so gratifying to see them walk across the stage at commencement!  But my favorite thing is being able to order children's and young adult literature in support of our teacher training programs. They are the most fun books!
IACRL: As an academic librarian, which skills or personality traits do you frequently use?
TR: Adaptability, patience and listening skills. The student population at the Water Tower Campus ranges from 18 to 80, primarily in professional programs. We never know what people are going to ask. Yes, there are certain types of questions that we get every year at certain times.  But in general, questions are very random, and are more about problem solving than anything else. Many times those problems are not related to research or library resources at all. Students, and sometimes faculty, just need someone to listen and help. That's what I try to do.
This year I'm helping a colleague with instruction sessions for the Psychology Department. Last week when I arrived at my first psychology class, the instructor informed me that the projector wasn't working so I'd have to start the session without it. Luckily, the class was in a computer lab! I did the whole session, walking around the room, and every student was engaged and participated. It was one of the best classes I've done in a long time!
IACRL: What are you reading (or watching or listening to) right now?
TR: My favorite genre is dystopian Young Adult literature, and I'm a big fan of audiobooks. This summer I read All Rights Reserved by Gregory Scott Katsoulis and really enjoyed that. I recently started reading The Poet X by Elizabeth Acevedo, which is read by the author, and Armada by Ernest Cline, which is read by Wil Wheaton, who also read Ready Player One.
I love to watch reality shows. Chopped and Top Chef are two of my favorites, but I also love Project Runway, Survivor and The Amazing Race. One of my graduate students recently introduced me to Lizzo, so I've been listening to a lot of her music.
IACRL: If you received a surprise day off, how would you spend it? 
TR: At the beach! I recently purchased a condo by the lake and I love being able to walk out the door and onto the beach. I'm very much looking forward to walking along the lake in the winter!