IACRL Member Spotlight: Jennifer Jackson
October 1, 2018
Elena Carillo, University of Illinois at Chicago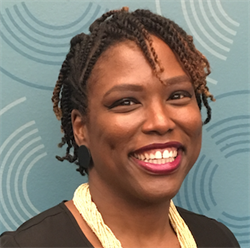 Jennifer Jackson is an Assistant Professor and Undergraduate Engagement Librarian at the University of Illinois-Chicago. In her current role, she leads library outreach efforts for diverse undergraduate populations in collaboration with stakeholders invested in student success, recruitment, and retention. She also designs and instructs information literacy sessions, with an emphasis on first-year programs. She believes that academic libraries should take a holistic approach to student success, engaging students not only in traditional ways, but with "a commitment to relevant, meaningful experiences" that support students to become lifelong learners. Jackson has an MLIS from the University of Illinois at Urbana-Champaign and was previously an Instruction and Learning Commons Librarian at the University of New Orleans.
EC: Describe yourself in three words.
JJ: Creative, outspoken, persistent. 
EC: What is the best thing about your current position?
JJ: The tenure-track faculty part of the position is new, I've been the Undergraduate Engagement Coordinator for some time now. My favorite thing about the position is the fact that I have the opportunity to communicate with so many stakeholders in the hopes of advocating for undergraduate students. In the end, it's not about me. Trying to do undergraduate engagement on a campus level is a challenging task, but what I'm most proud of is the connections I can make on behalf of the library.
EC: What does librarianship mean to you?
JJ: When I was getting my master's and became a librarian people said to me: 'you must love to read!' Actually, I don't that much. For me, it's about information and giving others the opportunity to access that information--and I was able to see what the access did for others.
EC: What's on your bookshelf right now?
JJ: I'm reading a lot of academic articles. I'm just in scholar mode because now that I'm on the tenure track, I am diligently trying to complete an article on belonging. The book I am currently reading is Art of Community: Seven Principles for Belonging by Charles H. Vogl.
EC: What is it like being on the ILA Board and what's the most important thing you are working on there?
JJ: I had a positive onboarding experience and participated in an orientation meeting this past september. We're now in the process of revitalizing a strategic plan. It's going really well--we got a lot of constructive feedback in terms of making sure that every member in Illinois is represented. I'm really looking forward to being part of the Board and sharing the experience with a diverse group of members.
EC: What do you think is the most important trend or challenge or opportunity for libraries going forward?
JJ: Just staying relevant. Because the landscape if always changing. I think it's imperative that we as librarians and library professionals are progressive. We need to know what our users want.  My hope with my role as Undergraduate Engagement Coordinator is that we are able to engage students in a variety of ways that speaks to their lived experience.