Message from the President
March 12, 2018
Carolyn Ciesla
Prairie State College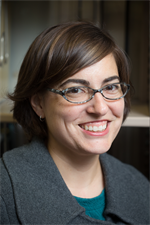 Happy Spring, IACRL members! At least, happy almost Spring? I know we're all looking forward to the warmer weather.
We have some exciting plans for IACRL this year, including a couple of professional development opportunities around the state. Both Gwen Gregory and Pattie Pietrowski have graciously volunteered to host webinar viewing and networking events at their schools (UIC and UI Springfield, respectively). Dates and topics will be announced soon, and we hope that many of you can attend!
I'd also like to encourage you to submit a presentation proposal for the annual ILA conference this October 9-11 in Peoria. As you may have heard, IACRL has decided not to continue holding its own conference. State budget cuts have severely reduced education travel allowances, forcing academic librarians to choose between an already small selection of professional development opportunities. Focusing our energy and resources on a single conference, and continuing our excellent partnership with ILA leadership, allows us to provide more robust programming and a greater opportunity to meet with colleagues from all over the state. The annual ILA conference is our chance as academic librarians to show the state our innovations, our passions, and our determination.
Lastly, as I head into the home stretch as President of IACRL, I want to thank each and everyone of you who has contributed their time and resources to supporting our efforts. IACRL is as strong as its membership, and I'm encouraged to see so much involvement and excitement. We will continue to look at events and conversations that will make your participation meaningful and worthwhile.