Member Spotlight: Reina Williams
March 12, 2018
Emily Gilbert
Rasmussen College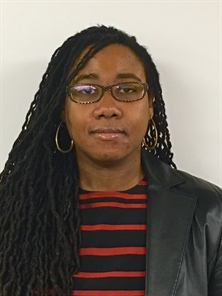 IACRL: Describe yourself in three words.
Reina Williams: Dedicated. Loyal. Hard-working.
IACRL: What is your current professional position and what do you like best about it?
RW: Currently I am the Reference Librarian and Education Coordinator in the Library at the Rush University Medical Center. I love teaching students, faculty, and clinicians how to search the library databases to answer clinical questions or to conduct biomedical research. I get a high from standing in front of a group and discussing how to perform research.
IACRL: What are you reading (or listening) to right now?
RW: I am listening to "I've Seen That Face Before (Libertango)"/Grace Jones on repeat!
IACRL: If you had a year off with pay, what would you do?
RW: This is a difficult question because I am a workaholic. I would sleep late every day, visit all my friends and families all over the world, and visit places I have always wanted to go like Mount Rushmore. Plus, I might spend some time doing research and write a manuscript for publication.
IACRL: Any big projects you are working on right now?
RW: I am contributing to several big projects at work. Recently, I led the task force to rewrite our library mission statement. Currently, I am collaborating with a faculty member from the Rush Medical College to develop a new research course. In the future, I am planning to collaborate with my library colleagues and others within Rush University to develop co-curricular assessments.
IACRL: Why did you decide to become a librarian?
RW: I decided to become a librarian when I learned there were other options besides being a public librarian. I was working at the Ryerson and Burnham Libraries as a serials assistant when I decided to become a librarian. My supervisor at the time, Pam Cipkowski, was extremely supportive and gave me lots of encouragement when I decided to enroll at Dominican University in River Forest, IL.
IACRL: If you could use one word to describe librarianship today, what would that word be?
RW: Transforming.