As a community library, many military and veteran families rely on you for information to help them navigate the unique challenges of being a part of a military connected family. You are in a unique position to support families, by providing them both with community resources to assist in times of need, and by sharing reading material and developing programs that will resonate with the military family's experience.
Ages 0 to 5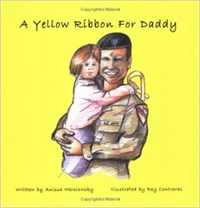 A Yellow Ribbon for Daddy (C)
Mersiowsky, Anissa/Contreras, Rey
Child and Family Press (1993)
SUMMARY: Book for military children going through a deployment. It asks the question from a child's perspective why their daddy has gone to fight and protect other children and families. It answers in an easy to read and rhyming format.
---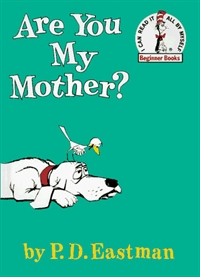 Are You My Mother? (S)
Eastman, P.D.
Beginner Books/Random House (1960)
SUMMARY: A baby bird goes in search of his mother in this hilarious Beginner Book edited by Dr. Seuss. When a mother bird's egg starts to jump, she hurries off to make sure she has something for her little one to eat. But as soon as she's gone, out pops the baby bird. He immediately sets off to find his mother, but not knowing what she looks like makes it a challenge. The little hatchling is determined to find his mother, even after meeting a kitten, a hen, a dog, and a Snort.
---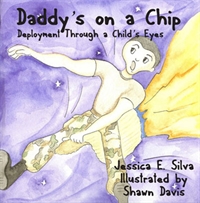 Daddy's on a Chip: Deployment through a Child's Eyes (S)
Silva, Jessica/Davis, Shawn
Maximillian Press
Summary: As a person with endless curiosity about how young kids' minds work (and a former preschool teacher), the author loved the examples of kids' very different understanding of what was going on with their dad. The book deals with the very literal way children think and their limited understanding of time and geography when they talk about what's happening with their military parent…. "Daddy came home on Tuesday from work and said he was going on a chip. Then Thursday we took him and lots of his stuff to the Navy and left him there. The place he works is sort of ugly and has Barbie wire on the fence. Everyone was sad. Even Daddy looked like he was going to cry."
---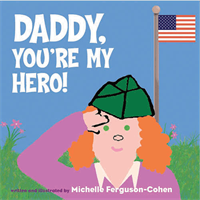 Daddy, You're My Hero (Mommy, You're My Hero) (P)
Ferguson-Cohen, Michelle
Little Redhaired Girl Pub Inc. (2003)
Summary: Ferguson-Cohen's You're My Hero! titles from the Books for Brats™ series were pioneers in the publishing industry. The titles help children coping with deployment and have been lauded by the press, educators, and children's organizations. Written and illustrated by a military brat whose father was deployed numerous times, the books promote pride in community and connect with her readers, as they are a unique insight into the heart of a military child.
---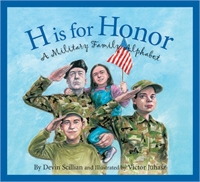 H Is for Honor: A Military Family Alphabet (P)
Scillian, Devin and Victor Juhasz
Sleeping Bear Press (2006)
Summary: Written by the son of a career officer, this book explores the branches of the Armed Services and speaks from the heart about the honor, privileges, and sacrifices of military families everywhere. Children will discover why drill sergeants have to be so tough, what it means to be patriotic and why we need Special Forces such as the Navy SEALS, the Green Berets, and the Army Rangers. "H is for Honor" also explains why the annual Army/Navy football game is more than just a game, how much letters from home mean to soldiers, how often military families have to move, and what life on base is like. With an underlying message of courage and commitment that every child can relate to, the book will be especially meaningful to those whose parents, siblings, or other relatives serve in the Armed Forces.
---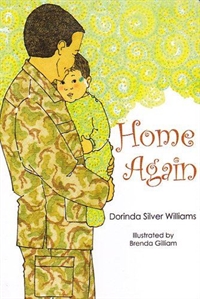 Home Again (C)
Williams, Dorinda Silver/Gilliam, Brenda
Zero To Three (2009)
Summary: This book perfectly describes several scenarios from the viewpoint of children aged infant/toddler through about kindergarten of what it is like when their hero comes home again.
---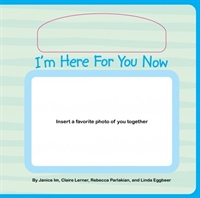 I'm Here for You Now (S)
Im, Janice, Claire Lerner, Rebecca Parlakian and Linda Eggbeer
Zero To Three (2006)
Summary: This book comforts young children experiencing stress and allows pictures of the child's caregivers to be inserted to personalize the story for each child.
---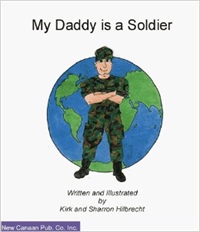 My Daddy Is a Soldier (My Mommy Is a Soldier) (P)
Hilbrecht, Kirk, Sharon Hilbrecht and Sharron Hilbrecht
New Canaan (2006)
Summary: Color picture book for young military families showing how Daddy's job is important.
---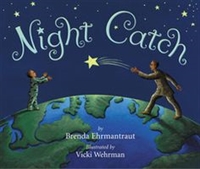 Night Catch (S)
Ehrmantraut, Brenda/Wehrman, Vicki
Bubble Gum Press (2005)
When a soldier's work takes him halfway around the world, he enlists the help of the North Star for a nightly game of catch with his son. Night Catch is a timeless story that connects families while they are apart and offers comforting hope for their reunion. Will also work for older children.
---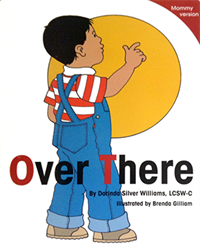 Over There (S)
Williams, Dorinda Silver
Zero To Three (2006)
Summary: Board book with both "Mommy" and "Daddy" versions for children to express feelings about a parent being away on deployment. Also available as a download that can be customized with personal photos and illustrations from the publisher: http://www.zerotothree.org/about-us/funded-projects/military-families/over-there-activity-book.html
---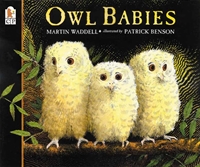 Owl Babies (S)
Waddell, Martin/Benson, Patrick
Candlewick Press (1996)
Summary: When three baby owls awake one night to find their mother gone, they can't help but wonder where she is. Stunning illustrations from unique and striking perspectives capture the owls as they worry about their mother: What is she doing? When will she be back? What scary things move all around them? Not surprisingly, a joyous flapping and dancing and bouncing greet her return, lending a celebratory tone to the ending of this comforting tale.
---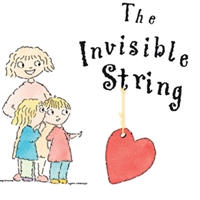 The Invisible String (S)
Karst, Patrice/Stevenson, Geoff
DeVorss and Co. (2000)
Summary: The description of how people are connected by love over long distances is so well done and understandable that it helped my three-year-old and five-year-old know that they were still connected to their dad even though they couldn't see him. It sparked a nightly ritual of "pulling Dad's strings," and we could feel him pulling back.
---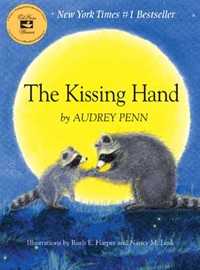 The Kissing Hand (S)
Penn, Audrey/Harper, Ruth E. and Nancy M. Leak
Tanglewood Press (1993)
Summary: A children's classic that has touched the lives of millions of children and their parents, especially at times of separation, whether starting school, entering daycare, going to camp, or facing a parent in the Armed Forces.
---
Ages 5 to 8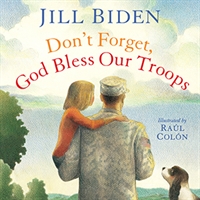 Don't Forget, God Bless Our Troops (P)(S)(C)
Biden, Jill/Colón, Raúl
Simon & Schuster/Paula Wiseman Books (2012)
Summary: Inspired by her own granddaughter Natalie, Vice President Joe Biden's wife, Jill, tells a story through a child's eyes of what family life is like when a parent is at war across the world. Pencil-and-watercolor illustrations support the gentle, wistful mood of this story based on the vice-presidential family's experience. The back matter offers solid, practical suggestions for supporting military families.
---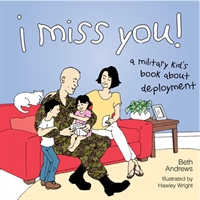 I Miss You!: A Military Kid's Book About Deployment (S)
Andrew, Beth and Wright, Hawley
Prometheus Books (2007)
Based on many years of experience as a social worker who has assisted military families experiencing stress, author Beth Andrews has created an excellent tool for allowing children and their loved ones to deal with the many emotions caused by deployment. The text and illustrations encourage children to discuss their feelings and to draw their own pictures to express themselves. The accompanying parents' guide is designed to validate parents' feelings and give them ways to help their children cope. Guided by this approach, a parent or caregiver can help their children understand why one of their parents or a sibling had to leave home, identify their reactions, cope with their feelings in a positive way, be assured that they are not alone, and try new activities to help themselves adjust.
---
I Need Dad and Dad Needs Me - A Loving Lesson about PTSD for Families (H)
Gorman, Connee and Kezzia Crossley
Summary: This book is designed to help young children begin to understand the effect of PTSD on a military family. It is written lovingly to guide families through the difficult transition from war to home.
---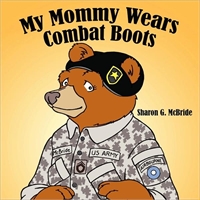 My Mommy Wears Combat Boots (S)
McBride, Sharon G.
AuthorHouse (2008)
Summary: As we march on through another year of war, many service members have already completed more than one deployment. Astonishingly, a lot of these service members are mothers, and they are not only balancing their commitments to their families but to the nation as well. My Mommy Wears Combat Boots is based the personal experience of a soldier and a mother who was seeking a wa...more Based the personal experience of a soldier and a mother seeking a way to explain why she needed to leave her child again and go to war. Young children are very limited when it comes to communication skills, and often have a difficult time expressing guilt, frustration, anger, loneliness, and sadness and often don't realize that it's normal to feel all of this and more as the result of their mom's deployment. The book seeks to explain to children the emotions associated with deployment and help them find a way to positively channel those emotions.
---
Ages 8 to 12
The Hero in My Pocket (L)
Lee, Marlene
Early Light Press (2005)
Summary: A unique resource for children whose lives are affected by the death of a U.S. military service member. With the death of their father – their own "Special Hero" – Greg, age ten, and Grace, age seven, find that children in military families often face additional losses compared to their non-military family peer group. The unique format also includes open-ended questions to encourage communication and understanding among children and adult caregivers.
---
Ages 10 to 15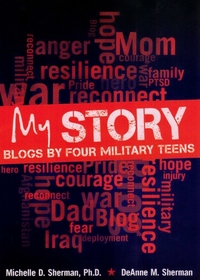 My Story: Blogs by Four Military Teens (S)
Sherman, Michelle D. and DeAnne M. Sherman
Beaver's Pond Press (2009)
Summary: A series of fictional blogs highlighting the feelings and experiences of four teens before, during, and after a parent's deployment. It provides support and education for all military teens and pre-teens by honoring their unique joys and sacrifices, addressing their fears and hopes, and exploring how parental deployment affects their lives. The blogs are a compilation of real life experiences of military kids collected by the authors.
---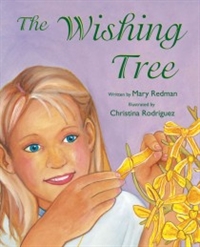 The Wishing Tree (S)
Redman, Mary and Christina Rodriguez
Elva Resa Publishing (2008)
Summary: Amanda understands her dad is making the world a better place, but it doesn't make his deployment any easier. After mulling over ways she can support her dad, Amanda creates a small wishing tree in her room, writing her hopes and prayers on yellow ribbons that she ties onto the branches. As Amanda wishes for her dad to enjoy good meals, make new friends, and return safely, the little tree comes to life with yellow ribbons of hope. Includes information about wishing trees.
---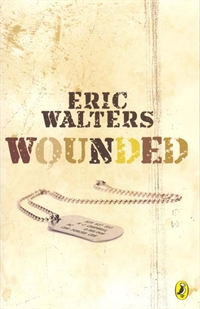 Wounded (H)
Walters, Eric
Penguin Books Canada (2005)
Summary: Marcus and his sister Megan are counting down the days until their father comes home from Afghanistan, and when the big day arrives, the family is overcome by happiness and relief that he's safe. But as the days pass Marcus begins to feel that there's something different about his father who barely sleeps, obsesses about news from Afghanistan, and is overly aggressive. His dad insists there's nothing wrong, but Marcus knows that he needs to get his dad some help before it's too late. "I have taught and worked with military families and am the spouse of a soldier.) I would highly recommend this book for any teen. It is a book that is finally able speak to students about PTSD and help de-mystify the idea that if someone comes home without any physical injuries, they are just fine."
---
Ages 14 – Adult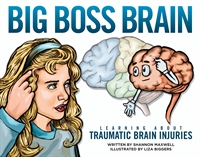 Big Boss Brain: Learning About Traumatic Brain Injury (H)
Maxwell, Shannon/Biggers, Liza
4th Division Press (2012)
Summary: An unprecedented look into the often invisible effects of traumatic brain injury (TBI) through the eyes of a child. The main character, Cassidy, guides readers on a journey of discovery to learn and answer questions about the physical, cognitive, and emotional/behavioral changes in a loved one following a TBI. Characterized images of Big Boss Brain further reinforce understanding of the brain's function, control, and damage in a manner kids can easily understand. The story captures the reader's attention and imagination, allowing them to believe in the possibilities of life together after traumatic injury. The often invisible effects of TBI are difficult for adults to fully comprehend; more so for children who are discovering the world around them. Big Boss Brain is a way of providing children with a vehicle to understand TBI and realize that they are not alone. While intended for children, Big Boss Brain also is instructive for adults. According to the Centers for Disease Control and Prevention, approximately 1.7 million people sustain a traumatic brain injury (TBI) annually. Author Shannon Maxwell once again draws upon her family's experiences following her husband's penetrating TBI to create a must-have resource for any family navigating or wanting to learn more about traumatic brain injury. Illustrator Liza Biggers joins Maxwell in this second collaborative endeavor—following their first, Our Daddy is Invincible!—bringing to life images sure to captivate readers of all ages.
---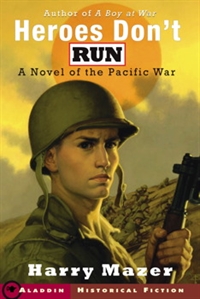 Heroes Don't Run: A Novel of the Pacific War (L)(P)
Mazer, Harry
Simon and Schuster (2005)
Summary: In the final part of Adam Pelko's story, which began with A Boy at War (2001) and continued in A Boy No More (2004), Adam, now seventeen, lies about his age so that he can join the Marines in 1944. Mazer did the same thing (though he served in Europe), and much of the power of this novel lies in the factual details, first of rough boot-camp training, and then of battle. This novel stands alone, but readers familiar with the previous books can't help but recognize Adam's haunting sorrow about his dad, killed at Pearl Harbor, and his longing for his distant Japanese American friend. The climax is the brutal battle with the Japanese on Okinawa ("We had to kill every one of them"), where Adam is wounded and sees comrades killed. A note fills in some background history. The clear first-person narrative is terse and gripping, graphic about the slaughter, and heartfelt about the loss.
---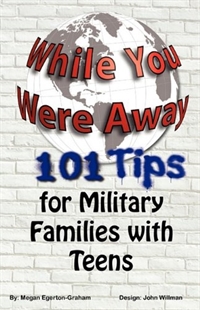 While You Were Away: 101 Tips for Military Families with Teens
Graham, Megan Jane Egerton
Egerton Graham Consulting (2009)
Summary: This book was created to support family members through any and all extended absences of a significant member of the family. All of the tips and suggestions have been tried and or tested by families experiencing absences. Think of this guide as a recipe book, some recipes will work perfectly for your family and some recipes your family would never even want to sample. The intent of the book is to make the absence easier and give your family the tools to thrive during their absence.
---
The Families and Children Working Group of Illinois Joining Forces has created this Librarian Tool Kit for Supporting Military and Veteran Families, and is working with the Illinois Library Association to help bring these programs and resources to libraries throughout Illinois.
The list is organized by age group, with letter keys for topic categories. The books were chosen by members of the IFJ Children and Families Working Group, all of whom have personal experience with military connected families. We suggest marking each book with a special purple sticker. For military and veteran families, the color purple is an indication that it applies to all of the armed forces – Army, Navy, Marine Corps, Air Force, and Coast Guard, and includes Reserve and National Guard forces; as a whole, we call this "Joint Services." We welcome additions to the list.
Key
P – Patriotic/general military family
S – Staying connected
C – Coming home
H – Healing heroes
L – Loss and bereavement
Format
Book title
Author/Illustrator
Publisher (Year)
Summary
Age group
Ages 0 to 5
Ages 5 to 8
Ages 8 to 12
Ages 10 to 15
Age 14–Adult
---
Building Your Collection
Some of the books on the list will be ones you already have in your library. Several books that speak of the lasting love between parent and child, even in absence, don't apply only to military separations, such as Owl Babies by Martin Waddell.
But many of these books may not be part of your current collection. We suggest designating someone on your staff as the Military Community Coordinator to coordinate purchases and books already in your collection.
If there is someone on staff with a military connection in their family, they may have a particular interest in the project and can work with local organizations such as the Veterans of Foreign Wars, the American Legion, the Lions Club, school groups, and others who may want to support the creation of your military and veteran book collection through donations or in other ways.
Once you begin working with military families in your communities, you may find that your Friends groups or other organizations want to become part of the project.
We also welcome suggestions to expand and deepen the booklist in their toolkit. Send recommended titles, as well as your experiences with any of the listed titles, to:
Kelcey Liverpool
Founder, Kids Rank
Liverpool@kidsrank.org