Illinois Library Trustee Spring Webinar
Thursday, April 30
10:00 a.m. - Noon 
Online (Zoom)


With the cancellation of the Oakbrook Trustee Workshop, the Library Trustee Forum is converting the in-person program to a free webinar. Registration for the live webinar is limited to Illinois Library Trustees. Others may view the recording when it is available. 

Plan – Implement – Communicate:  Building Strategic Planning and Storytelling Capacity for Community Impact
Is your library strategically focused for community impact?  Is the Board doing their part to maintain momentum? Are you sharing your library's success stories effectively?  
At this session, you'll learn how to develop an achievable strategic plan that's right for your library, not a plan that will sit on a shelf only trotted out once a year for an update.  Your Board-led strategic planning process will result in a plan that has strong buy-in from all stakeholders involved and is rooted in community needs.
With a great plan in place, you'll learn the Board's role in implementation and how aligning updates and reports with plan milestones will upgrade your monthly meetings and create clear understanding about progress towards plan goals.
Finally, you'll see how to connect the plan and implementation to communicate stories of community impact.  You'll understand how to use these messages to show value and community transformation.
Through these three steps – plan, implement, and communicate – you'll transform the Board's capacity to effectively guide the library – and community – to an aspirational future. 
Handouts
---
About the Presenter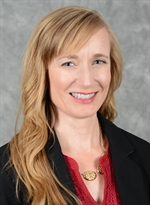 Amanda E. Standerfer
Amanda's passion is helping libraries and nonprofit organizations advance so they can create meaningful impact in their communities.  Since 2002, Amanda has served as a consultant and facilitator, working with libraries and nonprofits on strategic planning, fundraising, organizational development, and capacity building.  Amanda is currently the Director of Development & Promotion for The Urbana (IL) Free Library.  She's spent half of her career working in philanthropy (as Program Officer for The Lumpkin Family Foundation based in Mattoon, IL and as Program Director with the Southeastern Illinois Community Foundation, serving Effingham and Mattoon, IL) and the other half in libraries (as Head of the Adult Division at the Decatur (IL) Public Library and as Director of the Helen Matthes Library in Effingham, IL).  She loves melding her library and philanthropy knowledge – calling herself a "philanthro-brarian." 
Amanda has twice been elected to the Board of the Illinois Library Association (ILA), most recently completing a three-year term in 2016.  She also served as an elected Trustee for the Windsor Storm Memorial Public Library in Windsor, IL. Amanda holds a B.A. and an M.A. in history from Eastern Illinois University and an M.S. in library and information science from the University of Illinois at Urbana-Champaign. 
This webinar is supported by the Illinois State Library, using funds provided by the U.S. Institute of Museum and Library Services, under the provisions of the Library Services and Technology Act (LSTA).