Elevate Illinois Libraries Leadership Program
Saturday, April 27, 2019
8:30 a.m. - 4:30 p.m.
Illinois State Library
Elevate is a statewide library initiative to recruit and nurture future Illinois library leaders. This year's Elevate Program will focus on how to build effective teams. Why do some teams succeed and other fail? How can teams make great decisions? Why do we tolerate bad teams?  Using research and best practices from thousands of team members, this workshop answers questions about working with others toward common goals - one of the most rewarding (and frustrating) aspects of any organization.  Through case studies and small group discussion, participants will learn how to help teams get off to a great start and build toward success as well as how to diagnose and solve common team problems.
Applying to Attend Elevate
Illinois libraries of all sizes and types make a big impact on their unique communities and Elevate should represent this diversity. Future leaders from all types of libraries (academic, public, school, and special) and all parts of Illinois are encouraged to apply. Applicants are not required to hold any specific positions in their library, but should have an interest in developing as a leader. An MLIS is not required. 2018 Elevate participants may apply to attend this year. 
Elevate will offer approximately 6.5 professional development hours to school librarians who attend. 
The registration fee for the program is $100 per participant. This fee covers materials and meals. Participants will be responsible for their own travel expenses. Participants will have a few hours of mandatory pre-work prior to the one-day workshop in order to best utilize our time together. 
The application deadline is Friday, March 1. Notifications on status of applications will be sent by March 11. If you have questions about your application, please contact Cyndi Robinson at robinson@ila.org or 312-644-1896.

Workshop Facilitator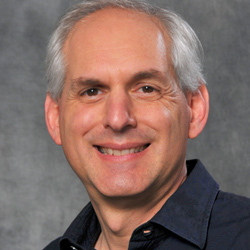 Adam J. Goodman, Ph.D., Northwestern University
Adam Goodman is an award-winning educator, researcher, and trusted advisor to leaders of companies, non-profit groups and other organizations. He directs Northwestern University's Center for Leadership and is a Clinical Professor in the McCormick School of Engineering and Applied Science.
An active consultant today and for over 25 years, he has advised over 100 CEOs, senior officers, executive teams and boards of directors and given hundreds of invited speeches and workshops in the United States and around the world. Clients include the American Library Association-Public Library Association, Ball Corp., the Government of Canada, Kaiser Permanente, the National Association of State Budget Officers, Navigant, New Belgium Brewing, the Robert R. McCormick Foundation and TIAA- CREF. Goodman chairs the Drupal Association board and is a trustee of the Evanston (Illinois) Public Library. He was a co-founder or partner of three management consulting firms and Catapult, a software company based on his research. Goodman was also a board member of Solbourne Computer Inc. until its acquisition by Deloitte.
His current research is focused on leadership and teamwork assessment using enterprise-level software as well as training programs for leadership coaching. Past work includes development work with over 30 leadership programs around the world, design of national model leadership programs, development of 6 Leadership Questions® (an assessment and learning tool), and a national survey of public sector leaders. He was the founding co-chair of the Research Section of the International Leadership Association, the world's largest association devoted to leadership, and a Distinguished Visiting Professor at Johnson & Wales University. The Adolph Coors Foundation, Boettcher Foundation, El Pomar Foundation, Ford Foundation, Gates Family Foundation, IBM and John Templeton Foundation have recognized and supported his work. He has published articles and two academic works (Community Trusteeship and Public Leadership).
For 12 years, Goodman was President and CEO of the University of Colorado's Leadership Institute, the nation's oldest leadership studies program. During his tenure, the Institute became the nation's largest teaching and research program in higher education dedicated to the study and practice of leadership. Previously, he was a Special Assistant to the President of the University of Colorado with responsibility for external and student affairs.
Goodman earned a Masters Degree in management and a Ph.D. in leadership from the Graduate School of Public Affairs at the University of Colorado, where he was a Presidential Fellow.
#ElevateIL19


Elevate Sponsors