Western Illinois University's Zellmer Receives 2017 Mary B. Ansari Distinguished Service Award
October 2, 2017
Linda Zellmer, who is Associate Professor of Libraries at Western Illinois University, is the 2017 recipient of the Mary B. Ansari Distinguished Service Award. The Award, which the Geoscience Information Society (GSIS) sponsors, honors major contributions to the field of geoscience information. Zellmer will receive the Award at the GSIS's annual meeting this October.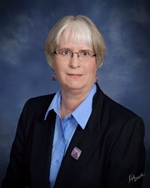 Zellmer has worked as WIU's Government Information and Data Services Librarian since 2008. In that role, she is also the WIU Libraries' liaison to several science departments at the school. Previously, she was the head of Indiana University's geology library, and she has also worked at Arizona State University, the University of Wyoming, and Oklahoma State University. Among her major research interests are access to geographic and geological information maps and the role of Geographic Information Systems in libraries. She has published many scholarly articles covering those subjects.
She has a long history of participation in GSIS, including serving as the organization's President in 2003. In addition, Zellmer has been a member of several GSIS committees, including the Publications Advisory Committee, the Microforms Subcommittee, and the Geonet-L Advisory Board, the last of which she chaired. She has also served as an instructor for Geoscience Librarinaship101.
Zellmer's work has received high praise from her colleagues, including WIU Dean of University Libraries Michael Lorenzen "Linda is well deserving of this award," he said. "She is dedicated to helping patrons at Western and from the community, and is one of the more respected, and probably the most accomplished, map librarians in the United States."