Health Science Librarians of Illinois Update
March 15, 2023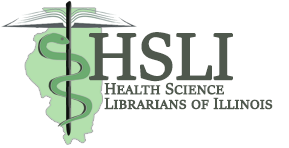 Eric Edwards, Illinois State Library
The Health Science Librarians of Illinois (HSLI) organization is currently planning its 2023 Annual Conference. The one-day meeting will take place in person, most likely in the Chicago area. The Conference will include speakers, continuing-education sessions, and networking opportunities. This will be the first time since 2019 that HSLI has held an in-person meeting. Please watch the IACRL listserv and the HSLI website, www.hsli.org, for more updates as they become available. 
The HSLI Journal Club continues to meet quarterly. The February meeting included a chance for attendees to interact with some of the authors for the article under discussion, and the Journal Club plans to invite article authors or podcast creators to future meetings, too. We are working on planning additional educational and networking opportunities throughout the year. Please watch the IACRL listserv and the HSLI website for news on these opportunities, also.
Speaking of the website, it has been undergoing a significant update, to make it more visually appealing and easier to navigate. HSLI also has a newly refreshed logo, featured in this article.