Meet Michelle Nielsen Ott, the 2022 Illinois Academic Librarian of the Year
September 29, 2022
Interview by Christina Norton, Bradley University
Congratulations on your award! This isn't the first time you've appeared in our newsletter, thanks to your service to IACRL in the past. But for those who haven't met you yet, can you tell us about your academic background?
I started working in libraries when I was a graduate student at Vanderbilt University. I fell in love with working in libraries and after graduation, decided to go to grad school again to earn an MLIS from the University of Wisconsin-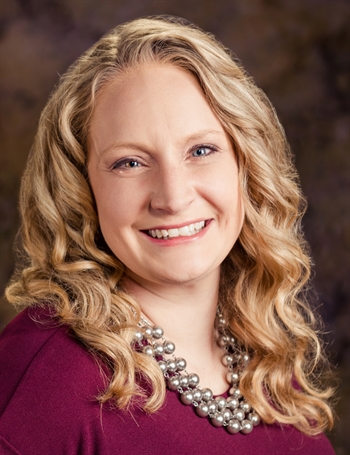 Michelle Nielsen Ott, 2022 Illinois Academic Librarian of the Year
Milwaukee. In 2009, I moved to Peoria with my husband and daughter and have worked in academic libraries in the area ever since. We also expanded our family with a son. I started at Illinois Central College as the Outreach and Reference Librarian, then I was the Director of Library Services at Methodist College, and now I am an Assistant Professor and Sciences/Health Sciences Librarian at Cullom-Davis Library at Bradley University. I have also been an instructor for the Library Technical Assistant program at Illinois Central College since 2011.
What's a typical day look like in your current position?
I am still figuring this out since I haven't been in my position for even a year yet. One of the things I love about working in a library is that every day is different. I spend a lot of my time right now conducting research consultations with graduate students and teaching instruction sessions. 
What's your proudest accomplishment so far in your library career?
Winning this award! I have always looked up to past winners of this award and I was so surprised when I was notified that I won. I am also very proud of my time on the executive committee for IACRL. Being elected to state-wide office and being selected as an award winner by my peers is very special to me.
Do you have advice for those looking to be involved in professional service?
If you are looking to be involved, just go for it and let an organization know that you are interested in serving. I got involved in IACRL by just talking to people at the IACRL booth at an ILA Conference. I joined the IACRL membership committee, then a few years later, elected as treasurer, and a few years after that, I was elected as Vice President/President-Elect. In a few months, there will be a call for committees for IACRL, and getting involved at the state-wide level is a great opportunity to make a contribution to the profession!
When you're not super busy with all of that, what are you reading for fun right now?
On Audible I'm listening to Ace of Spades by Faridah Àbíké-Íyímídé. It's a suspenseful Gossip-Girl but with real mean people story told by dual narrators, so it's interesting to listen to it as an audiobook. I'm also reading A Lady for a Duke, by Alexis Hall, which is an LGBTQ Regency romance.