ILA 2022 Conference Preview
September 29, 2022
by Robin Harris, Northeastern Illinois University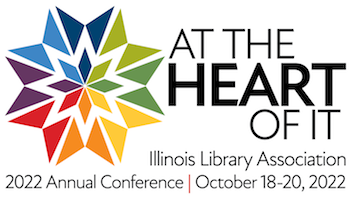 The Illinois Library Association Conference will be held in-person for the first time in more than two years! ILA 2022 will be held October 18-20 at the Donald E. Stephens Convention Center in Rosemont, Illinois. This year's theme, "At the Heart of It," focuses on what brings us together and how we can remove barriers to collaboration, as well as renewing connections to find purpose within ourselves, our organizations, and our communities.
 Featured Academic Library Speakers
The conference will kick off with a keynote by Amy Tureen, the Head of the Library Liaison Program at the University of Nevada, Las Vegas. She will speak to her collaborative work with multiple stakeholders to establish, expand, and support initiatives that support student learning, research production, and the adoption of open educational resources and low-cost textbooks. Also of interest to IACRL members is the IACRL Luncheon, held on October 19 and featuring Dr. Anthony Dunbar, Assistant Professor in the Dominican University School of Information Studies (SOIS). He is an equity, inclusion, and justice (EIJ) thought leader and serves as the SOIS EIJ Coordinator. Also speaking on October 19 is Elaina Norlin, Professional Development DEI Coordinator for the Association of Southeastern Research Libraries.
IACRL Unconference
The IACRL Unconference will be held 8:00 -10:00 AM on October 19, and will provide a space for academic library workers to network, share ideas, and discuss topics important to everyday work. Interested? Learn more from our IACRL Unconference article.
IACRL @ ILA
Presentations with academic library content are labeled with an "IACRL @ ILA" and/or "Academic" tag within the program schedule. When perusing the conference program, be sure to make note of the following offerings presented by IACRL members.
Time

Date

Session Title

Presented By

10:45 - 11:45 AM

10/18/22

Collaboration, Communication and the Cataloger: Measuring the Impact of Enhanced Cataloging on Discoverability of Library Resources

Cathy Mayer

North Park University

 

Debbie Campbell

Consortium of Academic and Research Libraries in Illinois

 

Dennis Krieb

Lewis & Clark Community College

 

Mary Konkel

College of DuPage Library

 

Mingyan Li

University of Illinois Chicago

 

Ross Taft

Illinois State Library

 

Susan Howell

Southern Illinois University Carbondale

 

Tammie Busch

Southern Illinois University Edwardsville

 

4:00 - 5:00 PM

10/18/22

The Heart of a Library: Getting to Know Each Other

 

Angela Yon

Grace Allbaugh

Sue Franzen

 

Illinois State University

 

3:00 - 4:00 PM

10/19/22

CARLI presents: the Open Illinois Hub

 

Christopher Sweet

Illinois Wesleyan University

 

Daniel Matthews

Moraine Valley Community College

 

Elizabeth Clarage

Consortium of Academic and Research Libraries in Illinois

 

Tineka Scalzo

City Colleges of Chicago

 

9:00 - 10:00 AM

10/20/22

Policy Evaluation Workshop: Reviewing Library Policies through a DEI Lens

Alissa Droog

Kimberly Shotick

Michele Hunt

Northern Illinois University

 

Sarah McHone-Chase

Aurora University

1:45 - 2:45 PM

10/20/22

Finding Common Ground: Assessing Research Consultations across Academic Libraries of Differing Sizes

 

Edward Remus

Northeastern Illinois University

 

Rebecca Yowler

Knox College

 

Sierra Campbell

Lewis University

 

Valerie Neylon

City Colleges of Chicago
 Registration for the ILA 2022 Conference ends on October 12. Hope to see you there!