Message from the incoming IACRL President: Dan Matthews
September 29, 2022
Dan Matthews, Moraine Valley Community College
Hello IACRL! I'm looking forward to the year ahead. Librarians continue to do lots of excellent and exciting work around the state, and it's infinitely encouraging to see. We also continue to transition into new territory, and I'm confident that we will be able to move forward with the knowledge and experience we've gained over the last couple of years. I know I am thinking a lot about what I've learned regarding how best to: consider the needs of others, serve our students and communities, and set my own work-life boundaries.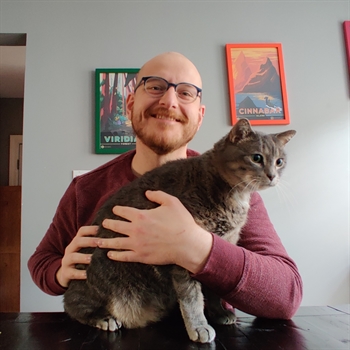 IACRL President Dan Matthews and friend
Looking towards the ILA Annual Conference, there will be a couple dedicated ways to get in touch with IACRL. Check out the sessions with the tag IACRL @ ILA to see presentations by your academic librarian colleagues. We will be in-person this year, so you can stop by the IACRL booth in the vendor hall and say hi while you're passing through. On Wednesday, Oct 19th, the unconference will be happening at 8am. Join us to meet up with fellow academic librarians around the state. We'll be generating our conversation based on your interests, so bring whatever has been on your mind to be part of the discussion. We will also have our IACRL Luncheon on the 19th from 12-1:30pm. I'm excited that Dr. Tony Dunbar will be joining us with his presentation - "Compassion, Commitment, and Courage: An Equity and Justice Conversation." Here's a bit about it:
This session offers an intellectual storytelling approach intended to both inform as well as inspire. Using the themes of Compassion, Commitment, and Courage, Dr. Tony Dunbar, shares ways to approach equity, inclusion, and justice conversations whether the goal is to identify and increase personal capacity and/or engage a community to embrace a vision.
Keep an eye out for our email list, Facebook, and Twitter for other events that IACRL will host throughout the year. We'll be continuing our journal club, where we will get together to discuss various topics on academic librarianship. I have personally found these a great place to hear about what my peers are doing and get some inspiration for my own work. We'll also be continuing our SPARK event this year. Keep an eye out for details and consider submitting a proposal!
IACRL works because our members get involved and because we receive immeasurable support from our ILA staff. Many thanks to all of you for making IACRL what it is, and continuing to push for growth and improvement.

I am pumped about the coming year, and again, I look forward to seeing all the amazing work that librarians all across Illinois will be doing. I want everyone to get the most out of their time as a member of IACRL, so if there is anything you'd like to discuss, questions you'd like to ask or just want to get involved, please email me. I'd be happy to chat.