Message from the Incoming IACRL President: Emily Gilbert
September 23, 2021
Emily Gilbert, Rasmussen University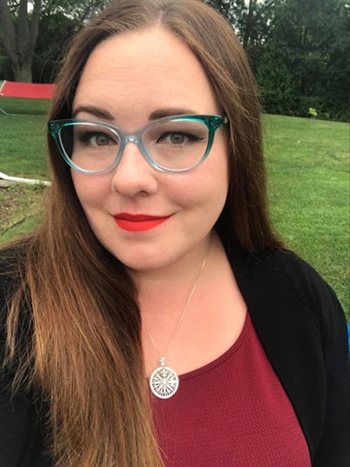 Incoming IACRL President, Emily Gilbert
Hello, IACRL! I am delighted to be your President for 2021-2022 and to lead the organization through another year of opportunities for development and community. For many, 2021 has so far been a roller coaster of ups and downs as we navigate through year two of the pandemic, and I know that most of us are beyond tired from living through a prolonged global crisis. However, in these very challenging times, the thing that has helped me most is to turn toward others. I am immensely grateful for this group of library professionals with whom I have laughed, commiserated, and bounced ideas around.
Though the ILA conference had to be moved online for the second year, I am still excited for the opportunity to connect with and learn from other Illinois library professionals. Be sure to check out the IACRL @ ILA offerings and support your Illinois academic library colleagues! The IACRL annual meeting will be held on Tuesday at 1:30 PM; please join us to hear what IACRL has been up to and engage with a special activity from the Diversity, Equity, and Inclusion committee. And on Wednesday, the IACRL Unconference will be held starting at 9:00 AM; we are excited to bring this offering back to the conference after missing it in 2020.
Outside of the conference, there are lots of other ways to engage with IACRL. After a summer hiatus, our Journal Club resumed in September and will continue with bimonthly meetings; keep an eye out on our social media for a link to register for the November meeting and join us for a fun, informal conversation. We will also be continuing our Spark event series soon, and we are looking into a virtual social event. Be sure to follow us on Facebook and Twitter, and join our email list to be informed of future offerings. We would love to see you at future events
As a volunteer organization, we would not be able to do this work without the support of our committees, board, and the ILA staff. I want to extend heartfelt thanks to these groups of talented professionals who make IACRL tick. If you would like to get to know more Illinois academic library workers and give back to the organization, I encourage you to join us! Please email me at emily.gilbert@rasmussen.edu if you are interested in joining one of our committees.
I look forward to working with everyone to make this another productive year for IACRL. As IACRL members, this is your organization—please contact me if you have any ideas for future events or offerings that you would find particularly meaningful, or if there is a way that we can better support you!