Health Science Librarians of Illinois Update: Fall 2020
September 23, 2020
Health Science Librarians of Illinois Update: Fall 2020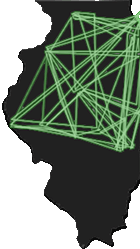 by Eric Edwards, Illinois State Library
As with many library organizations, the Health Science Librarians of Illinois (HSLI) have had to adapt in the midst of the COVID-19 pandemic. The main impact so far has been the cancellation of this year's HSLI Annual Conference, which was to have taken place at the Starved Rock State Park and Lodge in Utica, IL, from September 2 to 4. The in-person meeting is now tentatively rescheduled for October 27-29, 2021, at Starved Rock State Park and Lodge.
In the meantime, the HSLI Conference Planning Committee is considering alternative programming, such as webinars and continuing-education sessions, for people who were interested in attending this year's meeting. Potential topics include health literacy, gender issues, and archives. The Conference Planning Committee hopes to offer programming during the weeks of November 9-13 and November 30 – December 4. Please check the Health Science Librarians of Illinois Conference webpage, at http://hsli.org/conference/, for details as they become available.
To learn more about HSLI as an organization, including opportunities to join HSLI or volunteer for a committee, go to https://hsli.org/. Please direct any questions to the incoming President, Cynthia Reynolds, at cmreynol@uic.edu, or the outgoing President, Royden Jones, at jones_royden@yahoo.com.