Legislative Update -- February 6, 2020
February 6, 2020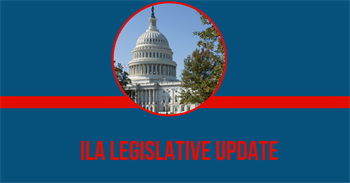 ILA's Public Policy Committee met on 2/5/2020 and discussed the current status of bills ILA is following, opposing, and supporting, in particular:
FEDERAL UPDATE
On the federal level, ILA Executive Director Diane Foote will travel to Washington, DC for ALA's Fly-In Day on February 11 along with Rockford Public Library Director Lynn Stainbrook to advocate for federal funding for libraries; we are seeking increased funding for IMLS to $206 million and full funding for the Innovative Approaches to Literacy Act at $27 million for fiscal year 2021. Foote and Stainbrook will meet with the Illinois Representatives serving on the House Appropriations Committee, Mike Quigley and Cheri Bustos; with both Illinois Senators Tammy Duckworth and Dick Durbin, and Representative Jan Schakowsky.

As the 2020 Census draws closer, ALA has released an updated version of "Libraries' Guide to the Census," and has made available a recording of the January 30 webinar "Responding Online to the 2020 Census: What Libraries Need to Know."

BROADBAND ADVISORY COUNCIL
In 2019, ILA advocated for the inclusion of a librarian on a planned Broadband Advisory Council; Illinois libraries are currently represented on the BAC by ILA Executive Board member Anne Slaughter. The BAC recently released its first report.