Interview with Gwen Gregory, Illinois Academic Librarian of the Year
September 20, 2019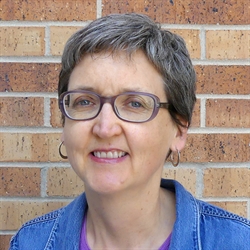 Gwen Gregory
by Emily Gilbert, Rasmussen College
IACRL: Congratulations on winning Illinois Academic Librarian of the Year! Did you do anything fun to celebrate?
Gwen Gregory: My colleagues at work got me flowers, which was very special. I feel like I'm still celebrating until the official awards lunch in October.
IACRL: Could you tell us a little about your current role?
GG: I am the head of the Resource Acquisition and Management Department at the University of Illinois at Chicago Library. Our department does all the acquisitions, cataloging, and electronic resources management for the UIC libraries, and collection maintenance and preservation for the Daley Library. Right now we are working hard preparing for the transition to Alma, and were recently part of CARLI's Alma Vanguard.
IACRL: You've been involved in a lot of library organizations; how has that enriched your professional life?
GG: I always enjoy meeting colleagues and talking with them about all kinds of things. Library organizations provide great ways for librarians to get to know each other, share ideas, and work together on projects. Even when it's commiserating about our shared challenges, these connections are powerful. I learn so much from other librarians. I always appreciate the opportunity to do something meaningful with professional groups; it means so much to me when I know that my contributions matter. Especially on the local level, one person can really make a difference.
IACRL: Do you have any advice for academic librarians who want to get more involved in organizations but don't know where to start?
GG: Being part of ILA and IACRL is a great start. You can meet other academic librarians in Illinois and be a leader in providing professional development for them, even if you don't have a lot of money for travel or conferences. You can also explore national organizations. Ask trusted colleagues about what organizations they find rewarding and useful. Take advantage of mentoring or buddy programs offered by professional organizations. Find a library issue that you feel passionate about and volunteer to help in any way you can. I really enjoyed my work with REFORMA: The Association to Promote Library & Information Services to Latinos and the Spanish-Speaking on both the national and local level over the years.
IACRL: What has surprised you the most about a career in libraries?
GG: I have been working in libraries since I was an undergraduate, and have worked in nine libraries in four states. I have been privileged to have some wonderful colleagues and mentors. I'm not surprised that libraries continue to be a vital force in higher education and society. I am heartened by how libraries continue their traditions of service and activism, searching for new ways to make a difference in our world.