Linda C. Smith Inducted as an Illinois Library Luminary
February 22, 2019
Linda C. Smith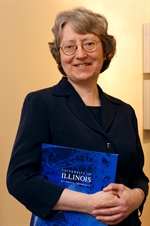 Linda's nearly 50-year career began when she came to the University of Illinois at Urbana-Champaign, Graduate School of Library Science (now the School of Information Sciences) in 1971 shortly after graduating summa cum laude in physics and mathematics from Allegheny College (PA). She received her M.S. from Illinois in 1972 and spent a year at Washington University School of Medicine Library in St. Louis as a Trainee in Computer Librarianship.  She then earned an M.S. in Information and Computer Science from Georgia Institute of Technology in 1975 and a Ph.D. from Syracuse University, School of Information Studies in 1979.
Currently, Linda serves as Executive Associate Dean for the School of Information Sciences at the University of Illinois, where she began as an assistant professor in 1977. She has been routinely named to the university's List of Teachers Ranked as Excellent throughout her tenure and was named a University Distinguished Teacher-Scholar in 1999. She works with graduate students on-campus (MS, CAS, PhD) and, since 1997, online (MS, CAS).
A prolific writer, Linda has authored books, journal articles, chapters, reports and conference papers, and served as co-editor for five editions of Reference and Information Services: An Introduction(Libraries Unlimited). Her most recent publication is the co-authored chapter "Transforming Library and Information Science Education by Design" published in Advances in Librarianship (v. 44A, 2018).  Linda is also the recipient of numerous awards, honors, fellowships and grants. She has been an invited speaker in Finland, The Netherlands, Sweden, and throughout the United States.
Linda's memberships include the American Library Association, American Association for the Advancement of Science, Association for Information Science and Technology, Association for Library and Information Science Education, Association for Computing Machinery, Beta Phi Mu, Health Science Librarians of Illinois, Illinois Library Association, Medical Library Association, and Special Libraries Association, among others. She continues to serve on a variety of committees at the university and in professional associations, most recently as a member of the American Library Association's Committee on Accreditation.
Inducted January 31, 2019