Meet the New Officers: President-Elect Michelle Nielsen Ott
October 1, 2018
Andrea Jakubas, Illinois Institute of Technology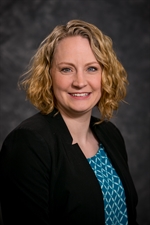 AJ: Congratulations on your election! What would you like other IACRL members to know about you?
MNO: Thank you.  I am so honored to be elected. I am a pretty active person. I love being a librarian and in my "free" time I care for my family and volunteer in the Peoria area. I am also a member of the Peoria Triathlon Club and just completed an Olympic distance triathlon last weekend in Litchfield, IL.
AJ: As President-Elect, what advice do you have for members who are considering running for a leadership position, in ILA or elsewhere?
MNO: My motto is to get involved. I started with IACRL after meeting some lovely librarians at the IACRL booth at the ILA Annual Conference. I simply said I wanted to be involved and soon I was on the membership committee and helping to plan an IACRL conference. After a few years of participation, I was asked to run for secretary and I was elected. A few years later, I was asked to consider running for President-Elect. If you have a passion, then ILA or IACRL has a place for you to explore that passion. So my advice is to get involved, even one hour a month can really help the organization and help you grow professionally.
AJ: The ILA Conference will be in Peoria from October 9-11, 2018 this year. What can IACRL members expect to gain from this year's conference?
MNO: IACRL members should note the "IACRL @ ILA" track for conference sessions. There are quite a few options for academic librarians with presenters from all over the state. Also attend the IACRL Unconference on Wednesday morning for some collaborative programming. We do need your participation at the Unconference. The ILA Conference is a great way to network, especially at the IACRL luncheon on Wednesday, so I recommend you attend if you can.
Also, I live in Peoria so if anyone has any questions about the town, I am happy to answer.
AJ: Can you share three titles that have earned a space on your bookshelf (either professional or leisure reading)?
MNO: I mostly read young adult and middle level books. I just love the coming-of-age story. Most books don't have to earn a space, I am happy to pile them in (my husband is less happy about it). I did just read a great middle level book I recommend called "Counting by 7s" by Holly Goldberg Sloan. My favorite book is "The Chosen" by Chaim Potok. The book I am currently reading for professional development is "Easy Graphic Design for Librarians" by Diana K. Wakimoto. I am a solo librarian so I have to develop a lot of skills I did not know I would need.
AJ: If you received a surprise day off, how would you spend it?
MNO: That would be a surprise! I would probably go for a run, read, and watch Netflix. I would also go out for lunch with a friend. And to be honest, I would probably clean my house and do laundry uninterrupted.