Directors University 2.0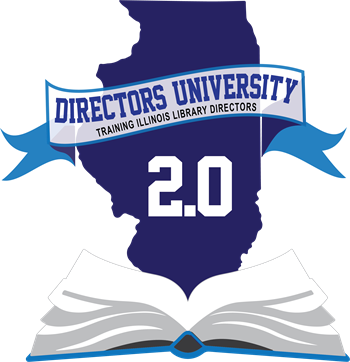 April 11-13, 2023
Wyndham Springfield City Centre



Springfield, Illinois



Directors University 2.0 (DU 2.0) is the continuation of the successful Directors University. Learning the basics are essential but in order to be successful as a library director further training is necessary. DU 2.0 will dive deeper into topics that were touched on in the prior sessions. 
Priority will be given to directors who attended DU or SPLMI in 2020 or before. 
Topics include: 
Diversity, Equity, and Inclusion

Building Strong Relationships

How to Build Board Relationships

Discussing Difficult Issues

Budgeting – Best Practices and Allocating Funds

Capital Improvement Plans

Grant Realities – Prepping for Additional Funding Options

Foundations for Creating Great Employees

Performance Improvement Plans

Succession Training and Transitions

Building a Leader: Building Your Career

Self Care and Staff Care
The intended audience is past participants of Directors University and SPLMI. The goal of DU 2.0 is to bring that next level of education and knowledge to the participants to help them continue to build knowledgeable, strong Illinois library directors. 
The registration fee is $150; participants will be responsible for their own travel expenses. Materials, lodging, and meals will be covered by the registration fee and support from the Illinois State Library using funds provided by the U.S. Institute of Museum and Library Services, under the provisions of the Library Services and Technology Act (LSTA).
Approximately fifty participants will be selected to attend, with the intent of maintaining both geographic distribution and variation in size and structure. 
Programming starts at 9:00 a.m., Tuesday, April 11, and ends at 4:00 p.m., Thursday, April 13. 
Applications will be accepted until March 10. Attendees will be notified of their selection by March 15. 


Directors University 2.0 is a joint project of the Illinois Heartland Library System, Illinois Library Association, Illinois State Library, and Reaching Across Illinois Library System. 
Save the Date!
Directors University will be held August 1-3, 2023, in Springfield. Applications will open this spring.