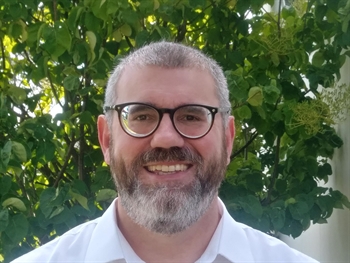 Paul Mills,
Fountaindale Public Library District
Statement of Concern
I am very proud of the Illinois Library Association. We are a model for how such an Association should be run. 
The American Library Association is in a period of transition at this time. The expertise we have as a State Association is something I would like to have the opportunity to represent in ALA so that our national Association may emerge with greater strength and ability to represent us all.
Experience
I have experience serving patrons in both academic and public libraries, and have experience serving librarians and libraries at the regional library system level.
At Joliet Junior College I operated a satellite library at the college's North Campus. We provided traditional library services and also audio-visual and video conference services as well. We also worked in concert with Governors State University to provide one of their services as well.
I have nearly ten years of experience in our regional library systems. I served in Heritage Trail and Prairie Area Library Systems in a variety of roles. Key skills I developed include working with large groups to achieve goals.  HAL, the consortium in Heritage Trail Library System, had a governing body of approximately 40 and PrairieCat, the consortium in the Prairie Area Library System, had a governing body of 93 at the time, and an additional 100 libraries that had a stake in the integrated library system but with a different role in the consortium.  These skills will be particularly useful as our American Library Association continues to evolve.
I have served as the executive director of the Fountaindale Public Library District for a decade. I am very proud of the relationships we have built with other units of local government and non-profit agencies in our community, and this will be critical for ALA as there are many constituencies with ALA.
Education
MLS, Rosary College (now Dominican University), River Forest, 1995
BA History, Illinois Benedictine College (now Benedictine University), Lisle,1992
Professional Memberships and Activities
Illinois Library Association, Member
     Awards Committee, Co-Chair, 2013-2015
     Intellectual Freedom Committee, Chair, 2018-2020
     Nominating Committee, 2020
American Library Association, Member
     Election Committee, 2016-2018
Public Library Association, Member
Reaching Across Illinois Library System Board of Directors
     Treasurer, 2016-2018
     Vice President, 2018-2019
     President, 2019-2020
I have been a member of ILA since 2008, and have had the honor of serving on several ILA committees.  In order, I have co-chaired the ILA Awards Committee, chaired the Intellectual Freedom Committee, and served on the ILA Nominating Committee.
I have been a member of ALA for a decade and have served on the ALA Election Committee.  This committee work was very instructive in understanding the broad and deep governance structure that ALA currently has.
I have also presented at both ILA and ALA conferences.