December 2016 | Volume XXXIV. Issue 6 »
A Day in the Life: How Medical Students Use Library Resources
November 21, 2016
Gwen Gregory, University of Illinois at Chicago, and Connie Poole, Southern Illinois University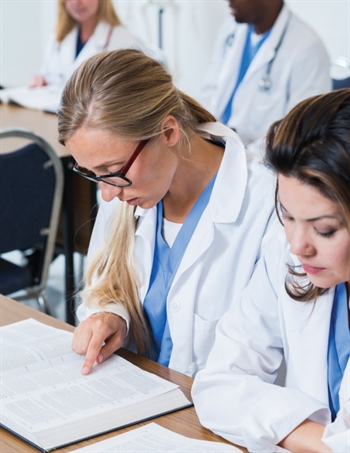 How do students learn and what role do library collections and services play in that learning? This question informs many current efforts at library assessment. Spurred by the Ethnographic Research in Illinois Academic Libraries (ERIAL) project (http://www.erialproject.org/), in which five Illinois academic libraries used ethnographic research techniques to study student research processes, academic health sciences libraries in Illinois decided to test the application of similar approaches to medical education.
For many years, the eight medical school libraries in Illinois have cooperated through an informal collective known as the Council of Illinois Medical School Libraries (CIMSL). CIMSL members meet regularly to share information. At a meeting in 2012, members discussed the possibility of applying ethnographic research methods employed at the University of Rochester libraries and subsequently in ERIAL institutions to Illinois medical school libraries. We applied for and received funding for two projects: one to test the applicability of ethnographic research methods to medical school libraries ("Replicating Rochester") and then to test one of the techniques ("A Day in the Life" Mapping Project).
LAYING THE GROUNDWORK
Working with a consultant from the University of Rochester, Nancy Fried Foster, we determined in the first project
(2012–2013) that employing ethnographic research methods would work in the medical school environment. Unlike university undergraduates, medical students follow a fairly proscribed program, with all students going through the same curriculum for the first two years. The third year finds medical students rotating through all clinical areas of specialty to gain wider knowledge of their chosen field and to select the specialty they will enter for their career. The fourth year allows students to further the study of their selected specialty, including classes (rotations) at other institutions to prepare for entrance into medical residency programs.
In the second project (2013–2015), we decided to study the third year of medical school, which provides students with exposure to patients in multiple clinical settings, including hospitals, clinics, and doctors' offices. Students learn clinical skills, such as medical history taking, doing physical exams, and learning about medical tests and drugs. Students also rotate between multiple physical settings, including those that are off-campus or even out of the medical school's home city. Because all the participating schools shared a similar approach to the third-year curriculum and because it involved students being outside our physical campus settings, it was selected as the subject of the project.
We selected a technique in which students mapped their movements through one clinical day and noted their use of information. A recorded interview took place on the day following the mapping, with each student elaborating on his or her movements and locations. [Figure 2]. Six of the eight CIMSL libraries were able to participate in this project, resulting in seventy transcribed interviews. Use of the consultant was critical in determining the ethnographic method that fit the parameters and funding of the project and also to train the librarian interviewers and develop the coding schema used to analyze the transcripts. After the interviews were transcribed at the lead institution (University of Chicago), each institution color-coded their own transcripts using categories such as "Learn and practice medicine — in clinical setting, on own, other;" or "Putting on the white coat;" and "Pull/push information."
After coding the transcripts, cross-institutional teams analyzed the results. These teams examined a number of areas, including what information tools were used and why, what devices were used, what information was sought, and what challenges students encountered in their search. The analysis found a number of common threads as well as differences between institutions.
WHAT WE LEARNED
One of the major findings was that these students want information fast. They often had just a few minutes to find information needed for a diagnosis or treatment option.
They usually chose sources that were quick and easy to use, such as Google or Wikipedia. When they needed more information, they would go to a clinical tool, such as UpToDate, if it was available at their location. If they had extra time for in-depth research, they might move on to PubMed or another source for journal articles. However, if an article wasn't immediately available full-text online, they would skip it.
Smart phones were used by nearly every student. While they often didn't use them in front of patients, they did rely on them for all kinds of information. Many students also used desktops or laptops provided in the clinical setting or a special work area for student use. Again the critical factor was convenience. This was also key in selection of particular information resources; filling the immediate need and functionality were vital. Students did not want to go to the library web page and search there; this took too long. They preferred sites where they did not have to spend time logging in or remembering passwords.
These students still used print books. They wanted print textbooks, study guides, and practice guides, often in conjunction with electronic versions of the same resource. Print still had some advantages, such as portability,
no connectivity problem, and ease of marking and annotating.
The biggest challenge for these students was time. They filled their days with clinical work, lectures, and other educational efforts. Evenings and other free time were used for studying, preparing for the next day's clinical work, or research. In a clinical setting, students wanted to get information quickly every time, without spending extra time logging in or searching. Network availability was sometimes a problem. Wireless and cellular networks were not always reliable in a given building, and some clinical locations were in buildings or towns without good service. Networks might also be unavailable to students because of their temporary status.
OTHER LESSONS LEARNED
We also learned about conducting a collaborative research project. Working together was stimulating and helped us make new connections with colleagues. We found that it was helpful to have one or two people serving as project leader(s). They kept us on our timeline and served as both cheerleaders and guides for the rest of the group. They set up effective communications, including meetings, conference calls, e-mail lists, and places to share files. Offering gift cards to our student participants made recruiting participants easy. While each of the institutions had to file the proper paperwork with their own Institutional Review Board, we were able to share many elements and save time in preparing the submissions. Because the group had a grant, even though it was a small one, we were able to hire a consultant. She provided important assistance in planning the study, training participants, and analyzing the results. Ultimately, her guidance saved a lot of time.
Individual libraries began to apply some of what they learned almost immediately. Improving wireless access and enabling mobile use of critical resources were obvious needs at some sites. Other libraries revised their instruction with these students to focus on mobile apps for paid and free resources. Student comments led to library web page changes, such as more prominent links to the most needed resources. Libraries are taking preferences of these students into account when buying electronic and print resources.
We are also contacting those working with students in the field, sharing information with them about our resources. We shared the results of the study with administrators at each of our schools, demonstrating that we are actively engaged in student success. The libraries have also used ethnographic methods in other ways, such as gathering feedback to plan for library remodeling. The group has continued to collaborate, producing several conference presentations, a poster session, and a research article. We hope that this project has benefitted the health and well-being of the citizens of Illinois, by helping us provide better information access to these future doctors during a crucial part of their education.
PROJECT FUNDING
Replicating Rochester: Understanding User Information Needs in the Health Sciences was supported in part by federal funds from the Department of Health and Human Services, National Institutes of Health, National Library of Medicine, under Contract No. HHS-N-276-2011-00005C with the University of Illinois Chicago. Project Manager: James Shedlock. Awarded August 2012.
"A Day in the Life" Mapping Project was supported in part by federal funds from the Department of Health and Human Services, National Institutes of Health, National Library of Medicine, under Contract No. HHSN-276-2011-00005C with the University of Illinois at Chicago. Project Manager: Andrea Twiss-Brooks. Awarded August 2013.