October 2016 | Volume XXXIV. Issue 5 »
iREAD Talks with Children's Book Author Andrea Beaty
September 14, 2016
Andrea Beaty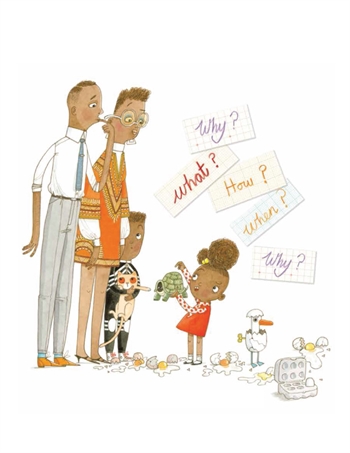 Andrea Beaty is the author of several children's books, including a series of books whose illustrations are being used in the materials for the 2017 iREAD theme, Reading by Design. Born and raised in southern Illinois, she now lives in Naperville and shared a bit of her background with us.
iREAD: How did you get started as an author of children's books, especially after studying biology and computer science in college?
Beaty: After college, I worked in tech support for a software company. I eventually did some technical writing. I wanted to be really good at it, so I read everything I could about editing. I became a ruthless editor of my own writing. As a tech writer, I learned how to describe complicated ideas simply, clearly, and in as interesting a way as possible. While the subject matter was deadly dull, this was great training for my future—and at that point unimagined—foray into children's books. A few years later, I was a stay-at-home mom reading picture books by the score to my young kids. I was blown away by the richness and variety of books available. Much had changed since I was kid. I started getting ideas for stories and wrote them down. Eventually I wondered if others might like my stories and they did! I'm still surprised (and delighted) by the whole journey.
iREAD: Have you always "made up" stories? Do the ideas tend to come from things you see or hear or read about?
Beaty: I come from a very funny family. I'm actually the least funny of the lot. We told lots of jokes and were very goofy. Our house was full of books. We also watched an enormous amount of British TV thanks to PBS, and we listened to old radio serials and to international radio shows on our shortwave radio. And, of course, we went to the library. Going to the library was the greatest of adventures for me. I made up stories about getting locked in the library over the weekend and devouring the books.
All of these things nurtured my love of story. Now I find that ideas come from everywhere. Sometimes a phrase or a single image in my head triggers a story. Quite often, a title will come to me unattached to a story. Thankfully, the story eventually reveals itself.
iREAD: When you do school and library visits, do you encourage kids to write their own stories? What's a good way for them to get started?
Beaty: I always encourage kids to start with a simple question: What if? With those two words, you can explore the universe. Each time the story gets stuck, just ask that question again. What if ______ happens next? If that doesn't work, fill in the blank in a new way and see where that goes. It's kind of a homegrown Make Your Own Adventure Story.
I also tell them that there is no wrong answer when you write stories. You can rewrite it over and over to change or improve the story. But there is no wrong answer. That is very liberating. Kids are inundated with right/wrong answers these days. It sucks the creativity right out of them. I think writing is a safe place where you can explore all the corners of your imagination and your emotions. How empowering is that?
iREAD: You often write books where someone else does the illustrations. Which comes first, the text or the illustrations, or some combination of each?
Beaty: Typically the text comes first. Then the editor chooses
an illustrator and they work from the text without any contact from me until final sketches are done. At that point, I get to review the sketches and make comments, but I only ever comment on things that affect plot or jokes. I feel strongly that the illustrator and the editor need to be free to work their magic without
my interference.
However, there are some exceptions to the sequence. Doctor Ted was born from a tiny illustration by the artist, Pascal Lemaitre. The editor asked if I might want to think up a story. I took
a look and wrote the book in an hour. It was crazy. I wrote
Iggy Peck, Architect and David Roberts completed the illustrations with no notes from me. He envisioned this gloriously diverse and quirky class of beautiful kids. Then one of those kids with long bangs inspired Rosie Revere, Engineer. Another who taps her chin when she thinks has inspired Ada Twist, Scientist.
So it's a process that can go any direction.
iREAD: Who are some of your favorite authors and illustrators of children's books? Tell us why you like them.
Beaty: Wow! This is a far more difficult question to answer than my favorite dessert! As with desserts, so much depends upon my mood.
I always love a good rhyming book (authors such as Kelly DiPucchio, Julia Durango and Lisa Wheeler) and funny tales
(authors Carolyn Crimi and Doreen Cronin) and books that can make me cry in twenty-eight pages (authors Eve Bunting and Cynthia Rylant). I have enormous admiration for writers who can bring heart and poetry to nonfiction. Bob Burleigh comes to mind. I think it is a golden time for lyrical biographies especially. Books like On a Beam of Light by Jennifer Berne and Cloth Lullaby by Amy Novesky. There are so many great ones.
I've had the honor to work with so many amazing illustrators including David Roberts, Dan Santat, Kevin Hawkes, and Pascal Lemaitre. There are so many I'd love to work with in
the future. A few other illustrators who blow me away are
Gabi Swiatkowska, Floyd Cooper, Sophie Blackall, Peter Reynolds and…I feel faint just thinking of the possibilities.
And don't get me started on middle-grade fiction. I swoon!