December 2022 | Volume XL, Issue 4 »
2022 Sylvia Murphy Williams Scholars
December 1, 2022
Multiple
Since 2003, ILA has honored former ILA President Sylvia Murphy Williams by awarding ILA Annual Conference scholarships and a one-year membership to the Association to ALA Spectrum Scholars who live in Illinois or who are attending graduate programs in library and information science in the state, thanks to support from a fund established in honor of the late Sylvia Murphy Williams, 2002 ILA President, now known as the Diversity Scholarship Fund. ILA Williams Scholars are also connected with mentors via ILA's Diversity Committee. This year, we are pleased to welcome fifteen Williams Scholars to Illinois librarianship! Several of them contributed these inspiring comments about what motivated them to become librarians, favorite courses in graduate school, professional goals, hopes for librarianship, and anything else they'd like to share. We welcome all of them as future members of the profession.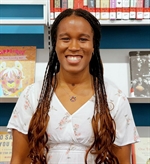 ALIYA ESTES
University of Illinois
My goal is to become a Youth and Teen Services Librarian. When I went to college, I pursued a degree in Psychology because I love human connection and relationships. I always knew that I wanted to work in public service. After graduating and starting to work at Palatine Library, I was reaffirmed that my love of knowledge and love of people could be applied to librarianship. When I was a child, the library provided me with a space that benefited my intellectual growth and creative spirit. The next generation should be allowed the same inclusivity and creative opportunities. I want to create spaces and programs that inspire social change in my library work.
I am extremely honored and humbled to be able to call myself both a Williams Scholar and a Spectrum Scholar.  Already, I feel like so many doors have opened for me and I am only just beginning. I am thankful for my family, my coworkers, and my partner for pushing me to apply and cheering me on along the way. My accomplishments reflect my environment and my community, and I am so grateful.
My first semester started on August 22, 2022. I am hoping to complete my degree in the expected graduation rate of 2.5 years, 5 semesters. University of Illinois at Urbana-Champaign offers a comprehensive fully online degree so I am able to work at Palatine Library while pursuing my degree. The best of both worlds!
I have attended many of ILA's online roundtables, and they have been a big influence in discovering the kind of work I want to do as a librarian. I am excited to take advantage of the networking opportunities that an ILA membership will allow for me. I hope that this is just the beginning of a longstanding relationship with ILA.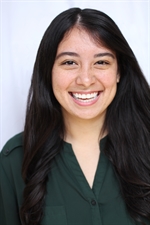 BIANCA PHIPPS
University of Washington
Librarians are stewards of knowledge and pillars of the communities they serve. It was important to me, when considering a career change, that I find a line of work that agreed with my values. I've always been an avid reader, and both the public library and the libraries at my schools played a huge role in my adolescence and young adulthood. Even today, the library is so important to my mental health and general sense of optimism and joy. I always wanted to pursue librarianship because I knew there was so much about it I did not know—and I'm fortunate enough to be able to pursue my curiosity.
The area of study that interests me most is Digital Youth & Children's Librarianship, ultimately working towards school librarianship. I want to become a school librarian because I believe it is the most actionable way for me to contribute to a better future. Children will inherit the world we build, and they will improve upon it with the tools we provide. I want a hand in creating the toolbox by providing the support I received from my school librarians: a careful, guiding hand that encouraged my curiosity and compassion by connecting me to stories. Books provided tangible proof that I was not alone, that my experiences didn't isolate me. As an educator, I witnessed the gifts stories provided to  underrepresented students. I want to cultivate a trustworthy haven for students which recognizes their individuality and makes them feel important. For me, a library is that haven.
I'm excited to foster connections with fellow librarians! Since I'm attending my program online, having peers, mentors, and other members of the library community so close to home will really help soothe the sting of being so physically far from my cohort.
I'm optimistic about the prospects of a national library union! I hope librarianship will curve away from neutrality and veer towards justice: as stewards of knowledge, information, and resources, I believe it is our responsibility to ensure we're doing all we can to build towards a future free from white supremacy, capitalism, and other harmful, individualistic modes of living.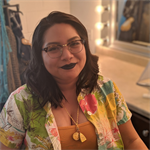 CARRIEANN CAHALL
University of Illinois
I'm a curious person and found it difficult to "pick" one area of study or pursuit to focus my mind on, and LIS seems to be one of the few fields out there that supports an interdisciplinary approach to work since it is itself quite expansive. I've worked in various industries (writing, video production, teaching, sales) and feel like this is a field that sees that variety of experience as a benefit rather than a lack of direction. Overall, I've learned that I like connecting folks to information and resources that support their personal growth and deepen their existing knowledge.

My favorite course so far was Immigration & Information Behavior in my first semester at the iSchool; my mom was a young adult refugee from Laos and my father came to America as a teenager from Thailand, so I've lived a life that has been influenced by their access to information and their behaviors surrounding information in America. This course offered me the language and a deeper understanding of interactions or contexts that confused or maddened me over the years. Plus, this course also introduced me to the concept of community-led librarianship which is a practice I hope to take with me into my future career.
My interests are in open pedagogy, open educational resources, digital learning, and as mentioned above, community-led librarianship. Most of my LIS experience comes from working in an academic library, and I've developed an affinity for university communities, so I would love to find a job where I could still pursue research and also work on projects that connect a university's campus community to their immediate local community with the intention of better  meeting the information needs of both.
Since most of my library experience comes from the same academic library where I received my BAs and MFA, I hope that an ILA membership can lead me into branching out more and broadening my network. I'm also interested in conducting more research, looking for future collaborators, and finding more mentors to learn from.
My hope for the library profession is that it not only continues to work towards diversifying the field, but also that it actually supports retaining those who are already there.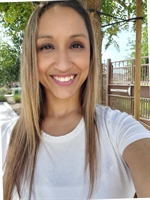 ERICA RODRIGUEZ
University of Illinois
Obtaining my first Master's Degree in Education in 2010 initiated my interest to pursue a second Master's Degree in Library and Information Science. I believe in empowering students to see themselves as scholars and architects of knowledge. Most importantly, I believe that literacy and critical-thinking skills are not only a fundamental part of academic excellence but also building blocks in creating access to equity and diversity in all formal and informal learning spaces. It has been my highest honor to serve K-12 Spanish-Bilingual students for the past 15 years. My passion to empower the next generation of scholars and architects of knowledge now drives me to seek and acquire the tools needed to teach students of all abilities, identities, and all walks of life, within a library space. In sum, my first career as an Educator solidified my commitment to librarianship. I see myself as a mentor, a knowledge-seeker, an information engineer with "people technology" at the center of my second life's calling: Spanish-Bilingual Youth Services Librarianship. 
My favorite course by and large, is the Information for Diverse Users course. I am interested in the topic of Diversity within libraries, and the impact it brings to accessibility and equity through the delivery of information services. Similarly, I am also enjoying how to plan, implement, and evaluate programs for addressing these issues. 
Although I have not attended the ILA Conference, my hopes for the ILA membership are to build meaningful connections with other BIPOC as well as with LGBTQIA+ peers, colleagues, and allies to create community by building equity and programming in traditional library spaces to re-center marginalized voices. Moreover, my hope for the library profession is to build a community of like-minded professionals and work towards the greater common goal of servant-leadership in order to make the field of librarianship more equitable. Once I earn my MLIS, my professional goal is to be a Spanish-Bilingual Youth Services Librarian in service of immigrants, refugees, and English-Learners. I also have a deep interest in Federal Government Librarianship--specifically, Collection Development and Bibliographic Access work with the Library of Congress. My interest has resulted in my second passion due to my recent work with Spanish-Speaking Blind, Visually Impaired, and Print-Disabled adults by providing access through the use of assistive technology to LOC's collection of 100,000 digital audiobooks in approximately 50 languages. Nothing brings me more joy than to serve children and persons with neurodivergent abilities. Lastly, I want to thank and express my sincerest gratitude towards ILA for the honor of being named a Williams Scholar for the 2022-2023 academic year. I embrace the new community of fellow scholars that I am warmly made to feel a part of, and look forward to engaging with my peers and colleagues in this meaningful, necessary, and life-long work.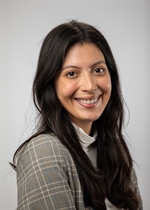 ESTEFANIA EIQUIHUA
University of Illinois
The decision to become a librarian was heavily influenced by a variety of positive experiences I've had with libraries throughout my life: from going to my local public library as a little girl, to volunteering at a public library throughout my undergraduate studies, to working alongside school librarians during my time as a high school English teacher. These experiences have illuminated the wonderful possibilities that libraries have to offer their communities and I'm eager to be a part of a profession with such transformative potential.
I'm in my second year at the University of Illinois Urbana-Champaign, and thus far, my favorite course has been Social Justice in the Information Professions. This course centers critical issues in the information professions and has been foundational in my knowledge of social justice issues and advocacy work in librarianship. Courses such as these motivate me to commit to the hard work that is critical reflection and to enter librarianship with the mindset of working towards social justice by examining harmful power dynamics in our workplaces and society.
Once I earn my MS/LIS degree, I hope to work in an academic library as a reference and instruction librarian, or as an adult services public librarian. As I grow into this profession, my professional interests include critical information literacy, critical pedagogy, and library outreach for non-traditional students. These interests align with my goals of making the library a place where patrons feel welcomed, represented, and safe in the library. Ultimately, I desire to become a librarian in which I make genuine connections with patrons and work towards creating a library environment that is inclusive and enriching for all.
I am deeply honored and thankful to be a part of the Spectrum Scholars and ILA Williams Scholars family. I look forward to making connections within the community, and I'm eager to join a coalition made up of people from many cultures, backgrounds, and experiences in working towards a more just future. This honor means the world to me!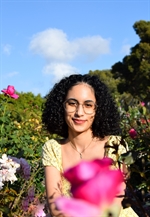 INBAR MICHAEL
University of Illinois
I had a discussion with one of my undergraduate professors about pursuing a PhD, but feeling uncertain about the prospect of engaging in a lot of research writing. My professor had also told me about how competitive it is to get a professor position, and it didn't feel like it really aligned with what I wanted to do. My professor recommended librarianship, as it combines the elements of a profession that I wanted, which includes community engagement/outreach, instruction, and programming. After looking more into the roles of librarians at public and academic institutions, I realized that it was the path I wanted to pursue.
So far, my favorite class in library school is about libraries, society, and information.
I have a variety of professional goals, but am focused on being able to work at either a public or academic library. I would like to be a subject specialist, reference/instruction librarian, or an archivist through a public institution that works with the community to maintain records of their history, especially marginalized communities. 
My impression of the ILA Conference was that it presented a unique opportunity for me to get to know more about librarianship within the state of Illinois, and hear about librarians' perspectives on current matters within the field in this particular state. Often, I have heard about librarian conferences on a national level, which tend to be broad. It was exciting to hear about a conference that is for the state because it means that issues within the state regarding librarianship will be heard and more likely addressed since others might have the same situations.
I hope to learn more about the current discussions of librarianship within the state of Illinois. I am not from the state, so I hope to gain a better understanding of the library system here.
I hope that the library profession will continue to dismantle the systemic barriers that have made it more difficult for patrons to access library spaces and become more inclusive, diverse, equitable, and accessible.
Thank you once again for selecting me to be a scholar!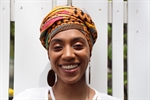 KAYLA JOHNSON
Chicago State University
After receiving my undergraduate degree in African and Black Diaspora Studies, I decided to take a couple of years off of school to work and reflect. I found myself continuously growing in youth work, but also craving working in a different capacity to provide youth with a greater impact. One day, after completing the novel Grown by Tiffany D. Jackson, my only thought was "All teen girls should read this book. It can save lives." I felt compelled to really reactivate my youth work and share this novel, but I was interested in doing that in a library where similar impactful resources lived. Quickly, I learned it would be some time before that, because first I had to obtain my Master's in Library and Information Science. Currently, I love all my classes. Learning about media literacy and technology has been extremely useful, because the two are ingrained into how we can survive and thrive with just access to it. I also appreciate my current Library Professions class, because it is guiding to research the profession in a way that my professional goals align with what makes me unique as a person. My hopes for the ILA membership are humble: to be in community and work with like minded individuals who understand the opportunity in librarianship to be an activist.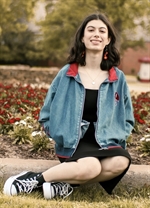 MARYCRUZ FLORES
University of Illinois
"I hate reading," is a common response I hear when telling people I want to become a librarian. The field of Library and Information Sciences has the reputation of being only connected to books, which ignores the interdisciplinary nature of the field and variety of careers available. In the Netflix show Rhythm and Flow, one episode involves Chance the Rapper returning to Harold Washington Library Center in Chicago to hold auditions for a competition-based reality show. He tells an anecdote about how he got into slam poetry and performing through the library and how he benefited from the available workshops and equipment. The positive portrayal made me happy. It showed how libraries are spaces for many individuals, not just avid readers. The interdisciplinary nature of LIS and the ability to work with diverse population groups makes me excited and confident to pursue a career as a librarian. I am incredibly interested in learning about how bilingualism is utilized in library spaces and in examining how a multilingual, multicultural approach can serve patrons.
Outside of class, you can find me reading or watching television shows. I also enjoy going on walks and trying my hand at different crafty activities such as cross-stitching and paint-by-numbers.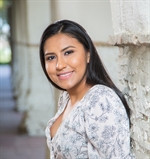 REBECA ESCAMILLA
University of Illinois
I chose to become a librarian because I am interested in the dissemination of indigenous knowledge and information. I am specifically interested in the Latin American Indigenous communities and Mesoamerican studies. I chose these fields because I want to preserve ephemeral indigenous information from my community such as songs, poetry, and plays.
My favorite course so far in library school is Digital Preservation. I was hesitant at first to enroll in this course since I lacked technical skills and I believed the course would be tech-heavy; however, the professor for this course gave excellent lectures and always made sure that students understood the concepts. This course gave me the foundational knowledge I would need for the rest of my MLIS courses. Due to this course, I also began to explore digital preservation and how it can be combined to further highlight indigenous knowledge.
By combining my interest in digital preservation and indigenous information, I have decided to begin my own research project. I am currently in the process of collecting information on Pastorelas: I am exploring the effects indigenous communities had on Spanish colonial Christmas plays. I would also like to digitally preserve all the records I have obtained and make them available to a wider audience.
With my ILA membership, I hope to network and meet professionals who will counsel me on my research projects and professional goals. I am excited to get to know other library professionals and what I can learn from them and give back as well.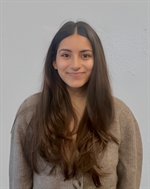 SANOBAR CHAGANI
University of Illinois

I decided to go to library school after reflecting on my experience working at a library during my undergraduate studies. My favorite class so far is the History of the Book because I am learning to challenge my previous assumptions about the book, readers, authorship, and more. It helps me reframe how I view the discipline of library and information science. My professional goal is to be an archivist at a history museum and to pursue grant writing to provide funding for marginalized communities. My hope for my ILA membership is to connect with like minded individuals in order to form an accepting library community founded on the principles of seeking knowledge and understanding new viewpoints. I hope the library profession will begin to understand its roots based on colonialism and the oppression of people of color. This acknowledgement can help the library and education field grow and change in ways that are better for BIPOC communities.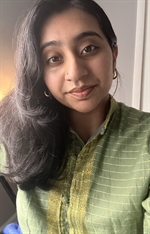 WARDAH MOHAMMED
University of Illinois

Libraries have always been an essential part of my life and I had never thought I could become a librarian. Only after talking with a mentor and the librarian at a local library did I find confidence in looking into librarianship programs. And from then on I knew this route would be different but rewarding because I wished to continue supporting the education and literacy sector.
My favorite classes in library school so far have been Library Resources for Spanish Speakers, Intellectual Freedom and Censors, and African American Bibliography and Librarianship. Each class has respectively taught me the various services, actions, historical memory, and cultural preservation that libraries fulfill. There is power and community libraries help foster; particularly important to me are efforts towards creating a sense of belonging for people.
I have been struggling with choosing a clear professional goal within librarianship because public and academic librarianship have been two paths that I have yet to decide between. On one end I want to support literacy for children and adults, especially home language acquisition curriculum; and, on another end I would like to support a library at a given university and learn how to build a collaborative relationship with professors and faculty.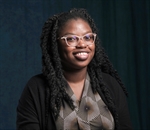 ZHANEILLE GREEN
University of Illinois

When I volunteered with AmeriCorps after undergrad, I met various people and provided service in different settings. This experience reminded me of the little girl that had no home access to the internet or a nearby community library. The library provided the tools to help make me who I am, and I decided I wanted to do that for others.
My current favorite class, I feel like I have one for each semester, is Makerspace: Open Studio. This class has exposed me to the maker movement and allowed me to stretch my design thinking muscles by learning different technologies and creating projects.
I haven't nailed down one type of library I'd like to work in. I'm open to academic libraries and government (city, state, national) libraries. I prefer creative roles. My work in grad school spans reference services to electronic resource management.
I'm looking forward to meeting and learning from other library professionals. I'm a new librarian, and I'd love to meet different folks to hear about their experiences and share my own.
I want to be a part of our professional mission to expand inclusivity and avenues toward access and education to our patrons and peers.