December 2020 | Volume XXXVIII. Issue 4 »
#WeWereHere: A Project of the ILA Young Adult Services Forum
December 1, 2020
Joe Marcantonio and Hollis Sienkiewicz, Schaumburg Township District Library
History certainly doesn't repeat, but it often rhymes. —Mark Twain (purportedly)
The 1920s came roaring in, riding the wave of a pandemic and economic upheaval. YA librarian pioneer Margaret A. Edwards won't get hired until 1932 and Young Adult Services as we know it doesn't yet exist. We don't have a great account of teens' lives in the 1920s, simply because no one bothered to record it. 
The 2020s are on pace to be even more disruptive but not at all positive. While libraries may not be able to stop the pandemic, the #WeWereHere Project can give a voice to the current generation of teens by capturing and recording their thoughts and feelings, volunteer work, and positive impact on their communities.
THE NEED
Every teen librarian both loves and loathes summer. It's our busy time when the only thing teen patrons seem to have is free time. Program attendance goes up, the summer reading program monster rears its head, and teens you've never seen before come with the mantra, "I need service hours."
Schaumburg Township District Library sees a lot of teen volunteers. The community has many organizations and initiatives that require service hours. Pre-COVID, the Library hosted three 2-hour volunteer programs a month during the school year, which doubled in the summer. And the Library's Summer Volunteer Squad offered teens even more volunteer opportunities. Every one of those programs filled to capacity, there were regularly 30+ teens in attendance. Losing in-person meetings was devastating to our Library's volunteer opportunities and we needed a solution.
The #WeWereHere Project concept was brought to the Illinois Library Association Young Adult Services Forum and it transformed from just a way for libraries to give teens volunteer hours to also giving teens a voice about the bizarre, frustrating, and historic year of 2020 and beyond.
The #WeWereHere Project now serves as a repository of the current teen experience since their lives are truly unlike those of any other generation of teens. Because this type of record keeping is critical to documenting our past, it only made sense to allow teens to earn service hours by sharing their experiences, like a video diary or artwork, or by detailing any community projects they completed.
THE PLATFORM
In the early stage of the quarantine (when we thought the pandemic would be a two-week thing!), everything at our Library was canceled, including our Teen Place Mentor program where high schoolers teach drop-in computer science and coding courses to middle school students. With our newfound downtime, Schaumburg Township District Library Teen Place Manager Joe Marcantonio brought the project to Rayaan Siddiqi, a Teen Place Mentor with a penchant for designing websites. They initially considered using social media but quickly decided that a website would be the best platform for both teens and librarians to access and utilize the project. Rayaan created the website and was responsible for many of the user interface developments. He added a library portal which contains sample documents, a how-to guide for libraries to use the project, and promotional materials. He gave viewers in the community the ability to like and comment on teen experience posts to keep the social element of the project.
How it works for teens: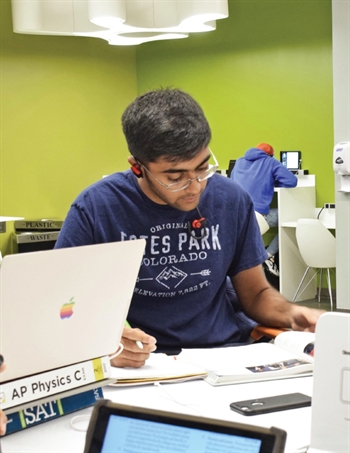 A teen creates their reaction to living during 2020 or volunteers their time to help their community.
They submit a record of their work to the #WeWereHere website via a Google form or send the project to their participating library to submit for them.
On the form, they include how many hours they worked on the project.
The project is posted to the #WeWereHere website.
The teen receives a letter of service signing off on the hours they have volunteered.
How it works for libraries:
A library registers with the site and promotes the project
to their teens.
Once registered, the library is listed as a partner on the website and gains access to sample press releases, sample service hours records, and the #WeWereHere logo for their own marketing.
The library accepts teens' projects and either helps them to post to the #WeWereHere website or posts on the teens' behalf.
The library signs the students' service hour paperwork or gives them a letter stating the number of hours volunteered.
The project is posted to the #WeWereHere website showcasing the teens' accomplishment.
THE RESULTS
For the teens who have found their way to the project, #WeWereHere has been a huge success, well beyond its origins at Schaumburg. There are more than 30 shared experiences ranging from reactionary essays to sports shows to documenting protests to crafting masks for others, grouped into the categories "I Am Here," "I Am Helping," "I Am Okay," and "I Am Not Okay." Teens shared poignant and often humorous first-hand accounts of turning awareness of privilege into motivation to volunteer; discovering a silver lining to quarantine when friends deepened their connection to one another through online gaming deep into the night; the pain of experiencing racial microaggressions from peers, and many more.
Not all the entries are narratives: A pencil sketch of a person smiling on the outside but keeping painful thoughts on the inside and a photo from a small Black Lives Matter protest are particularly evocative of this difficult period in time, and teens also submitted poetry, videos, and memes they created.
As for libraries, the #WeWereHere Project currently has more than 30 library partnerships across the state of Illinois, and including a handful of out-of-state libraries in Indiana, New York, and New Jersey, along with several schools hosting or facilitating the project in some way. We hope to grow the project and add more contributors, giving more teens the opportunity to be heard.
Most important, we're creating a record of teens' lives in the 2020s as they are happening. And we'll always have that record to look back on and learn from. Learn more and view the #WeWereHere entries at thewewerehereproject.org.
Your Library Can Partner with #WeWereHere!
To date, more than 30 libraries have helped their teen chronicle their daily lives, experiences, and creativity via #WeWereHere. Teens can gain virtual service hours and have a platform to express themselves, and library staff can do the necessary work remotely. To become a partner, please visit thewewerehereproject.org and register on the "Community Partners" page. You will be asked to provide basic information about your name, library, and role; and the capacity for you or the person directly responsible for working with teen volunteers to offer virtual service hours for teens who participate. Join the libraries listed below and offer your teens an innovative and timely opportunity (libraries are in Illinois unless otherwise noted):
Albert Wisner Public Library (NY)
Algonquin Area Public Library District
Antioch Public Library District
Batavia Public Library
Berwyn Public Library
Byron Public Library
Des Plaines Public Library
Dunlap Public Library
Edwardsville Public Library
Elmwood Park Public Library
Forest Park Public Library
Fountaindale Public Library District
Glen Ellyn Public Library
Helen Plum Library
Homer Township Public Library
Indian Prairie Public Library
La Grange Park Public Library District
Marquette Heights Public Library
Mooresville Public Library (IN)
Niles-Maine District Library
Oak Lawn Public Library
Oregon Public Library District
Orland Park Public Library
Oswego Public Library District
Park Ridge Public Library
Plainfield Public Library District
Richton Park Public Library District
Schaumburg Township District Library
Six Mile Regional Library District
Skokie Public Library
Summit Free Public Library (NJ)
Vernon Area Public Library
Wheaton Public Library
White Oak Library District
Wilmette Public Library