October 2018 | Volume XXXVI. Issue 5 »
Library Service to Those Who Serve: Resources and Programs for Veterans
September 20, 2018
Kendall Harvey, Illinois Library Association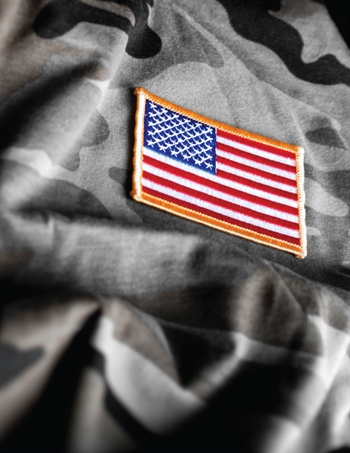 Libraries act as central hubs that strive to serve the unique needs of their community. This often means partnering with other local organizations to create targeted programs and address specific populations. Libraries may work with schools, for example, to develop programs to enhance technology skills in students. A collaboration with a community center could lead to stronger support and activities geared toward area seniors. Or, as in the case of Eureka Public Library District (EPLD), a summer service project in conjunction with a regional veterans' home could have an impact on local veterans as well as the entire community.
According to EPLD's Program Coordinator Cindy O'Neill, the library's emphasis on veterans this past summer developed as a way to integrate the Illinois bicentennial and the 2018 iREAD summer reading theme, Reading Takes You Everywhere, into its own summer programming. "As I was brainstorming summer reading ideas last winter, I was really struck by the military-themed summer reading poster and challenge coin in the [iREAD] catalog, which made me think about our veterans and the bicentennial," Cindy explained. "Tying all of those elements together presented some fresh opportunities for engaging our patrons in summer reading, recognizing our veterans, and—as something new we've never tried before—adding a community service element to summer reading."
To incorporate this community service element, she reached out to Sara Colgrove and Peggy Burchard-Ballard of the Illinois Veterans' Home in Quincy, Illinois. Cindy had been researching Illinois-based organizations that served veterans, and recalled hearing about financial hardships faced by the home over the past few years. Together, the three organizers developed a strategy to engage EPLD's patrons.
The Veterans' Home was already planning on hosting a children's event in late June with the local YMCA, and wanted to add a story-time activity to the schedule. Unfortunately, the Home did not have the funds to purchase new military-themed children's books. With a combination of patron donations and book sale funds, EPLD was able to purchase and donate nine of the books on the home's target list in time for the event. These books now reside in the home's library for use by veterans and their families. Additionally, the Veterans' Home provided Cindy with a list of personal items that could be used by residents.This list was distributed to patrons at the EPLD checkout desk, in the library's newsletter and press releases, and on social media. A drop-off location was set up in the library, and donations instantly began coming in. By the end of July, approximately 360 items and $1,020 in cash donations had been sent to the Veterans' Home.
The EPLD also paired up with Eureka's American Legion to co-sponsor educational programs involving veterans at the library. On each "Veterans' Night," two local veterans drew a crowd of library patrons and shared their stories. At a separate event, a group of Civil War re-enactors presented a program that included the story of a civil war surgeon from Eureka. Over the course of the summer, library patrons also placed stickers on a world map to indicate where they or a loved one had served. By August, the map had 142 stickers placed on every continent but Antartica.
While programs like this have a profound impact, effectively serving veteran populations includes more than just outreach to veterans' homes. According to a 2014 survey published by the U.S. Census Bureau, nearly 730,000 military veterans reside in Illinois. This means that approximately 6 percent of Illinois residents have served in the military. The Illinois Department of Veterans' Affairs also indicates a "lack of personal engagement between veterans and the community" ("Illinois Veterans: Demographics, Challenges, and Strengths") as a common challenge within the state's veteran community. Several Illinois libraries are taking steps similar to EPLD to work toward bridging this gap. One way some library employees are doing this is by involving their libraries in the Veterans History Project, an oral history initiative spearheaded by the American Folklife Center of the Library of Congress and Illinois State Library. By participating in the Veterans History Project, veterans and civilians who have contributed to a war effort are able to share their personal stories via interviews with library staff and community members. These interviews, as well as any corresponding photos, letters, or other historical documents, are then sent to the American Folklife Center, where an archival record is established in the veteran's name.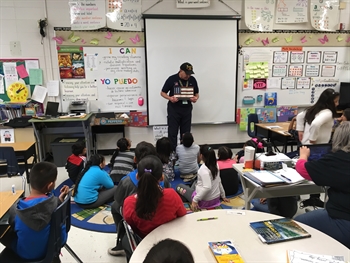 At the Gail Borden Public Library District in Elgin, a similar program called Veterans Voices connects local volunteer veterans with students. Participants in this program have the freedom to conduct conversations in as structured or as informal a manner as they'd like. In 2017, the year of the program's inception, veterans who had been recruited and trained by library staff visited 90 Illinois School District U-46 classrooms at 17 different schools and spoke to 3,300 students and teachers. The veterans shared their experiences in the military and discussed what being a veteran, and Veterans Day, meant to them.
"The students were totally absorbed in what I had to say. It doesn't matter what job the veteran held in the military, the students are interested in hearing about it," says Dennis McClure, a veteran who participated in the program. "Every veteran has stories and experiences that are totally different from civilian life. From basic training to the food served to coping with drill sergeants to the barracks slept in, the students are interested in hearing about it."
Gail Borden also hosts Visiting Vets, an outreach program that connects local active service members with veterans in care facilities within the library district. The library provides organization-to-organization guidelines, volunteer training, scheduling, background, and library support services. The veterans provide the content, with support from Gail Borden's life enrichment liaison. Veterans that have served at different times throughout the years can then share and compare stories, offer encouragement and advice, and develop mentorships. These types of events provide opportunities for community members of all ages and backgrounds to interact, and for library staff to build relationships with area veterans and lead them toward further resources that the library has to offer.
Some library resources that help veterans the most aren't geared specifically toward veterans. For example, 7 percent of Illinois veterans are unemployed. There are a variety of reasons behind this, including readjustment challenges due to mental health struggles and gaps in training and education. Veterans may also find it difficult to translate military training into relevant civilian skills and credentials. Illinois libraries provide assistance for veterans in search of employment by offering resources such as computer literacy courses, information on VA benefits, and books and publications on reentering the workforce. Evergreen Park Public Library, for instance, offers patrons a Career Resource Center that includes access to career-focused tutorials, job listing sites, and a computer lab. Champaign Public Library hosts "Launch at the Library," a business services enclave that offers appointments with business librarians and specialists, a free online course library, entrepreneurship events, a small business resource center, and more.
In 2017, Booth Library at Eastern Illinois University announced a somewhat more creative approach to honoring and connecting with area veterans. Inspired by a similar display held by the University of Illinois at Urbana-Champaign the year prior, Booth hosted an exhibit called "Design of Duty" that showcased the service-themed tattoos of area veterans. The exhibit was on display at the library from January 22, 2018, until May 11, 2018, and has continued to travel among East Central Illinois libraries for temporary display. It will end its tour at Lake Land College Library in Mattoon on December 3, 2018.
Engaging and entertaining events like this can serve as a refreshing break from the "incomplete narrative of veterans as victims rather than societal assets" ("Illinois Veterans: Demographics, Challenges, & Strengths"). The truth is that while specifically developing veteran-themed programs can be a great asset for libraries and patrons, it is not always the most effective approach. Libraries most successfully serve their patrons by being aware of the diverse needs and interests that are distinct to their own respective communities. In Illinois, there are nearly 90,000 veteran-owned businesses. Forty-five percent of statewide veterans are seniors over the age of 65. Five percent are currently enrolled in college. These are all community members that fill a variety of roles in addition to "veteran." This means that there is no single way for libraries to best address the needs of veterans without first addressing the broader needs of their districts.