October 2018 | Volume XXXVI. Issue 5 »
Keep Your Bundt Pans — We've Got Kayaks!
September 20, 2018
Patrick Callaghan, Westchester Public Library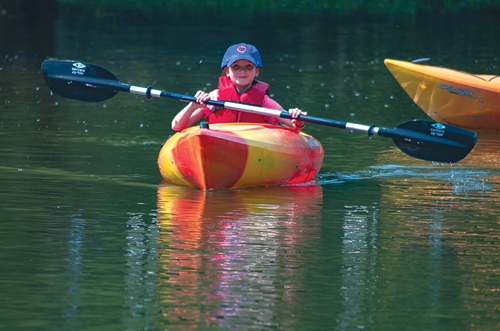 In recent years, the "library of things" movement has gained a lot of traction in Illinois libraries. This movement refers to libraries loaning items well outside the traditional realm of books and audiovisual materials. Popular collections now include toys and games, camping equipment, and fishing gear, along with neckties and other fashion accessories. And, perhaps most notably, it includes specialized cooking equipment and novelty bakeware. Whether due to retro kitsch or genuine utility, the humble bundt pan is enjoying the limelight, if only as a hip, tongue-in-cheek reference point. The Westchester Library appreciates the broader sharing economy and has dabbled in special collections itself. But we also seriously question if such "libraries of things" are truly transformational. Are non-traditional collections really such a breakthrough, or do they only have the air of innovation? After all, there is a tradition going back decades of libraries lending "things," such as art prints, tools, and even plants. Is lending a bundt pan significantly different than lending a book? Can these collections be taken a step further? We arrived at our affirmative answer to the latter question through the Forest Preserve District of Cook County (FPDCC) this year. Our experience partnering with the FPDCC on its Greater Maywood Paddling Program kayak gear library has convinced us that for libraries to extend their reach through truly innovative, non-traditional means they must offer their patrons more than things—they must offer experiential access.
The Westchester Library is a frequent collaborator with local organizations, and it was in the early stages of planning a spring field trip to a forest preserve facility that we learned about the Greater Maywood Paddling Program. The FPDCC had recently won a CBS EcoMedia Grant that called for environmentally friendly programs focusing on wellness. The FPDCC used grant funds to purchase a fleet of kayaks and equipment to train leaders from schools and community organizations to become proficient paddle leaders, so they, in turn, could take those they serve down the Des Plaines River on kayak trips. Recognizing the chance to offer patrons something truly special, we took the plunge.
Last spring, four library staff members with no prior kayaking experience completed many hours of hands-on training with FPDCC outdoor recreation specialists. We then began offering our own kayaking adventures in May and quickly saw that this was much more than a special program. The Westchester Library could offer our patrons a dynamic, innovative way to enrich their lives through a free kayaking experience— an experience most of them would not otherwise have.
We marketed our kayaking adventures accordingly and learned that interest exceeded our capacity to accommodate everyone. With just twelve kayaks (six solo, six tandem), open registration was not feasible. Instead, we have had to implement a lottery system to ensure equitable access for all community members. Additionally, as a key feature of our kayaking programs is to provide access to a new experience, we decided to limit these events only to those without prior kayaking experience.
Library staff used the training they received from the FPDCC as a template for teaching our patrons. We start with a one-day orientation and training class on Thatcher Glen Pond located at the Trailside Museum of Natural History in River Forest, Illinois. This class consists of hands-on, on-water practice in paddling, navigation, safety, and launching and landing in both solo and tandem kayaks. Training is followed by a six-mile, two-hour excursion down the Des Plaines River, beginning at Maywood Grove in Maywood, Illinois, and ending at Plank Road Meadow in Lyons, Illinois. These river trips are much more challenging as they are more complex. Participants must negotiate variables not present on the pond, such as currents, overpasses, and other infrastructural obstacles. They also encounter natural obstacles like shoals and fallen trees. Patrons are also responsible for keeping a careful pace to maintain their positions between staff members leading the group and those in the sweep position (at the rear of the fleet). Most critically, patrons have a key role in passing navigation signals to fellow participants behind them. After beaching their kayaks at trip's end, each patron is responsible for assisting the other paddlers to ensure that everyone comes ashore safely.
While Westchester Library has healthy attendance at our usual programs, one of the aims of our kayaking adventures is to engage new library users. Beginning with our first class on the pond, we saw the potential to reach residents not currently part of our library community. In the village newspaper, a staff kayaker's column invited new users to come to a library program with a twist—a program in which they could be active participants rather than passive receivers. Roughly half of those active participants have been either non-cardholders or non-regular library users. Participants who are regular library users frequently reach out to friends and family within the community who are not, to join in the kayaking experience. Staff has also noticed a proportionate increase in likes, follows, and other engagements across our Facebook pages. Perhaps most notably, because these new users must come into the building to enter the kayaking lottery, sign waivers, and pick up waterway maps, they frequently browse our collection, use the public computer stations, and inquire about other upcoming programs and library services.
As effective as our kayaking initiative is in bringing new users to the library, it has been just as effective in transcending our typical demographic reach. Since we offer kayaking adventures for children, teens, adults, and families, these events draw users from as young as seven years old to empty nesters. We have also engaged a range of new users from the Latino, African American, Eastern European, and various special needs communities. Our proudest feature of this initiative is how it levels the playing field for all participants. We have had a patron with significant physical disabilities paddle alongside a college football player. A teen with autism enjoyed very friendly conversation with a home-schooled peer while sharing a tandem kayak with his mother. Because these are experience-based programs in the context of a new activity, our kayaking events provide all participants a fair and equal chance of enjoyment and success.
Now, can "libraries of things" do all that? Or, to stick with the popular trope: Can bundt pans really help us transcend our usual institutional boundaries, reach new users, and deliver dynamic, life-enriching opportunities to a growing community of learners? Not any more than any other item unaccompanied by experience-based instruction. Our experience with the Greater Maywood Paddling Program has taught us that "things" may be a well-intentioned start in achieving the aforementioned goals. But, to be genuinely transformative, they must be made available through experiential access opportunities. It has been well worth the investment of staff time (and the not-always-comfortable process of learning something new) to take our community members beyond their everyday horizons and give them a sense that the Westchester Library is a gateway to richer, fuller lives.