August 2018 | Volume XXXVI. Issue 4 »
Fight the Epidemic with Partners and Programs
July 27, 2018
Trisha Noack and Roberta Koscielski, Peoria Public Library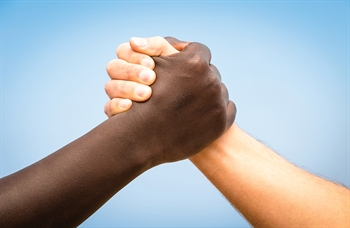 A public library, as the community information center for a community, can be instrumental in acting as a liaison and drawing community partners together to fight the opioid epidemic. Community partners often have different target audiences and resources, so combining forces can reach more people more quickly. If the library wants to draw attention to a special program or just get information out, working with partners to use all of their resources from email newsletters to digital signage to announcements at meetings to bulletin boards and social media can more effectively accomplish the goal. The library can greatly amplify its reach by having one entity create the message and have all other partners participate in the publicity effort.
Community partners should include the local health department, which can provide contacts for NARCAN® (a common brand name for naxolone HCI, which blocks the effects of opioids) training as well as the NARCAN® itself for library staff and patrons. Elected officials, once they understand that addiction cannot be treated by shaming or arresting people, are recognizable figures that can make the epidemic a public issue. Ask them to speak at programs to make people aware of the extent of the crisis: how many overdoses are happening and where they are happening.
Local and state law enforcement can sometimes offer speakers and do have 24/7 secure drug take back and syringe disposal receptacles. As community members become aware of the dangers of keeping leftover prescriptions at home, they will want to know how to dispose of these medications.
Physicians have tight schedules, but will speak to groups about how prescribing practices have changed and how to use pain management techniques other than opiates. Topics covered can include acupuncture, physical therapy, exercise, weight loss, massage, chiropractic, hypnosis, yoga, and psychotherapy. Be sure to point interested attendees to materials you may have in your collection on these topics.
Treatment centers are a natural partner. Ask them to provide speakers on addiction and on the many types of treatment available for those with substance abuse disorder. Different people respond well to different treatments, so it is important to know the options and try as many as it takes to find a solution. Treatment centers also offer options for others involved such as Family Anonymous and community support groups.
Members of support groups for recovering substance abusers and those who have lost family or friends to substance abuse disorder are impactful speakers and educators. Parents who have lost a child to overdose are often dedicated to spreading the word about the issue and helping in any way they can, including giving powerful talks on addiction and overdose and providing further contacts to people and organizations that can help.
Spread awareness with the help of nearby libraries. Share each other's events in your publicity and work together to bring in bigger speakers by sharing the cost and scheduling multiple programs. Network and share contact lists, resources, bibliographies, and the names of possible speakers.
As libraries launch or participate in a community effort to fight the opiate epidemic, remember to start with staff so that they understand that the epidemic is a health crisis, are prepared to direct patrons to information about substance abuse disorder, and can recognize an overdose in progress and know what to do if and it occurs at the library. If possible, offer training in administering NARCAN® to staff who want to learn, but steer clear of making this type of training mandatory. A staff member who feels frightened or threatened by administering a medication in an emergency is not going to be able to help, but should be the person to call 911 while others assist the victim.
To get the word out, use the basics of good marketing. Develop a recognizable graphic and color scheme that is adaptable to all sort of programs. Share it with partners and ask them to include it. Use your social media to attract the attention of not only potential attendees, but also the media. Use short videos on social media when possible. Even the smallest library has the ability to use smartphones to post quick videos to Twitter. Make sure you get your message out in as many ways as possible as often as possible. Try pulling an attention-getting fact from local statistics to help people understand how the epidemic is impacting your local community.
In some communities the stigma attached to heroin addiction is so strong that local politicians won't consider discussing it. Starting with a community-wide read of Dreamland by Sam Quinones (Bloomsbury, 2015) is an effective way to gently introduce the subject. After people read the book and talk about it, libraries can begin to ask, "What is happening in our own community?" By answering that question and beginning the steps to fight substance abuse disorder in every community in Illinois, we can begin to gain ground on this killer.