June 2018 | Volume XXXVI. Issue 3 »
Not Just a Shot in the Dark: Chicago True Crime Readers Advisory
June 1, 2018
Nicole L. Wagner, Brookfield Public Library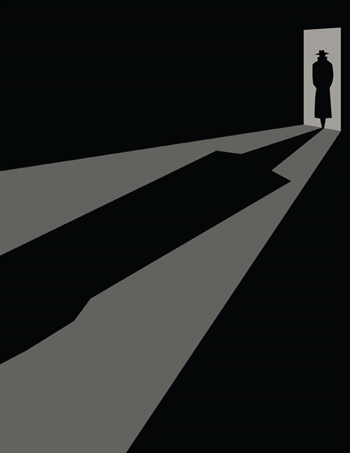 Chicago is notorious for the organized crime that has taken place here for more than a century. However, true crime around the world has been around much longer than Chicago has been a city, and it continues to fascinate and awe the masses to the point where it is now a form of macabre entertainment. For a Chicago True Crime genre to really maintain significance, it is important to understand the origins of true crime writing, how it has shaped the way that many people are entertained, and how it impacts library service. 
True crime existed even before this term for the genre was coined, and leaflets were around even before books were being published. The original true crime stories started as simply recorded history of atrocities that had taken place among the general populace. It was not until much later, when pamphlets describing real, horrible crimes were made and distributed that sensationalism about the stories took hold. The typical audience was an upper-class one; these stories intrigued and entertained those who felt they were above such things. Beyond sensationalism, though, these pamphlets would have started to inspire forensic science as people started to question by whom and why these crimes were being committed. Criminal investigations did not fully mature until the turn of the twentieth century, shortly after the definition of "criminal" changed, according to scholar Todd Herzog: "No longer is a criminal simply someone who commits a crime; rather, there now exists a new type of species, the 'dangerous individual,' whose criminal nature exists independent of a criminal act." With the sensationalist pamphlets that were created and then the emergence of essays that were written about such things as criminal trials, research on forensic methods, and a focus on the individuals who commit crime, the field was ripe for books to begin to be published.
There has always been fascination with crime and the need to know by whom, why, and how something was done. Human nature makes us curious about what is going on in the world, and true crime is based on a fact that humans cannot deny, that sometimes we can be a terrifying species and can commit horrible acts of violence or greed. Therefore, true crime stories have broad appeal. However, true crime and even fictional crime stories in general can sometimes be controversial; to even be a story, there is some amount of exploitation of the victim that takes place. Author and critic Jack Miles, writing about the genre, criticizes it: "More important, many of these works are written with little real regard for the victims." This disregard for the victims and their families has at times caused controversy and, even in some cases, cruelty toward people involved in the crime. Writing true crime books can be morally questionable, especially in cases where families would rather be left alone. Therefore, among those who have experienced crime there can be animosity toward these writers. It is important for librarians, and ultimately, readers, to understand that some of these books were not written with consent, so that an informed decision can be made about whether or not to read such books. At the same time information about crime is public knowledge, and often the reason a book was written is because the stories involved were very sensational, and the true crime writer feels that it should be written about. In addition, sometimes when these stories are written, especially about unsolved murders or botchy police work, new evidence may come to light that can actually help people and even bring to light the real culprit.
The true crime genre, even with all the controversies that it has had, will likely continue to remain popular. When there are crimes and these crimes are highlighted in the news and other media, there will always be people who will write books about these events and others who wish to read about them. As modern technology makes these stories easier to research and as information about these crimes becomes easier to access, or at least to speculate on, there will continue to be a demand. True crime stories do not have to describe contemporary events either; they can be about crimes that have happened in the past. One of the most popular that has been in the mainstream media for more than a hundred years is the legend of Jack the Ripper. He was so violent—and never caught—that his story has continued to linger in peoples' imaginations, and will continue to do so for years to come. Stories like that also can feed into conspiracy theories, which also inspires fascination and continues to be a lure for people who are fascinated with the unknown. Unsolved crimes are only one small subgenre of true crime, but there is another one that can be found closer to home, and that is Chicago True Crime.
Chicago has had one of the most notorious histories of any metropolitan city in America. All big cities in America have crime, yet Chicago seems to be known for organized crime. It does not help that Chicago has had such crime stars as Al Capone and John Dillinger, who was hiding out in Chicago where he was eventually gunned down. Chicago has been the epicenter of a wave of crime activity, and the politics in Chicago have not been immune to the corruption of the crime that exists. For libraries in Illinois, this is an opportunity to bring to life some of the history of true crime. From graphic novels to movies, there is a wide array of true crime stories that have come to life in the media. Chicago True Crime books, movies, and graphic novels can all be found in libraries around the nation; however, the genre is a particular part of Chicago history. These titles have shown the rise and fall of hundreds of people from the victims to the perpetrators. Readers advisory staff should take advantage of this history so that people can truly understand what has happened in the community that they live in. These are not some abstract, far-off stories, but places and events right near where readers have always lived. These are sensationalist stories, and some are even a horrible reminder of things that have happened, but it is a part of Chicago that should be remembered. Certainly, this genre should not be celebrated, especially because of some of the heinous crimes that were committed, but for remembrance of the victims of these crimes. 
Chicago True Crime is unique as a local collection. This type of collection can be expanded or redone to fit the needs of any other city, of course; but it seems particularly apt here in Chicago, given its place in pop culture as a city known for its crime. For display purposes, this collection could be pulled out and separated onto its own shelf, or it can be on a regular, rotating display. For libraries that do not have the space to bring this collection front and center, a Chicago sticker can be used to highlight Chicago history titles. Such a sticker could be used on non-true crime items as well, and be turned into a general Chicago History Collection. Collection development staff should keep current with what is being published; in addition to reviews in professional journals, reviews of books about Chicago often appear in the Chicago Tribune and Sun-Times. Librarians' awareness of what is being reviewed in local newspapers will help them enhance the local history collection.
Chicago True Crime is a subgenre of crime stories and true crime in general. However, people are curious about where they live, and having a collection that highlights Chicago history, especially Chicago True Crime, will bring more interest in the collection. Remember, these events have taken place in a city near you.
---
References
Burger, Pamela. 2016. "The Bloody History of the True Crime Genre." The JSTOR Daily Newsletter.
https://daily.jstor.org/bloody-history-of-true-crime-genre/.
Herzog, Todd. 2002. "Crime Stories: Criminal, Society, and the Modernist Case History." Representations 80, no. 1: 34-61. doi:10.1525/rep.2002.80.1.34.
Miles, Jack. 1991. "Imagining Mayhem: Fictional Violence vs. "True Crime." North American Review 276, no. 4: 57-64. http://www.jstor.org/stable/25125321.
---
Top Ten Chicago True Crime Stories
For the Thrill of It: Leopold, Loeb, and the Murder That Shocked Jazz Age Chicago
by Simon Baatz | HarperCollins, 2008
Two young men, Nathan Leopold and Richard Loeb, were brilliant students with a warped sense of right and wrong. They believed that they could commit the perfect murder and were determined to try out their plan. Eventually, they were caught and pleaded guilty to murder.
My Friend Dahmer
by Derf Backderf | Abrams, 2012
Jeffrey Dahmer was notorious for raping, murdering, and eating young men. He was based out of Wisconsin, yet he would find some of his victims in Chicago and bring them back to his home across state lines. Backderf, who did in fact know Dahmer and was friends with him in high school, wrote this graphic novel to help expel some of his demons over having a friend that would go on to be one of America's most infamous serial killers.
Armed and Dangerous: Memoirs of a Chicago Policewoman
by Gina Gallo | Forge, 2001
Memoir is popular in non-fiction. Gallo worked for sixteen years for the Chicago police force on the city's West Side, one of the most danger-ous areas of Chicago. Her gripping memoir is an eyewitness account of the full gamut of experiences—from joy to horror—that an officer experiences on the streets.
Death in the Haymarket: A Story of Chicago, the First Labor Movement and the Bombing That Divided Gilded Age America
by James R. Green | Pantheon, 2006
This is a story about a labor rally that went horribly wrong when a bomb exploded and resulted in the death of seven policemen. It was a severe blow to the labor movement and is ultimately a story of labor rights after a devastating catastrophe. A story of how political strife is sometimes seen as a crime, and how some people go too far.
The St. Valentine's Day Massacre: The Untold Story of the Gangland Bloodbath That Brought Down Al Capone
by William J. Helmer and Arthur J. Bilek | Cumberland House, 2004 
Al Capone was one of the most infamous characters to ever rule over the Chicago underground. During Prohibition, Chicago was a city rife with corruption, and Capone was usually at the center of it with the police always a step behind. This shoot-out involved men associated with Al Capone and resulted in even more FBI scrutiny into crime in Chicago.
City of Scoundrels: The 12 Days of Disaster That Gave Birth to Modern Chicago
by Gary Krist | Crown, 2012
Focusing more on Chicago history than true crime itself, this illuminates what can happen to a city, especially a city like Chicago, under stressful and volatile conditions, including murder and corruption.
The Devil in the White City: Murder, Magic, and Madness at the Fair That Changed America
by Erik Larson | Vintage, 2004
During the 1893 World's Fair a serial killer, lurking in the streets of Chicago, would kill an unknown number of people. However, there are about nine known victims and there is speculation that the number could reach into the hundreds. This is a historical novel where anyone involved has since passed away.
Ugly Prey: An Innocent Woman and the Death Sentence That Scandalized Jazz Age Chicago
By Emilie Le Beau Lucchesi | Chicago Review, 2017
This is a story of the first woman who was ever to be sentenced to hang in Chicago, one who was considered guilty before she had even stood trial. Compared to the other women who were beautiful and charming, she was rough, greasy, and unfamiliar. There was no motive, no evidence, and no witnesses, yet she was found guilty when others, who even had blood on them or a weapon nearby, were exonerated. This account offers insight into how public perception can change the outcome of a trial.
Heartland Serial Killers: Belle Gunness, Johann Hoch, and Murder for Profit in Gaslight Era Chicago
by Richard C. Lindberg | Northern Illinois University, 2011
This is a story of two serial killers who lived near each other, one in northwest Indiana; the other in Chicago. Johann Hoch was a wife killer who had perfected his seduction of women, and Gunness was a "black widow" who nested and lured men to her home. She could possibly be one of the most prolific female serial killers in the twentieth century.
The Girls of Murder City: Fame, Lust, and the Beautiful Killers Who Inspired Chicago
by Douglas Perry | Viking, 2010
Two women who shoot their lovers and are arrested become the inspiration for the play Chicago. These women would eventually be acquitted, and became the poster children for what corruption could do to a woman in the 1920s. Because their stories became so popularized through the original play and subsequent musical and film productions of Chicago, these women will live on in infamy.