February 2017 | Volume XXXV. Issue 1 »
Libraries for All: Expanding Services to People with Disabilities
January 17, 2017
Renee Grassi, Dakota County (Minnesota) Library System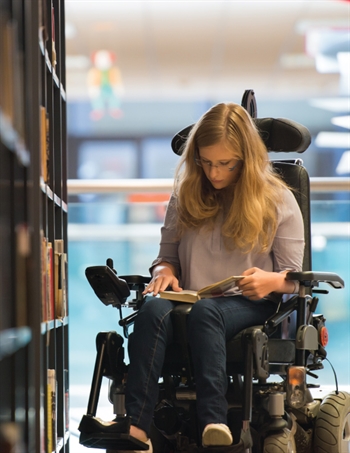 Deciding where to begin can be the most challenging part of developing new library services for any population, and perhaps especially for people with disabilities. Targeting special populations takes time, work, research, and consideration. Most importantly, it requires strategy. Hosting a one-off Sensory Storytime or creating a collection of Braille materials is simply not enough. Your strategy needs to be comprehensive, address the entire community, and be fully integrated into the library's overall operations.
Here's the reality. Social services are being defunded in dramatic and unprecedented ways across the state of Illinois. Sadly, people with disabilities are among the many vulnerable groups of people affected by these cuts. If we consider libraries as vehicles for community transformation and librarians as change agents,
we must evaluate how our libraries are serving all of our patrons, including those with disabilities. It does not matter if your library is small or large, system or stand-alone, rural or urban—all libraries serve people with disabilities.
Does your library have a strategy for serving people with disabilities? If not, here's a game plan to get you started.
DEFINE YOUR GOALS
Address the "why" behind your decision to improve service to this population. Are you responding directly to specific comments from members of the public? Perhaps there has been an increase of students enrolled in the local special education program.
Has your board recently embarked on a new strategic planning process? This could be the perfect time to include this area of service in your library's future plan. Whatever the reason, remember to communicate the "why" to staff and make the connection explicit—libraries are for all.
TRAIN YOUR STAFF
Everyone from frontline staff to the director should be equipped with customer service tools to serve patrons effectively and inclusively. According to Edge (libraryedge.org), a subscription-based library and management benchmarking tool, "staff [should be] provided with training at least annually for recognizing and serving patrons with disabilities." There are a variety of online learning opportunities available, such as webinars from the Association for Library Service to Children (ALSC) or the new module-based Accessibility Academy series from the Association of Specialized and Cooperative Library Agencies (ASCLA). But also consider in-person trainings such as those offered by local disability awareness groups—one example is JJ's List (jjslist.org), a non-profit organization in Evanston that provides disability-friendly customer service trainings to businesses and libraries.
ASSESS THE ENVIRONMENT
Every library serves people with disabilities, even if these patrons may not be entering your facility. According to the 2010 U.S. Census, 19 percent of the population had a disability. Analyzing the population of school-aged children across the county, one out of twenty children has a disability. Census data can also help you evaluate your local demographics. Another excellent resource is the local special education district. Inquire about the size and scope of its program to find out statistics about its student population. Are there any local disability-related organizations in your area? This will give you a sense of the types of services already being provided. If you want to dig deeper, develop a community-wide survey or consider leading community conversations around the topic of inclusion in your town.
BUILD RELATIONSHIPS
The people we serve are at the heart of the library's mission. Serving patrons with disabilities is no different. If you or someone in your library has already established a rapport with patrons with disabilities, ask them about their perceptions and impressions of your library. Don't forget to connect with local disability-related organizations. Perhaps there is an opportunity for collaboration on a city-wide level. Learn from other community stakeholders who have a direct connection with the population you hope to serve. Let's be honest—libraries have not always been the most welcoming and inclusive to people with disabilities. But if we are open and honest about our desire to improve, there is much we can learn from the people we meet.
EVALUATE YOUR SPACE
If your goal is to welcome more patrons with disabilities into your library, it is crucial that your building be able to accommodate diverse needs and abilities. Perform a walk-through of your facility to evaluate its compliance with the Americans with Disabilities Act (ADA). When considering autism-friendly design, consider not just the physical layout, but also lighting, sound issues, use of color and décor, and signage. Universal design—i.e., spaces and products designed to be usable by anyone—takes into account a broad range of abilities and characteristics, such as age, learning style, language, and culture. Encourage a staff member to become more informed on these principles, then perform a needs assessment for your building.
IMPLEMENT PROGRAMS
There is no "one size fits all" program for patrons with disabilities. Instead, program planning is a spectrum. Some patrons may be interested in programs specifically targeting patrons with disabilities, such as early intervention play groups, Sensory Storytimes, Next Chapter Book Clubs, sensory-friendly library hour, life skills programs, parent workshops, therapy dog programs, peer buddy programs, and sensory-friendly films. Other patrons may prefer programs that welcome patrons of all abilities—such programs often utilize universal design principles in their approach. Examples include some types of family programs, open play groups, accessible makerspace programming, drop-in gaming, social groups, Lego building clubs, and summer reading programs.
OFFER APPROPRIATE TOOLS
There's more to serving patrons with disabilities than just program development.
Offering an Accommodation Request Form assesses the various needs of those attending library programs.
Home delivery services provide access to patrons who cannot visit your library in person.
Visual supports at service desks, such as library-themed social stories or visual choice boards, support patrons with disabilities needing assistance with communication.
Launching an Accessibility Services webpage allows patrons to preview accessible services before visiting your facility.
Assistive technologies are excellent investments for libraries looking to expand the accessibility of media. Accessible operating systems and web browsers, screen readers, magnifying machines, and touch-screen devices can be excellent tools to support library use. For more information about discounts available to Illinois libraries purchasing assistive technology, check out The Chicago Lighthouse at chicagolighthouse.org.
MANAGE YOUR COLLECTIONS
Library collections should be accessible to those with different reading and learning styles. Provide access to all format types, including audio and e-audio, large print, touch-and-feel books, and big books. Hi-lo books, developed by publishers such as High Noon Books and Saddleback Educational Publishing, are high-interest titles written at low reading levels for those with reading disabilities. Consider launching a new collection of adaptive books, such as the adaptive books available through Illinois Leap into Literacy Program (adaptivebooks.weebly.com). Circulate non-traditional collections promoting hands-on learning, such as early literacy kits, sensory kits, STEM and STEAM learning kits, and adaptive toy collections. For information about Braille service, talking book players, and other materials available to those with physical or visual disabilities, check out the Illinois Talking Book Outreach Center at illinoistalkingbooks.org/.
MARKET INCLUSIVELY
Librarians excel at many things, but marketing is not always one of them. How do we market to non-users? People with disabilities may be uncomfortable or anxious about visiting a public space. Inclusive marketing strategies can help change the perception of the library to a more positive and welcoming one. One strategy is to establish partnerships with local therapists, doctors' offices, and other disability-related organizations. Some may be willing to share information about the library with their network. Don't forget to connect with your local special education district.
Ask if the district can e-mail information, send flyers home in backpacks, or add your library's programs to their e-calendar of events. Visit places that are frequented by everyone, regardless of ability. Post flyers at bus stops, train stations, park districts, community centers, or your local coffee shop. Lastly, consider utilizing paid advertisements on social media to target certain areas of the online community. People with disabilities may be uncomfortable or anxious about visiting a public space. Inclusive marketing strategies can help change the perception of the library to a more positive and welcoming one.
IDEAS AND RESOURCES
LIBRARY PROGRAMS
Illinois libraries have led the way in developing innovative and inclusive programs for patrons with disabilities. To find out information about any of these programs, contact the host library to learn more.
Club Wonder - Skokie Public Library
Community Access Naperville - Naperville Public Library
Early Intervention Play Group - Arlington Heights Memorial Library
Friendship Club - Glenview Public Library
High School Special Education Class Visits - Vernon Area Public Library District and Glen Ellyn Public Library
Inclusion Game and Movie Night - Batavia Public Library District
Next Chapter Book Club - Gail Borden Public Library District
NextGen Programs for Adults - Schaumburg Township District Library
Sensory Friendly Saturdays - Galesburg Public Library
Sensory Storytime - Deerfield Public Library and Oak Park Public Library
Special Needs Resource Fair - Evanston Public Library
FURTHER READING
Assistive Technologies in the Library by Barbara T. Mates
Crash Course in Library Services to People with Disabilities by Ann G. Roberts
Including Families of Children with Special Needs: A How-To-Do-It Manual for Librarians (revised) by Carrie Scott Banks
The New Social Story Book, Revised and Expanded by Carol Gray
Programming for Children and Tweens with Autism Spectrum Disorder by Barbara Klipper
WEBSITES
ASCLA: Universal Design ala.org/ascla/resources/universaldesign Chicago Lighthouse chicagolighthouse.org
Illinois Talking Book Outreach Center illinoistalkingbooks.org JJ's List jjslist.org
Leap into Literacy adaptivebooks.weebly.com/
SNAILS: Special Needs and Inclusive Library Services snailsgroup.blogspot.com/
Targeting Autism targetingautismlibs.com/