December 2016 | Volume XXXIV. Issue 6 »
2016 Sylvia Murphy Williams Scholars
November 21, 2016
Illinois Library Association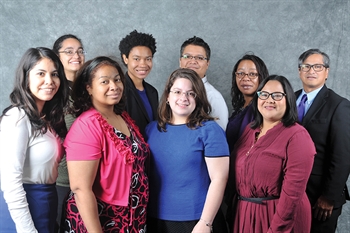 Back row, left to right: Ariel Erbacher, Jasmine Kirby, Omar Ramirez, April Hummons, and Theodore Quiballo. Front row, left to right: Araceli Moreno, Anjelica Rufus-Barnes, Nisha Mody, and Monica Tapia. Not pictured: Rebecca Arriola, Elisandro Cabada, Jesus Espinoza, and Alison C. Rollins
Since 2003, ILA has honored former ILA President Sylvia Murphy Williams by awarding scholarships to eighty-seven ALA Spectrum scholars attending graduate programs in library and information science in Illinois. Several of these scholars attended the 2016 ILA Annual Conference and received mentors from ILA's Cultural and Racial Diversity Committee (CARD).
"These scholars receive many benefits from the Sylvia Murphy Williams Award," says former CARD committee member Trixie Dantis, who spearheaded the launch of the mentoring program. "CARD is pleased to contribute a valuable resource—guidance from its knowledgeable and experienced members. Awardees are paired with committee members who help them get the most out of their conference experience and provide guidance and advice throughout their award year.
CARD encourages all of you to help foster diversity in the profession—whether it be joining the committee and mentoring an award winner, supporting and amplifying a colleague's good idea that isn't being heard, or donating to the Sylvia Murphy Williams Award fund. Each of us works with a unique community, made up of diverse individuals, and each of those individuals deserves to see a little bit of themselves at their library."
Four recent Sylvia Murphy Williams/Spectrum scholars who attended this year's conference contributed their impressions of the experience.
Ariel Erbacher
2016 Sylvia Murphy Williams Scholar
I am incredibly grateful for receiving the Sylvia Murphy Williams Scholarship and for the opportunity to attend the ILA Annual Conference. I thoroughly enjoyed the conference, and I was amazed by how much I learned in such a short period of time. I thought Nina Simon's presentation in particular was inspiring. It is so crucial for libraries and other memory institutes to connect with the community to remain relevant. I hope to achieve this connection between community and the library in my career, which requires a lot of collaboration with community stakeholders as well as knowledge about the community and populations within the community.
For these reasons, the programs I attended were primarily in the Collaboration and Community Building track as well as the Diversity and Special Populations track. These programs were fantastic, and the content was inspirational! In fact, my time at the conference gave me ideas for programming that we can implement at the library I currently work at, Evanston Public Library, and gave me further insight into the kind of librarian I want to be. Finally, I really appreciate having a mentor through the Sylvia Murphy Williams Scholarship. My mentor, Katrina Belogorsky, is fantastic, and I really enjoyed talking with her about my career goals and her experiences.
It was wonderful to meet so many engaging and passionate people at this conference, and I feel truly validated in my choice to become a librarian. I can't wait to see what next year's conference holds!
Araceli Moreno
2016 Sylvia Murphy Williams Scholar
I am very thankful for the ALA Spectrum Scholarship, Sylvia Murphy Williams Award, ILA's Cultural and Racial Diversity Committee, and the Illinois Library Association for granting me the opportunity to be able to attend my very first library conference. Before taking part in the event, I was given helpful guidance on what to do and where to go. My CARD committee mentor, Nataliya Papushina, reached out to me and provided tips for first-time conference attendees and suggestions for workshops. She also shared her number so we could meet after the opening session. I felt welcomed and prepared. As I waited for the initial session to start, I was able to talk to librarians who excitedly shared their librarianship journey and projects they recently worked on, from hedgehog-shaped book crafts to interesting reference questions in specialized libraries.
I felt inspired by Nina Simon's opening session on building spaces where people feel empowered to share their creative and civic voices. Through the workshops I attended, I was able to take notes on how to incorporate genealogy and family history programs at the library.
I learned from a newly minted librarian and a manager's experiences of participating in the workforce. I explored opportunities to invite artists to conduct youth workshops and creating one's very own library scouts. Overall, I had a great time and enjoyed getting to know fellow Spectrum scholars and recipients of the Sylvia Murphy Williams Award. The ILA Awards Luncheon was a special experience and served as encourage-ment to continue the great profession I am embarking in.
Omar Ramirez
2015–2016 ALA Spectrum Scholar
This was my first time attending ILA as an official librarian. Attending professional conferences has always been a little stressful due to the number of people as well as sessions that one has to wade through. This year was different because of the Sylvia Murphy Williams Award and the newly added mentor aspect of it. My mentor, Hannah Rapp, reached out in advance prior to the conference in order to get to know me and assist with any questions I had about ILA. Through our correspondences we were able to not only get to know each other, but also discuss program ideas and how to deal with certain library situations that arise. My mentor provided a friendly voice in a sea of librarians that I had yet to meet. Although our schedules did not align to meet in person, Hannah and I have stayed in contact and hopefully will be able to meet in person soon.
Two of my favorite sessions were Best Books for Kids 2016 and Special Needs/Special Programs. As I have chosen the path of a youth librarian the aforementioned programs provided me with excellent titles, as well as ideas to implement at my own library, providing quality materials and programming that reach all walks of life. As I forget sometimes, librarians are the friendliest of people and ILA was not short on them. I talked to various individuals from public libraries and school libraries. It was interesting to see the range of responsibilities and everyday challenges that are faced not only by libraries, but also by the librarians.
The highlight of the conference was meeting my fellow awardees. I was able to talk with Trixie in person and she made me feel welcomed and at ease as she escorted me to the award table. The group of ladies and gentleman there were all very friendly and just as excited and nervous to be attending as I was. We talked among ourselves and it was inspiring to see such a variety of individuals brimming with ideas and working in such a varied profession. We discussed school, ILA, and being Spectrum scholars and now Sylvia Murphy Williams recipients. The feeling of camaraderie at the table was instant and shared by all in the little time that we spent together.
I feel invigorated after attending ILA. I am very appreciative of the opportunity that ILA, CARD, and the Sylvia Murphy Williams Award have provided me. I can only hope that in the future I will be able to return the favor by being a mentor to a new librarian and providing the same welcoming and friendly face that I received going in to ILA this year.
Anjelica Rufus-Barnes
2016 Sylvia Murphy Williams Scholar
I began this year's conference with anxiety and panic. I was not only a Sylvia Murphy Williams Award recipient, but I was also on the conference program committee. The first day was the beginning of seeing the fruits of the committee's fifteen months of planning, and I was worried that something—anything—would go wrong. By the last day, however, I was at ease knowing that the conference went very well.
I learned so much during the wonderful sessions. The panels on Trending Now, Transgender 101, and the Graphic Novel Smackdown were very informative and provided resources that I plan to use. The opening session about relevance and empowering patrons complemented the Meet the Neighbors panel. Both discussed ways libraries could be more inviting to the community. Keynote speaker Nina Simon said that a crisis is a terrible thing to waste. DiversiTea, which was about how to be proactive during a community crisis, reinforced this. I enjoyed all of these sessions, but a highlight for me was Game On where I learned how to play Exploding Kittens and won a game in a raffle.
Between sessions, I met some engaging and enlightening people. At the pub stroll, I heard stories about how attendees got into librarianship. In the exhibitor hall, a Dominican University alumnus at the Author Showcase booth talked about what happens after library school. I am especially glad to have met my CARD mentor Louise Dimick. We had a lengthy conversation about our lives and how to balance our workloads. (BTW, thanks for the mentoring program, CARD!)