December 2016 | Volume XXXIV. Issue 6 »
The World on Our Shoulders: ATLAS and Other Grassroots Cooperatives
November 21, 2016
Megan Millen, Joliet Public Library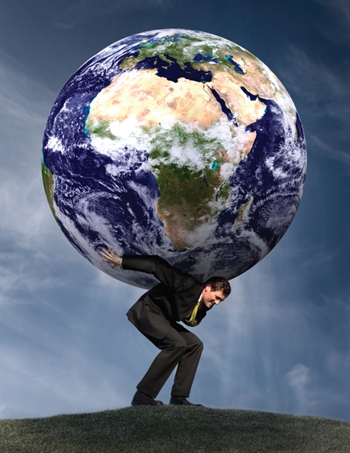 March 19, 2010. Six south suburban library directors responded to a Doodle poll that began:
Thank you for volunteering to begin our grassroots effort to preserve services for our patrons, called Project Phoenix." I was the director of the Flossmoor Public Library at the time and had been talking with Kathy Parker, director of Glenwood-Lynwood Public Library District, earlier that week about the impending changes to library systems as we knew them. There was a feeling of panic in the air. Our colleagues in the North Suburban Library System (NSLS) had just been notified that they were going to be required to pay for their own interlibrary loan delivery service. Our service area in the south suburbs had many underfunded public libraries with extremely small budgets. We knew we had to act.
Project Phoenix began by investigating the feasibility of providing delivery service among the twelve or so libraries in their immediate service area. When Metropolitan Library System formed a delivery task force for the same reason, Project Phoenix switched gears to work on providing continuing education for local staff.
Parker says, "The need for local, affordable continuing education was so obvious, with the systems being told they could no longer provide any. We carefully crafted a model that would provide regional, cost-effective programs for staff and trustees. We started with the basics that first year, planning workshops for frontline staff about answering reference questions and basic customer service. We intentionally kept our membership fees and program costs low. We were happy to discover that our programs were well attended and our model was working."
After the first year, the group knew they had a sustainable, replicable organization. Project Phoenix changed its name to ATLAS, which stands for Area Training for Librarians and Staff, but also symbolically represents holding up the world on one's shoulders. In the summer of 2012, the board of ATLAS wrote formal bylaws and soon took steps to become a nonprofit intergovernmental instrumentality. For the past four years, ATLAS's membership has grown from the initial twelve members to forty-six member libraries from all over the Reaching Across Illinois Library System's (RAILS) service area. This month ATLAS will hold their annual multi-library staff presentation at the Tinley Park Convention Center, with about 300 library staff members expected to attend.
"ATLAS hosts continuing education for all staff levels," Parker said. "We recently completed ATLAS Academy for frontline staff, are planning an ATLAS Institute for managers this year, have annual training for trustees, and are working on our fourth ATLAS Library Directors' Retreat in March. We consider ATLAS to be a great success."
REACHING THE PINNACLE
While Project Phoenix was in development, six library directors to the west were also listening to the wake-up call sounded by NSLS's financial collapse. Paul Mills, director of Fountaindale Public Library District in Bolingbrook, recalls discussing the chilling prospect of paying for system delivery out-of-pocket. A group led by Scott Pointon of the White Oak Library District devised a plan to provide delivery among six area libraries if necessary: Fountaindale, Joliet, Lemont, Plainfield, Shorewood-Troy, and White Oak. Fortunately for all, the systems merged into RAILS and allowed subsidized delivery to continue. However, the group had ignited a spark.
The six libraries were within a contiguous geographical region with similar communities and began exploring the possibility of breaking away from the established PrairieCat Local Library System Automation Program (LLSAP) and forming their own integrated library system (ILS) consortium. "Unstable system funding and an uncertain future for Illinois contributed to us looking for a self-sustaining model. We were like-minded administrators who wished to join into a smaller, more nimble group than a large LLSAP could offer," Mills said.
In June 2012, the Pinnacle Library Cooperative went live after migrating to the Polaris ILS, becoming a nonprofit corporation. With more than 1,340,000 items, Pinnacle has nearly 30 percent of the items held by the much larger PrairieCat, which has 130 members. Governed by the six directors of its member libraries, it has a single employee, an ILS manager who runs the technical end of Pinnacle.
When asked about the pitfalls of breaking away from a large LLSAP, Mills stated the need to be sensitive to libraries that border Pinnacle. "Many of these patrons travel from library to library and aren't aware they've crossed any sort of border. We strive to provide good service to these patrons as well as to our own." Loans between libraries outside of Pinnacle are facilitated through OCLC.
However Mills cited many more examples of what makes Pinnacle a success. The compact nature of the group allows for a nimble implementation of changes. "Compared to larger consortia, the time frame for moving new ideas from the discussion and decision phases through implementation can now take as little as one month." This has led to an improved patron experience, as well as more staff cooperation and consistency in procedures systemwide. Policies have been put in place that remove barriers from customer service. For example, a Plainfield taxpayer can obtain a library card at Joliet Public Library and vice versa. Mills said, "Most of us keep copies of each other's library cards at our circulation desk. Why send them back to their home libraries when they are standing in front of us and have a need we can fill?"
This small cooperative is going strong four years after migration. Mills said they are open to admitting new member libraries who are contiguous and share similar communities, though the cost of migrating to a new platform often outweighs the benefits for new members. But for these six original members, becoming a self-sustaining cooperative has proved beneficial.
DOING IT OURSELVES: LIBRARIANS WORKING TOGETHER
In 2003, Peggy Wogen was hired as director of Malta Township Public Library in DeKalb County. The board members were in dire need of training to understand Illinois library law and their role in the library. Trying to rein them in and set the library on the right path caused friction for Wogen, and she risked losing her job. Instead of giving up, she sought support from other area library directors she met through attending the Small Public Library Management Institute (SPLMI) in 2004. Eight of these directors started meeting monthly, writing cooperative grants, offering constructive advice about each other's libraries, and tackling difficult problems they would encounter. They called themselves Librarians Working Together, with Peggy Wogen as their "fearless leader." Through patience and leadership, Wogen and her board came to terms with each of their respective roles. The encouragement of her fellow library directors was key in helping her gain perspective on the situation.
During those years, as members of the Northern Illinois Library System, these small libraries relied heavily on consulting and continuing education provided by the system. Fast forward to 2010, when system funding for these services was being cut and systems were merging. Librarians Working Together knew they needed to adapt to the new environment.
The first thing they did was widen their circle to include larger libraries. The addition of Sycamore and DeKalb public libraries brought a different perspective to the group. They started hosting a multi-library staff development program every March that draws participants from up to twenty libraries in and around DeKalb County. They also collaborate on board training programs, pooling resources and applying for RAILS continuing education grants to bring in top speakers. The group, now in its twelfth year, also does joint marketing. They advertise as a whole at the Sandwich County Fair where they encourage patrons to visit all of their libraries with the slogan, "We work better together."
THE GRANDDADDY OF COOPERATIVES
The Illinois financial crisis was the impetus for many of these groups to form or reconfigure themselves; however, a grassroots membership-based model for continuing education has been in existence in Illinois for the past sixty-two years. LACONI (Library Administrators Conference of Northern Illinois) has been providing quality training to library staff in its eight sections for decades. ATLAS looked to LACONI as a basis for its bylaws and organizational structure. Alex Todd, immediate past president of the LACONI Administrators' Section, attributes its enduring success to consistently offering timely, useful workshops to all levels of staff. Todd said, "The key to LACONI's success and what sets it apart are the extra publications it offers, such as an annual salary survey, the Youth Services Section's Harvest of Performers, and the Outreach Section's Best of the Best Showcase. These are practical resources that staff members turn to year after year. They're what LACONI is known for."
This same formula for success can be applied to ATLAS and all the grassroots organizations across Illinois who strive every day to provide quality library service to patrons through superior training, access, and resources. As Kathy Parker says, "In sixty years, I hope someone will be writing an article for the ILA Reporter about the creation of ATLAS, which is still going strong. I'd love for us to have that legacy and to provide great continuing education for future generations."