August 2016 | Volume XXXIV. Issue 4 »
Chicago Teen Literary Fest
July 19, 2016
Jeremy Dunn, Jen Steele, and Robin Willard, Chicago Public Library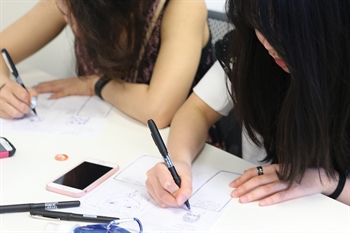 This past April, Chicago Public Library Teen Services and YOUmedia partnered with several organizations to host the first teen-driven, teen-focused literary festival in Chicago, entitled ChiTeen Lit Fest. A safe and creative space for young adults to unlock and discover their unique voice through literary arts, the Chicago Teen Lit Fest seeks to bring together young people from across Chicago and celebrate their talents, as they express themselves through exceptional and honest art.
During the two-day fest, hosted at Columbia College Chicago on April 15 and 16, a total of 322 individual teens participated with event support from 70+ volunteers. The event launched on Friday, April 15, at the downtown central library (Harold Washington Library Center) with a pre-festival party attended by 143 teens. Saturday's festival featured twenty-one workshops and panels on a wide range of topics including comedy writing, publishing, gender and sexuality, writing for the stage, lyric composition, and more. More than 250 teens attended the Saturday event. Festival headliners Che "Rhymefest" Smith, Erika Sanchez, Ben Tanzer, and Nambi Kelley led workshops and participated in panel discussions.
The two-day event began its journey in 2015 with joint collaboration between project partners, the Teen Advisory Council, and Youth Branding Team in the development of teen surveys, marketing and branding development, website development (https://chiteenlitfest.org/), festival programming, and a Teen Ambassador program in partnership with the Center for College Access and Success to create further leadership opportunities for teens.
The festival also brought numerous Chicago-based program providers and vendors together to provide information about literary opportunities available throughout the year for teen writers, and Chicago Public Library is proud to share news that they already received grant award notification from the Chicago Community Trust that another ChiTeen Lit Fest will be sponsored in 2017.
The ChiTeen Lit Fest is made possible with the support of the Hive Chicago Fund for Connected Learning through the Chicago Community Trust. Support for this project also came from the City of Chicago and Chicago Public Library Foundation.
Festival Partners Include: Chicago Public Library, Poetry Foundation, UIC College of Education, Columbia College Chicago, After School Matters, Center for College Access and Success at Northeastern Illinois University, Kuumba Lynx
Festival Vendors Include: Chicago Public Library Teen Services/YOUmedia, Brown and Proud Press, Radiator Comics, 57th Street Books, Polyphony HS, ChiArts High School, Center for College Access and Success (NEIU), Columbia College Chicago — Creative Writing, Poetry Foundation, TrueStar Media