August 2016 | Volume XXXIV. Issue 4 »
Q&A with 2017 iREAD Illustrator Mike Curato
July 19, 2016
Illinois Library Association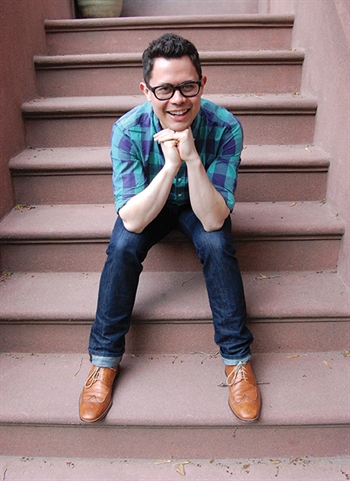 ILA: What were some of your own experiences as a kid with reading children's books?
MC: I think I had a typical relationship with books when I was a kid. I had a few favorites that I made my mom read over and over and over (like The Little Red Caboose and The Poky Little Puppy). I was particularly obsessed with details, so I enjoyed pouring over the illustrations, looking for the extra little stories that are not found in the text. This can be seen in the earliest of my drawings. I could never just draw a house with a door and two windows, it had to be a house with shutters and flower boxes and a doorbell and a brick chimney and a shingled roof. I probably owe that to looking at picture books.
ILA: Favorite illustrators or authors?
MC: How many pages can this take up??? There are so many amazing illustrators and authors working today. Let's talk about Isabelle Arsenault! Carson Ellis! Ekua Holmes! Catia Chien! Christian Robinson and Matt de la Pena! Sophie Blackall and Lindsay Mattick! Samantha Berger! Ruth Chan! Isabel Roxas! Tim Miller and Julie Falatko! Patrick McDonnell! This is a really unfair question. I can't fully answer it!
ILA: What a great list!
ILA: Your characters, Little Elliot and Mouse, are great problem solvers. What do you think makes them such a great team?
MC: For such small creatures, Little Elliot and Mouse both have very big hearts. I think it is their dedication to each other that helps them get through any situation. The answer to the problem may not be apparent, but as long as they are there for each other, it will all work out.
ILA: The Elliot books seem to address both the willingness to be different and accept both yourself and others, all in a spirit of fun—it's a serious subject, how do you keep it lighthearted?
MC: Well, I think the fact that Little Elliot is himself such a whimsical character helps keep it all lighthearted. It's hard to not add levity to a serious situation when you're a two-foot-tall polka-dotted elephant. Despite Elliot's shortcomings (no pun intended), he always leads with his heart, and I think that makes readers feel safe.
ILA: What can readers expect from Little Elliot's newest adventure in Little Elliot, Big Fun? And are there other Little Elliot books in the works?
MC: In Little Elliot, Big Fun, Elliot and Mouse head to Coney Island for the day. While Mouse is eager to go on all of the rides, Little Elliot is scared to. In his attempt to steer clear of any danger, Elliot is tossed into a pandemonious misadventure that sends Mouse on a wild goose chase. Little Elliot has to confront his fears, and Mouse is there to support him. Also, there's ice cream. Meanwhile, I am currently working on the fourth Little Elliot book. It's in very early stages, so I won't divulge too much, but I will say that Little Elliot and Mouse might be taking a trip outside of the big city!
ILA: And can't resist...what's your favorite cupcake flavor?
MC: Kids ask me this all the time, and honestly, how can I choose just one? There are so many yummy cupcakes out there, it would be a shame not to love them all.
ILA: Mike recently illustrated another children's book, Worm Loves Worm, and wrote this eloquent post in his blog at https://mikecurato.wordpress.com/
MC: Usually, when I think of Pride month, I think of celebration and acceptance. But this year, I think about loss. In the wake of the Orlando massacre, I feel emotionally exhausted. I also feel a need to do something. I am a member of the LGBTQA community and the children's book community. Since there aren't too many of us who belong to both, I thought this might be an area where I can help bring about change. That was one of the reasons I illustrated J.J. Austrian's beautiful book, Worm Loves Worm.
It is so important that children see lesbian, gay, bisexual, transgender, queer, and ally characters in books. My wish for them is to live in a world of acceptance where people are trying to understand and appreciate each other's differences. Our visibility is crucial. LGBTQ people need to be seen as real three-dimensional human beings. The inability for some to see us as human beings with real hearts and minds makes it easier for them to fear and hate us. We can help our kids be good friends and allies. We can help "different" kids love themselves. Books like this one for the youngest readers are a great way to start.
In honor of Pride month, and in memory of the victims of Pulse nightclub in Orlando, I donated twenty copies of Worm Loves Worm to schools around the country, courtesy of Balzer + Bray!
DON'T MISS MIKE CURATO AT ILA ANNUAL CONFERENCE, YOUTH SERVICES AUTHOR BREAKFAST
Wednesday, October 19, 8:00 – 10:00 A.M.
2017 iREAD artist Mike Curato loves drawing and writing almost as much as he loves cupcakes and ice cream (and that's a LOT!). He is the author and illustrator of everyone's favorite polka-dotted elephant, Little Elliot. His debut title, Little Elliot, Big City, released in 2014 to critical acclaim, has won several awards, and is being translated into ten languages. Publishers Weekly named Mike a "Fall 2014 Flying Start." The follow up book, Little Elliot, Big Family, was released in October 2015, and has received several starred reviews. The third installment, Little Elliot, Big Fun, comes out this August. Meanwhile, Mike had the pleasure of illustrating Worm Loves Worm by J.J. Austrian, released last January. He is also working on several other projects, including his first graphic novel. Mike lives and works in Brooklyn, New York.