April 2016 | Volume XXXIV, Issue 2 »
Four Hundred Years Later: Shakespeare's First Folio
March 21, 2016
Christine Watkins, Illinois Library Association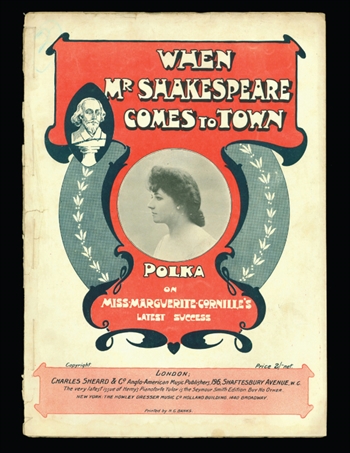 To be or not to be—why is Shakespeare's First Folio such a big deal?
This first collected edition of Shakespeare's plays wasn't published until seven years after his death in 1616. Many of the plays had been written only for theatrical performance and were unpublished during his lifetime. Without the First Folio, eighteen of the thirty-eight plays—includingMacbeth,JuliusCaesar,TwelfthNight,The Tempest, Antony and Cleopatra, The Comedy of Errors, and As You Like It—may have been lost.
Of the approximately 750 copies of the First Folio originally printed, 233 are known to exist. Eighty-two of those copies are in the collections of the Folger Shakespeare Library. Copies have been sold for as much as $6.2 million. This amazing book is currently touring all fifty states in an exhibition organized by the Folger and the Public Programs Office of the American Library Association.
Its February stopover in Illinois was hosted by the Lake County Discovery Museum and prompted a series of programs at neighboring Lake Villa District Library (LVDL), including an appearance by Andrea Mays, author of The Millionaire and the Bard. Mays' book, which tells the story of Henry Folger's lifelong obsession with the First Folio, is their One Book selection. The library foundation's annual fund-raiser took on a Shakespearian theme—Much Ado About Something—with sponsorships ranging from Sonnet and Bard ($50-$100) to Elizabethan and Folio ($500-$1,000). Another brilliant piece of programming was challenging patrons to learn at least one new fact about Shakespeare, with each fact translating into a donation to a local food pantry. Assistant Director Paul Kaplan got into the act by posing as a ruffled William (see photo at left) for the cover of the library's newsletter.
Libraries all over Illinois are getting into the act of celebrating this 400th anniversary—it's not too late, the celebrations will continue all year long!
EXHIBITIONS AND MORE: SHAKESPEARE 400 CHICAGO
A must-see exhibit for every Shakespeare fan, Chicago's Newberry Library is planning a blockbuster for this fall, September 23-December 31, 2016. Creating Shakespeare features more than one hundred items, including treasures from the Newberry Library and other distinguished collections. Through artifacts, manuscripts, printed books, artwork, music, and more, the exhibition examines both Shakespeare's own creativity as well as how his works have been reimagined and recreated throughout the centuries. In addition to the exhibition, a series of public programs will be held at the Newberry throughout the fall of 2016, including lectures and curator-led tours of the galleries. Admission is free, and the exhibition is part of a major citywide celebration, www.shakespeare400chicago.com, which includes theaters, museums, libraries, and all sorts of cultural and educational organizations.
Chicago Public Library is offering yearlong programming, including screenings of Shakespeare and Shakespeare-inspired films; a Shakespeare Read-Aloud Book Club, featuring Richard III, Romeo and Juliet, and A Midsummer Night's Dream; and monthly peeks into its theater collection for interesting artifacts of fellow Chicagoans performing, reading, and engaging with Shakespeare throughout our city's history. Online resources offer historical information about Shakespeare and his works, words he created, and even a chance to learn to talk like Shakespeare through the Mango Languages database, all accessible from anywhere in the world. The library and branches will prominently feature their extensive collections of Shakespeare's plays and huge variety of books, films, audiobooks, musical scores, and other works that he has inspired.
The Pritzker Military Museum & Library is involved in the Shakespeare 400 Chicago festival by providing access to Shakespeare for Chicago's active and retired military personnel. They are also participating in an emerging video series, entitled "Shakespeare and the Citizen Soldier," which will be recorded by international artists converging in the city for the festival. The videos will feature Shakespeare's legendary monologues illuminating the personal impact of war and be available to military bases around the world.
TREADING THE BOARDS AT LIBRARIES
The Shakespeare Project of Chicago has been bringing Shakespeare into public libraries and other educational venues since 1995. The 2015-2016 calendar includes free theatrical readings of The Winter's Tale, Julius Caesar, Cymbeline, and Cardenio at the Newberry Library, Niles Public Library, Highland Park Public Library, Mount Prospect Public Library, Vernon Area Public Library, and Wilmette Public Library. Their fee-based production of 50-Minute Hamlet is also being presented at Ela Area Library, La Grange Park Public Library, and Morton Grove Public Library. Contact outreach@shakespeareprojectchicago.org for pricing and performance availability.
Carol Morency of Mount Prospect Public Library reports, "The January 19 performance of The Winter's Tale was well attended and the audience raved about and appreciated it." The theatrical readings feature professional actors with books in hand, but still making entrances and exits and moving across the stage as they would in a full production. With no sets, props, or costumes to distract, these readings focus on the language and may be the best way to experience Shakespeare's words. An interview with the Shakespeare Project's director is posted at www.mppl.org/videos/library-life-episode-172.
Evergreen Park Public Library presented a jam-packed lineup for audiences of all ages in January, ranging from a Shakespeare Costume Design Contest for teens; Kenneth Branagh's Shakespeare and family Shakespeare movie nights; aTwelfth Night Festival and Elizabethan Crafts for Kids in the Children's Department; a juggling workshop to bring out your inner jester; book club discussions of Hamlet and Jennifer Lee Carrell's Interred with Their Bones; a painting party based on The Winter's Tale; and a presentation on music in Shakespeare's plays. Whew!
NOT LOST IN TRANSLATION
In case you think Shakespeare is limited to the English-speaking world, the University of Chicago Library reports that it has 224 translations of Shakespeare, with German being the most popular by far. Chinese and French tie for second place, with Hungarian, Russian and Hebrew falling into third. The oldest and most recent translations in their holdings are French, with the oldest being a twenty-volume 1776 Shakespeare; traduit de l'anglois, dedie au roi.
Shakespeare's speeches were favored by other famous orators, such as Illinois' own Abraham Lincoln. At Knox College's Seymour Library, the Donna Workman Collection of texts read by Lincoln includes a small 1836 edition of Shakespeare, typical of the one-volume editions that were popular in nineteenth-century America. A similar copy is part of a permanent exhibit on Lincoln as a reader in Knox's Old Main, the site of one of the seven Lincoln-Douglas debates in 1858. Lincoln read his favorite plays by Shakespeare over and over again and saw many theatrical productions of them; he favored Shakespeare's tragedies and histories, and famously remarked that "nothing equals Macbeth."
Shakespeare offers unlimited connections to other themes and topics, a natural bridge to a wide range of programs. In addition to its One Book and First Folio programs, Lake Villa District Library presented programs on European Art in the Time of Shakespeare, a look at Shakespeare's People (characters and contemporaries); an exploration of what makes a "rare book" rare; and a hands-on program to create art with famous quotations.
Continue to send us your programming and collection highlights for this 400th anniversary year, and we'll feature them in the ILA E-Newsletter and at www.ila.org.
CAPTIONS:
"When Mr. Shakespeare Comes to Town," 1905. From the Newberry Library's James Francis Driscoll Collection of Historical American Sheet Music.
A few of the foreign language translations of Shakespeare's work held by the University of Chicago Library.
Photo credit: Special Collections and Archives, Knox College Library