February 2016 | Volume XXXIV, Issue 1 »
Practical Innovations
January 25, 2016
Leah L. White, Ela Area Public Library District
What we do today in this life, in this time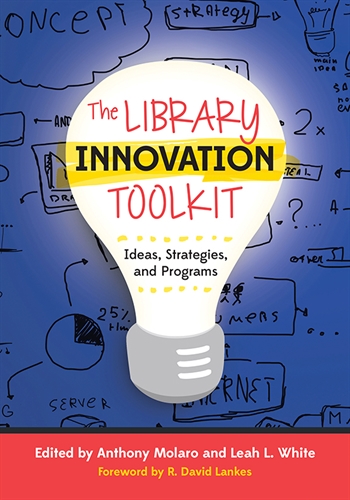 It's our charge, to all rise
And seize the moment, collectively own it
Victory is waiting for us, all it's open
We have arrived, we have arrived, we are here.
--From "Arrival" by Latyrx
Innovation can be an intimidating word. It sounds like a buzzword, often misused to describe something big or expensive. The myth is that because something has a huge budget and requires a lot of staff, it is automatically characterized as innovative.
Most truly innovative ideas start small, with a shift in thinking that makes you start figuring out how to say yes instead of no. Like the intensive, hands-on program that empowers your community because each and every person who attends leaves inspired and with something they created with their own hands and minds. Or the staff training program that people actually participated in and then left feeling like they know more and want to share that knowledge. These are all practical innovations.
Practical innovations are true reflections of the communities we serve and their needs. They are the bread and butter of what makes a library relevant within its community, whether that is a school, a village, or a large urban area. They are vital to an organization and don't have to be pie-in-the-sky ideas. Being innovative takes hard work, the ability to think outside the box, and time. While editing The Library Innovation Toolkit, I had the pleasure of reading about many libraries and their innovations. I found that truly innovative organizations all have similar traits, regardless of the type of library they are or the community they serve, and these are ideas that can be implemented easily. And even more importantly, practically.
MAKE IT FUN
In The Library Innovation Toolkit, the chapter about the Ela Area Public Library District is called "Innovation Wizardry." It's a whimsical look at building innovative cultures and is one of the reasons I applied for my job at this library over two years ago! This chapter is a good example of how making things fun can drive innovation and creativity among staff.
When launching a new idea, we aim to make it fun for staff to learn about the process because word-of-mouth marketing is some of the best marketing a library can hope for. If all staff members can speak with the community about services in a passionate way, the excitement spreads like wildfire! A good example is the training for staff on the equipment in our new makerspace, particularly the Silhouette Vinyl Cutter, arguably the most popular attraction.
Before opening the space, we had "Meet the Silhouette" gatherings where staff created their own stickers. We also hold periodic classes for staff only, recently one on making wooden ornaments decorated with vinyl. These trainings and classes are taught by staff members and open to all staff at the library, from librarians to the maintenance staff. It is considered paid work time for anyone who attends. We want all staff members to be able to speak about the service, so if someone is checking out a book on paper crafting, one of our circulation clerks can speak enthusiastically about our Silhouette Vinyl Cutter and how well it works for card stock too. These activities generate enthusiasm for the technology among the staff and when the staff is excited, the community gets excited.
MAKE IT SAFE
Taking risks is scary for a lot of people, so if a library staff member is constantly fearing repercussions for those risks, innovation simply will not happen. People need the flexibility to tweak ideas and projects as they go along. Most importantly, they need to know failing is okay. Failing isn't fun and no one wants it to happen, but failure in a safe, supported environment will lead to new and better ideas.
In the chapter "Zen and the Art of Innovation," authors Sarah Hashemi Scott and Heather McNamee explore building this safe environment through open communication methods based on Zen Buddhism. According to Scott and McNamee, being transparent in decision making, listening to colleagues, and sharing stories about innovations are all little changes that have a big impact on the culture of an organization. These small actions facilitate a feeling that if someone has an idea that doesn't work, it's okay. No one is perfect—not even librarians who seem intimidating because they're constantly innovating! With open communication, there's an understanding that different people have different strengths. Empowering staff to work within their passions while also encouraging them to read and work outside of their comfort zone is crucial to fostering this safe environment, primed for both successes and failures but also innovation.
CROSSING DEPARTMENTAL LINES
It is so easy to stay in our siloes, sometimes without even realizing it. Library staff are busy, getting busier, and often under pressure. In this routine of day-to-day duties, we forget to zoom out, look at the big picture, and think about how to accomplish creative ideas that reflect our communities. Thinking across departmental lines helps keep staff nimble and ready to act and create. Another chapter, called "Innovation Boot Camp," explains how the University of Guelph Library overcame those siloes. The library was struggling with morale issues during a difficult period, and two librarians decided to mix things up. They created the Innovation Boot Camp to help unite different departments and spur idea creation. A selected group of staff members from across the entire library and from all levels of staffing got together once a week for a few hours to focus on innovation.
The authors, Robin Bergart and M. J. D'Elia, created curriculum for the group and set about the task of becoming more innovative through deliberate practice and collaborative brainstorming. While some of the activities they planned were more productive than others, they ultimately decided that creating time and space to study innovation with their peers was the point. It gave staff members the opportunity to collaborate with co-workers that they would typically go days without ever seeing, let alone speak to. Cross-departmental initiatives like this also dispel the myth that in order to be an innovator, a person must be a "rock star librarian." The fact is that anyone can be an innovator, but doing so in a vacuum is extremely difficult.
Innovation is within everyone's reach. All it takes is time, a dedication to hard work, and thinking about what the community served truly needs and wants. Overcome the idea that innovation is for them and not for you. Because we are all innovators in our own ways, we just have to take the time to realize it and then do something about it.