March 2023 | Volume XLI, Issue 1 »
Illinois Specialized Libraries Take a National Stage
March 8, 2023
Dan Bostrom, Reaching Across Illinois Library System
"SPECIALIZED LIBRARIAN"
Maybe you've heard this term before, but never quite known what it means. The specialized library field is more easily defined by what it isn't than what it is. It is easy for most people to identify the audience that public, academic, and school libraries serve. Specialized librarians serve just that: a specialized audience. In many cases, that means a library in a corporate, government, law, health, museum, or other setting.
Illinois has many of these specialized libraries and they are often located closer than you think. From big law firms in downtown Chicago to corporate headquarters like Caterpillar in Peoria, there are specialized libraries all around the state. And they often serve users around the world.
NEWS FROM SLA HQ
The Special Libraries Association (SLA) is a nonprofit global organization for innovative information professionals and their strategic partners in business, government, academic, and other "specialized" settings. With approximately 4,000 members worldwide, SLA offers members learning, networking, and community building initiatives.
In 2019, SLA restructured the organization, moving from units and chapters to communities. As part of the restructuring, all SLA members could now join any community as part of their annual membership. This broke down many of the silos that had been created through the old system; it also allowed members to get involved in as many communities as they wanted.
Although SLA has seen a decline in overall membership over the past decade, members are still finding new ways to connect and share best practices. In 2022, the association held their first in-person conference since 2019 in Charlotte, North Carolina. The conference included live streamed presentations and access to pre-recorded sessions.
In 2023, the association will partner with the Medical Library Association (MLA) for its annual conference. The joint MLA/SLA Annual Conference will take place in Detroit, Michigan on May 16-19, 2023. This event will bring together professionals from around the world to talk about important topics such as knowledge management, taxonomy, information systems, and information evaluation.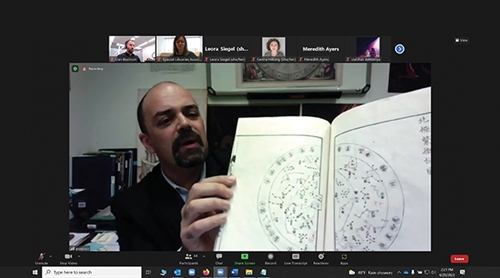 Dr. Pedro Raposo gives SLA Illinois attendees a virtual tour of the Adler Planterium Library in April 2022.
SLA ILLINOIS LEADS MIDWEST COLLABORATION
On Friday, June 10, 2022, specialized library workers from around the Midwest and beyond came together for a professional development event that has continued to grow and attract attention. The 2022 SLA Midwest Symposium was the third time that Midwest communities of SLA came together to host this half-day virtual event. The host communities for this event were Illinois, Indiana, Iowa, Michigan, and St. Louis Metro.
The 2022 version broke records for the most people registered (100) and participated (over 80). The event featured keynotes by 2022 SLA President Catherine Lavallée-Welch and Gary Price, author of Library Journal's popular InfoDocket column. Participants also heard three educational sessions, six lightning talks, and had the opportunity to network with other specialized information professionals. This event continues to successfully bring together the best minds from the Midwest and the collaboration between the five communities leads to stronger regional ties.
"In 2022, we really focused on creating a welcoming event for students," said 2023 SLA Illinois President Valerie Moore, who chaired the planning committee. "These folks are the future of the profession and by offering them free registration, we hope to encourage them to get more involved in SLA."
RESPONDING TO THE PANDEMIC
Like many organizations, SLA Illinois has had to shift the way that it reaches members over the past few years. Before the pandemic, SLA Illinois hosted an annual, in-person symposium, where members would get together to hear about new projects that other colleagues had been working on. The 2019 SLA Illinois Symposium was held in a small dining room at a restaurant in Chicago's Greektown.
"The 2020 SLA Midwest Symposium was intended to be an in-person conference in Champaign-Urbana," recalls 2021 SLA Illinois President Kristin Stutzman. "We were very excited to get membership together in a centralized location. Then the pandemic hit. But we pivoted to an online conference and the result was more successful than we could have imagined."
In addition to holding the Symposium, SLA Illinois has continued to hold online events that appeal to a wide audience. In the past year, the community has held Zoom events such as:
A virtual book discussion of the classic Maus by Art Spiegelman
A virtual trivia event
A virtual lunch with illustrator and writer Anika Orrock
A virtual tour of the Adler Planetarium library
These events are often to both members and nonmembers. They not only give attendees the opportunity to learn more about specialized librarians, but also the chance to connect with colleagues across library types.
A NEW PATH FORWARD FOR SLA
In 2023, one of SLA Illinois' main goals is to collaborate more closely with other Midwest communities. Building off the successful SLA Midwest Symposium, the collaborating communities have entered into an informal agreement to work more closely together. These communities include:
SLA Illinois
SLA Indiana
SLA Iowa
SLA Kansas-Western Missouri
SLA Michigan
SLA Minnesota
SLA St. Louis Metro
As part of this agreement, the communities will be hosting monthly networking events, doing joint board meetings, and exploring other options for professional development. The communities hope that by working together they can improve the benefits that they offer to members.
Meanwhile, SLA Illinois continues to demonstrate leadership in the larger national organization. In 2022, three SLA Illinois members were recognized for their contributions:
Barbara Kern, University of Chicago Library —
Fellow of SLA
Eugene M. Giudice, Dentons US, LLP —
Fellow of SLA
Valerie Moore, Prairie State College —
James M. Matarazzo Rising Star Award
These are some of the highest honors that SLA awards. It's exciting to see Illinois members recognized and it should assure the greater library workers across the state that our community will continue to have a bright future.