Libraries Share Hybrid Programming Experiences
June 1, 2022
Sarah Rice, Forefront and Jennifer Robertson, Carbondale Public Library
The COVID-19 pandemic has, among all its other effects, drastically changed the landscape of library programming. When asked to pivot immediately from almost entirely in-person modes of interaction to an entirely virtual space, librarians everywhere met the challenge admirably. Whether by recording story times, creating make-and-take crafts for curbside service, or hosting book clubs through Facebook, libraries found distanced and virtual ways of meeting their communities' needs.
Now, with spaces opening up and mandates being dropped, some libraries have committed to continuing their virtual offerings. They found new or expanded audiences online who are still interested in those digital spaces. This has led to much discussion about hybrid programming. However, there are multiple ways to think about hybrid programming as we discovered in sending out a survey to Illinois librarians. The survey was distributed in late February 2022 via RAILS and IHLS email lists. Many of the articles out there define hybrid programs as ones where there are simultaneous in-person and virtual elements, such as a book club held at the library where some members still attend virtually. But, when discussing total programming strategies, hybrid also feels like an appropriate term to discuss event calendars that are a mix of fully in-person and totally virtual meetings. For our purposes, we will be discussing this mixed schedule as well as fully hybrid events since the two are difficult to disentangle. This approach reflects responses to our survey, which discussed overall programming more than individual sessions.
HYBRID PROGRAMMING SURVEY
For a glimpse of the extent to which libraries and library staff had to adjust, more than 90% of the respondents to our survey said they had done no online or hybrid programming prior to the pandemic. At the time of data collection, 23% of respondents were back to fully in-person events while roughly two-thirds said they were offering hybrid programs or described a mixed calendar of events. One very commonly mentioned option was make-and-take kits for a variety of audiences. Bobbi Perryman, director of the Vespasian Warner Public Library District in Clinton, said the kits' popularity was consistent among members of a library directors' group and that the grab-and-go items were reaching a separate, and potentially new, audience from the ones coming into the library.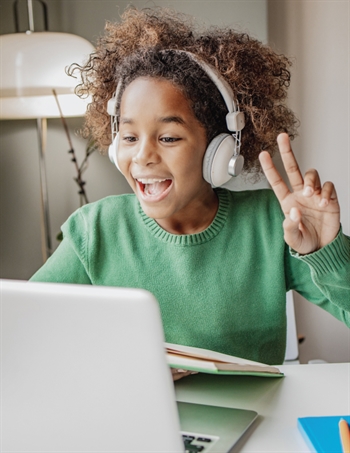 Perryman also provided some perspective on the results of another question. When asked how current in-person attendance had changed compared to pre-pandemic numbers, 69% of respondents said it had decreased. Comments on the question showed that in some cases this was due to restrictions put in place for social distancing or that their answer reflected smaller numbers per program but not overall. Other commenters were enthusiastic about increased virtual attendance or stressed that since the types of programming allowed for communication with different audiences, it was comparing apples and oranges. "Virtual attendance is up to ten times the number of in-person attendees," said one library director. "In-person attendance is around 50–60% of what it was pre-pandemic." At Vespasian Warner, it seems that in-person numbers picked back up dramatically after mask mandates were dropped, perhaps indicating that many people were choosing not to visit while the mandate was in effect.
HYBRID PROGRAMS IN A POST-PANDEMIC WORLD
While we did not ask specifically about whether libraries were going to continue offering virtual or hybrid programming, comments on questions lend insight to possible trends. Among librarians who feel they've reached new segments of their community or who have seen excellent attendance for virtual programs, continuation of these digital services seems certain. However, other libraries did not see this type of engagement. Bobbi Perryman mentioned that the Vespasian community seemed largely uninterested in virtual programs. Exceptions to this were established book clubs and a series of local history videos published to YouTube. She emphasized the importance of discovering what works for your community, since there is no one-size-fits-all answer. If more virtual programming became necessary, she says they'd rely more on pre-recorded segments since those were the most popular type.
While not all of the feedback has been positive, there are many reasons to keep virtual programming in place not tied o social distancing requirements. Libraries have been able to offer a broader variety of programs online than they could in person. "Our virtual programs have never reached the attendance level of our in-person programs, but we have been able to add more programming of a wider variety by including virtual than we had available pre-pandemic," said Donna Forbis, marketing and events coordinator at Illinois Prairie District Public Library. Jade Parks, teen services librarian at Northlake Public Library District, has also found virtual programming feedback to be mainly positive. "It varies from program to program, and we're relearning what draws our teens," said Parks. "It's different than it was. It started strong and then waned as the pandemic wore on."
With virtual programming, there are no geographical limits for having a speaker at an event, which has been a boon to program organizers. "We've been able to have great out-of-town presenters because of Zoom," said Lucy Tarabour, who handles adult programming and marketing at Clarendon Hills Public Library. Clarendon Hills has produced virtual events on subjects including chair yoga, museum tours, and history during the past few years, and is continuing to offer virtual programs at this time. Carbondale Public Library has hosted hundreds of virtual programs since the beginning of the pandemic, and even hosted one before COVID-19 turned programming upside down. "Virtual and hybrid programs allow us to host authors and speakers without having to cover travel expenses," said library director Diana Brawley-Sussman. "Pre-pandemic, we showed a documentary in-person at the library and brought the filmmaker in to converse with us via Zoom. Patrons were able to fully interact with the filmmaker, and it felt like she was here in person."
Libraries have even been able to band together to afford higher speaker fees for larger, collaborative, statewide programs. These programs, such as those put together by Illinois Libraries Present, offer an opportunity for libraries to hear from authors that they would likely not be able to afford on their own. Clarendon Hills Public Library has joined the collaboration, along with more than 200 other libraries. "We've partnered with other libraries to bring in a large Zoom audience for author presentations. We're part of Illinois Libraries Present that has been spearheading this effort," said Lucy Tarabour. Fees for individual events of this caliber would be unaffordable, and attendance numbers unrealistic, for most libraries, but particularly for small and rural ones.
Another benefit of virtual or hybrid programming is the ability to create archives of programs. "Virtual programs allow us to build an archived collection of library programs," said Diana Brawley-Sussman of Carbondale Public Library. "A lot of wisdom is shared in library programs, but with in-person programs only the people who happen to be present at a particular moment in time get to hear it. With virtual and hybrid programs people who can't be there can still access the program, either live online, or in the archives." Libraries have the ability to stream or upload their virtual programs to YouTube and other sites to preserve the content. This allows for members of the community to access the programs after the fact or to share interesting programs with others.
MOVING FORWARD
Libraries have to determine whether hybrid programming is something that is worthwhile to continue for their specific audience. Programs that are both in-person and online may continue to gain popularity, as there are benefits to having both formats available for patrons. This type of hybrid programming is the most complicated to plan and execute. Additionally, a digital divide exists where computers and the Internet are not available for all, so libraries need to plan and advocate for accessibility options within their communities. Libraries who continue hybrid programming need to have the resources to deal with the technological challenges that come along with it, as well as the ability to be flexible as the world continues to change.
The authors would like to thank the various libraries who took the time to share their experiences for this article.