Celebrating Jesse White
June 1, 2022
Multiple Contributions
Jesse White, Illinois' first African American Secretary of State, was elected to office in 1998, and subsequently reelected in 2002, 2006, 2010, 2014, and 2018, ultimately holding the record as the longest serving Secretary of State in Illinois. His weighty responsibilities as Secretary of State include serving as the state librarian. In that role, White has been a vigorous supporter and defender of all Illinois libraries and library funding. He received ILA's Robert R. McClarren Award for Legislative Development in 2007, and was inducted as an Illinois Library Luminary in 2016. To commemorate his 24 years of service and his 2022 retirement, ILA Reporter Advisory Committee members reached out to current and former system and state organization staff who worked closely with Secretary White, asking for people to share their memories, thoughts, and gratitude in their own words.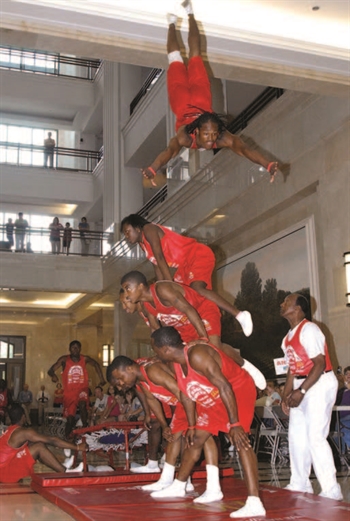 Jesse White Tumblers
LESLIE M. BEDNAR, EXECUTIVE DIRECTOR, ILLINOIS HEARTLAND LIBRARY SYSTEM
My earliest interaction with Secretary White was the grand opening of the Hayner Public Library Branch at Alton Square in Alton. It was a festive event celebrating a much-needed improvement to the library district. Secretary White spoke with passion and conviction about the services libraries provide to their communities. He also brought along the Jesse White Tumblers who are an example of his dedication to youth in this state.
Every engagement since has been inspiring and reminds me we have a duty to serve when and where we can. As a member of the Illinois library ecosystem, I have the good fortune to support member libraries every day regardless of zip code. Ensuring all patrons have equal access to resource sharing in Illinois is made possible by Secretary Jesse White's commitment to public service.
DEIRDRE BRENNAN, EXECUTIVE DIRECTOR, REACHING ACROSS ILLINOIS LIBRARY SYSTEM
I had the honor and pleasure of attending multiple library visits and ceremonies where Secretary White spoke movingly of his support for libraries and their importance to public education and self-improvement. During his administration, millions of dollars were spent on improvements to public libraries and expansion of library services.
ANNE CRAIG, SENIOR DIRECTOR, THE CONSORTIUM OF ACADEMIC AND RESEARCH LIBRARIES IN ILLINOIS (CARLI); DIRECTOR, ILLINOIS STATE LIBRARY, 2005–2016
I write today on the occasion of Illinois Secretary of State and State Librarian Jesse White's retirement from the Office of the Illinois Secretary of State in 2022.
Secretary White, Illinois' first African American Secretary of State, was elected to office in 1998, and subsequently reelected in 2002, 2006, 2010, 2014, and 2018, ultimately holding the record as the longest serving Secretary of State in Illinois. I began my tenure at the Illinois State Library, a Department of the Office of Secretary of State, in 1989, leaving in 2016 to work for the University of Illinois System. In 2005, Secretary White appointed me as the Director of the Illinois State Library. My eleven years with Secretary White as his state library director were eventful, highlighted
by incredible new programs and opportunities for Illinois libraries. The years with Jesse White seated in me a lasting appreciation for this wise, charismatic, and dedicated man. I am proud to contribute to this collection of memories in his honor.
Secretary White is completely committed to libraries; while many elected officials talk about support for libraries and education, Jesse White exemplifies this commitment in his elected position as well as his volunteer work with the Jesse White Tumblers. His pride in being the State Librarian was evident from the first day of his administration. He began many new library initiatives, including the Public Library Construction Program, Project Next Generation, the Veterans' History Project, the Talking Book and Braille Service, and countless professional development initiatives
for the library community.
Like all of Illinois state government and at several different times during his 24-year term, Secretary White's tenure was punctuated by budgetary crises. During these periods of austerity, every constitutional officer was forced to make cuts—sometimes very drastic—in their budgets. Despite these very serious circumstances, Secretary White protected the library grants. His commitment to library services, including construction, literacy, and statewide library services was steadfast. Without doubt, decisions during these times were extremely difficult; his responsibilities as Secretary of State span more than 20 departments, including Drivers' and Vehicle Services, and the State Archives. Instituting cuts during times of austerity is incredibly challenging, especially considering that much of the funding in the Secretary's budget is for personnel. Despite these challenges, library grant programs were retained, continuing decades-long support from Illinois state budget dollars. In fact, during the years' annual budget presentations to the General Assembly, Secretary White routinely called out library appropriations as line items to be protected.
Jesse White is a leader who is familiar with accolades, having received countless honors and recognitions during his long career in public service and volunteer work. Countless people young and old can point to him as having a profound impact on their lives. I am one of them. His example of volunteerism and constant, selfless generosity reminds me daily to be a good boss, mentor, mother, and human being. He exemplifies his personal credo to make a difference every day by doing something good for someone.
I have seen firsthand the incredible positive difference that libraries make in peoples' lives. As the Illinois State Library director, I had the privilege of witnessing this transformational effect up close when visiting libraries across the state. Everyone who is in the orbit of a library—whether as a patron, board member, or staff member—should thank Jesse White for making such a profound and lasting positive impact on their lives. His lifelong commitment to learning and helping all people everywhere to the absolute best of his ability has left a legacy of sterling library service and an example of devotion to public service to which all who serve should aspire. He truly and without prejudice loves his fellow man and lets that love guide his actions and work. He talks about a world where all who are entrusted with the public good share this compass of kindness, compassion, and empathy… who "do good for someone else today." His leadership springs from this devotion; we are all better in so many ways from having been part of this remarkable man's vision.
ROBERT P. DOYLE, EXECUTIVE DIRECTOR, ILA, 1996–2017
I imagine others will focus their remarks on Jesse's many accomplishments. I'd like to share a single event, offering a glimpse of the man not always seen.
Described as Illinois' most popular elected official, Jesse is a friendly and approachable guy. Whenever I would see him, he would always say, "You the man, Bob." I took it to be a casual greeting. I knew I was no power broker. When I saw him, however, we frequently wanted something from him that would improve the lives of Illinois citizens. And on one occasion, I turned to Jesse for his help in a more personal "ask."
On Wednesday, March 5, 2003, the ILA Public Policy Committee finished holding its monthly meeting in Shorewood as usual and at the conclusion of the meeting, I said good-bye to everyone including then ILA President Sylvia Murphy Williams. Sylvia had to leave quickly to pick up her son Jacob from daycare. Later that night, I received a phone call from her husband Tony informing me that Sylvia had collapsed in Jacob's arms at the daycare center and was rushed to Central DuPage Hospital. The doctors thought she might have had a brain aneurysm, but he would call tomorrow with more information.
When Tony called back the next day, he was distraught. The hospital had told him there was nothing to be done, and he was desperate to get Sylvia transferred to Northwestern Memorial Hospital to make sure she had every possible chance. I still remember his exact words. "Please, Bob, get her transferred." I told Tony I would call him back,  immediately wondering how in the world to get this done.
I decided Jesse was our only chance. I was able to reach him immediately, explaining the situation. As Illinois  Secretary of State and State Librarian, each year I would introduce Jesse to a new ILA President. We would have various meetings with Jesse, and he always attended our annual conference. Jesse was very generous with his time and enjoyed meeting his constituents. During Sylvia's presidency, we drove down to Springfield three times to present testimony about proposed Internet filtering legislation, and during each trip we would stop in to see Jesse. He was always delighted to see her. Sylvia was unique, a joy. I knew he liked her, but then who didn't like Sylvia? She was vibrant, friendly, bright, positive, and funny. (Driving back, she always gave me a hard time about being "the man!") When I called Jesse to tell him the sad news and to seek assistance with Sylvia's transfer, I had no idea what to expect.
You guessed it. Within hours, I received a call informing me that Sylvia would be transferred to Northwestern. Even though she remained unconscious, the family had the opportunity to gather, pray, and make critical decisions. Each day, I briefed the Secretary of State's office on the latest developments. Just hours before life support was removed, the Illinois State Library Director Jean Wilkens came to say good-bye on Jesse's behalf. Sylvia died on Monday, March 10, 2003, and a joyous standing room-only celebration of her life was held on Saturday, March 15 at St. Benedict the African East Catholic Church in Englewood.
Decades later, I have forgotten the many bill numbers, the precise details of those Springfield battles to defend our First Amendment rights and to defend, explain and stress the importance of libraries. I, like everyone else, however, can remember the personal—the people who helped, inspired, defended our principles, making the impossible, possible. In my mind, it was an impossible request to transfer Sylvia from one hospital to another and yet, Jesse did it.
He provided hope and comfort to her shocked family who wanted to do the best for their beloved Sylvia and needed time to understand what was happening. He enabled them to know that they had done everything possible to save her life. He gave everyone the opportunity to have their moment to say goodbye. Decades later, I'm now comfortable in returning the greeting, "You the man, Jesse." Thank you for your years as an educator, mentor, public servant, and most importantly, a friend to call on when help is most needed. Best wishes in your retirement!
KAREN EGAN, ASSOCIATE DIRECTOR, GRANTS & PROGRAMS, LIBRARY DEVELOPMENT, ILLINOIS STATE LIBRARY
It has been my honor to work for you during your tenure as Secretary of State and State Librarian.
Through your vision, we developed the Project Next Generation (PNG) grant program for public libraries across the state to make an impact on the youth in their communities. Since 2000, libraries have been hiring mentors and using technology as a tool to foster the development of self-confidence and pride in students by helping them gain the knowledge and skills necessary for future educational and professional success. Thousands of students, especially those slipping through the cracks, have benefited from your willingness to support their social and academic development.
I fondly remember the annual PNG picnics. For years, they were held at Lincoln Park in Springfield until the year a downpour moved us into the atrium of the State Library. The Jesse White Tumblers would perform to the delight of the PNG programs in attendance. You and the tumblers taught the kids appropriate ways to get high.
Thank you, Secretary White, for your leadership and passion for libraries and learning. Your legacy will live on through the many lives that you impacted.
GWENDOLYN A. HARRISON, LIBRARY PROGRAM SPECIALIST, ILLINOIS STATE LIBRARY
It has been a pleasure and honor to be a part of the SOS work family. In particular, on behalf of the Illinois State Librarian at the Illinois State Library, this job has been a pinnacle of my professional career. In serving in the capacity as a Library Program Specialist for the past 20 plus years, it is overwhelmingly apparent that you are indeed a champion for libraries and the communities served. The efforts of this office have impacted the multi-type library system in ways that have been unimaginable. The labors of this office have changed communities for the better. This all emanates from the passion and savoir faire demonstrated by the ample support provided throughout the years from the Secretary of State's Office. Your commitment to library systems, libraries, library professionals and communities will never be forgotten.
Thank you, Mr. Secretary, you are the sharpest knife in the drawer. Job well done!
KAREN DANCZAK LYONS, EXECUTIVE DIRECTOR AT EVANSTON PUBLIC LIBRARY; FIRST DEPUTY COMMISSIONER,
CHICAGO PUBLIC LIBRARY, 1993–2012 
Jesse White has been a steadfast champion of libraries, readers and writers of all ages, and literacy throughout his tenure as Secretary of State. Under his leadership and with the support of his talented staff, libraries throughout  llinois have received funding directly and through grants that have allowed us to improve our programs and services and build new libraries. When Secretary White attended a Family Reading Night at Evanston Public Library, children of all ages and their parents enjoyed the story he read and the generous gift of new books each child was invited to take home, books provided through the Illinois Literacy Foundation. The Illinois Literacy Foundation Ten Ton Challenge provided books to the public-school children in the state's lowest income counties.
The Illinois Center for the Book is a programming arm of the Illinois State Library that promotes reading, writing, and author programs with the following mission: Nurturing and connecting readers and writers, and honoring our rich literary heritage. At the annual awards ceremony for the Illinois Emerging Writers Competition, Secretary White warmly congratulates the winners of the Gwendolyn Brooks Poetry Award and encourages them to continue to write and share their gifts with all of us. As the Chair of the Illinois Center for the Book, I was honored to support this work along with a Board of amazing and talented volunteers and staff from the Secretary of State's office. Writers, readers, libraries, and lifelong learners of all ages are grateful for Jessie White's leadership and commitment to providing access to library resources equitably throughout Illinois. His work will be the foundation of our library service for many years.
GREG MCCORMICK, DIRECTOR, ILLINOIS STATE LIBRARY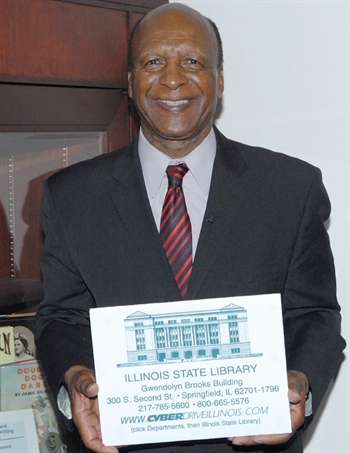 It has been my privilege to work within Secretary of State and State Librarian Jesse White's administration for its duration, most recently in the capacity as Director of the Illinois State Library. Secretary White has maintained a lifelong commitment to education and of service to others. As State Librarian he quickly became the state's champion for libraries, readers, writers, literacy, and lifelong learners. When he leaves office this coming January, the impact of his service upon the Illinois library landscape will be longstanding.
The Illinois State Library building was renamed the Gwendolyn Brooks Building, the first in the Capitol Complex to be named after an African American. Programs like Find-It! Illinois, the Illinois Digital Archive, Ask?Away, Project Next Generation, Business and Libraries Working Together forever changed the manner in which libraries utilized technology and continue to support new and improved services to their patrons. Illinois is one of the few states that have an ongoing public library construction grant program and the Secretary will have soon administered over $100 million in grants to support new construction and renovation projects. The Illinois Library Delivery System (ILDS) has been revamped to provide better service to library users. The regional library systems have been realigned and refocused, finding themselves in a better position to provide essential services to libraries in the state. And most recently all three statutory formula grant programs to support school library, public library, and regional library system services have benefitted from significant increases in funding due to the Secretary's commitment to library services and the responsibility to the office that he holds.
While Secretary White serves as State Librarian, he might equally be entitled, "State Humanitarian." His service in the United States Army, as an educator, as a state legislator, as Cook County Recorder, as philanthropist with the Jesse White Tumbling Team, and now as Secretary of State and State Librarian was all accomplished with the intent of service to others. Each day his personal example challenges those working in his office to do something good for someone else, and to take responsibility to the call of duty that each of our roles requires. Certainly, this perspective has made the Illinois State Library an even better organizational unit.
The next State Librarian shall certainly find areas for continued growth and opportunities for new program implementation; however, the legacy of Secretary White's leadership in statewide library support will leave his successor in a place for easy transition into a role that should be equally embraced. 
SUSAN PALMER, OPERATIONS DIRECTOR, ILLINOIS HEARTLAND LIBRARY SYSTEM
Years ago, SOS Jesse White used to go to the libraries that received a construction grant and hand out a giant check to the library. It was usually a big community event. At one of them, someone from the audience yelled, "Show us a handstand, Jesse!" and bam, he dropped down and did a handstand. Wow.
The other memory that I have is of when the Alliance Library System had received a huge grant for a mobile training lab with satellite connection, called ALEC. There were tons of exposure with it at conferences, etc. And SOS Jesse White christened it along with our director of the Alliance Library System, Valerie Wilford.
ANDREA TELLI, COMMISSIONER, CHICAGO PUBLIC LIBRARY, 2019–2020
Thank you, Secretary White! With your support and encouragement over many years, you helped to make Librarian Henry Legler's dream for Chicago Public Library a reality: that there would be a library within walking distance for every Chicagoan who wants to read or needs books. Wishing you a happy, healthy retirement!
PAMELA THOMAS, BIBLIOGRAPHIC GRANT MANAGER, ILLINOIS HEARTLAND LIBRARY SYSTEM, CATALOGING MAINTENANCE CENTER
Although I have not personally met Jesse White, I am grateful for all that he has done for Illinois libraries and since I work for the Cataloging Maintenance Center (CMC) which is grant-funded, I am appreciative and proud of the free cataloging services that my team can provide to Illinois libraries. Mr. White will be greatly missed.