December 2021 | Volume XXXIX. Issue 4 »
2021 Sylvia Murphy Williams Scholars
December 1, 2021
Multiple
Since 2003, ILA has honored former ILA President Sylvia Murphy Williams by awarding ILA Annual Conference scholarships and a one-year membership to the Association to ALA Spectrum Scholars who live in Illinois or who are attending graduate programs in library and information science in the state, thanks to support from a fund established in honor of the late Sylvia Murphy Williams, 2002 ILA President, now known as the Diversity Scholarship Fund. ILA Williams Scholars are also connected with mentors via ILA's Diversity Committee. This year, we are pleased to welcome ten Williams Scholars to Illinois librarianship! Several of them contributed these inspiring comments about what motivated them to become librarians, favorite courses in graduate school, professional goals, hopes for librarianship, and anything else they'd like to share. We welcome all of them as future members of the profession.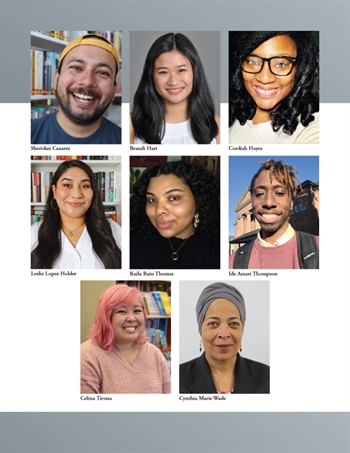 SHERIDAN CAZAREZ
University of Illinois at Urbana-Champaign, School of Information Sciences

Librarianship as a possible career choice came to me at an early age. At eight years old I began a weekly Saturday ritual of walking to my nearest public library where I'd spend a few hours poring over books on ancient civilizations and pestering the library staff with questions that no one has the answer to. A few years later I became a teen volunteer, and then started working as a library page while in high school. Thirteen years later I'm still here, and with the encouragement and tutelage of some incredible role models, I'm finally beginning my MSLIS coursework at the University of Illinois to become a fully-fledged librarian.

Public librarianship has always been my area of interest; I relish the "daily grind" of public service: helping patrons on the computers, being mobbed by kindergarten classes, unjamming the copier, answering phones, leading story time, asking people to put their pants back on, community outreach, shooting the breeze with teens, I love it all. Now that I'm taking my first classes as an MSLIS student I'm finding that I also enjoy the more theoretical aspects of the information field and the principles that guide and underlie our work as well. I'm excited to gain an understanding of the systems that make libraries work, and of the systems that libraries work within, to begin doing my small part to make these systems work to advance liberation for oppressed and marginalized peoples.

I'm honored to join a community of library workers, Spectrum and ILA Williams Scholars, that are committed to making change in the information fields and our society. Although I haven't attended the ILA conference yet, I'm impressed at how proactive conference organizers and staff have been about reaching out to BIPOC students. They've been welcoming and professional so I'm looking forward to the conference and being a part of ILA to connect and collaborate with like-minded library workers.

It seems the field is slowly abandoning neutrality in favor of pursuing justice, and I think it's an exciting time to enter the profession. I hope to see many changes in the field in the years to come. Two of my biggest hopes are the formation of a national library workers' union, and that our state and national associations begin to advocate politically at municipal, state, and federal levels. This kind of shift would require courage, and a big part of that shift, in my opinion, is recruiting, retaining, and empowering librarians and library workers who have never had the privilege to be apolitical.
BRANDI HART
University of Illinois at Urbana-Champaign, School of Information Sciences

While growing up as a Korean adoptee, my public library was crucial in connecting me to my heritage through the books I found there about Korean culture, language, and history. As I learned more about my heritage, I became involved in my local Asian community and volunteered with an Asian youth group. By providing a diverse book collection, my library helped me meet a community of people I never would have otherwise, and this is what initially inspired me to become a librarian. In college, along with completing the coursework required for my two majors and a minor, I further immersed myself in learning by conducting two summer research projects and by completing a year-long senior research project. Doing independent research made me deeply appreciate the work that academic research librarians do. I also worked in college as a peer academic advisor for first-year students and as a tutor for philosophy students, primarily international students. As an AmeriCorps member after graduation, I was a college and career advisor serving in two Columbus City high schools assisting students with their college application and financial aid processes. I mostly worked with immigrant and refugee English Language Learner students from Asia, Africa, and Latin America to help them write their college application and scholarship essays. This work taught me how to be creative with educational services and outreach methods, particularly when helping to transition the students from a brick-and-mortar education to virtual learning during the COVID-19 shutdown.

Once I earn my MS/LIS degree, I therefore hope to work either as a research librarian helping young adults in a college setting, or as a youth services librarian at a public library. In particular, I would love to specialize in assisting international students, English Language Learners, and immigrants and refugees, through developing outreach programming and providing creative services for them.

This is my first semester at the University of Illinois, and I am greatly enjoying all my current courses. I would be hard pressed to pick a favorite class—not only are they all very interesting, thought-provoking, and clearly helpful in my future career, but they also are taught by wonderful professors who have many years of real-world experience working in libraries. I really appreciate when the professors share with us their career experiences, helpful tips, and anecdotes.

I am thrilled to attend my first ILA conference this fall and plan to attend as many sessions on advocacy, equity, and inclusivity as I can in order to soak up as many insights and as much wisdom the sessions will offer me. As this year's ACRL Spectrum Scholar, I am especially excited about the track of programming for academic librarians that the Illinois Association of College and Research Libraries (IACRL) is sponsoring at the conference.
I hope that the library profession continues to become more diverse by focusing on accessibility. More accessibility will allow for further representation in our staff, which will in turn help libraries become more accessible to our patrons by identifying underserved populations in our communities, serving their needs, and making them feel welcome in our libraries.

Finally, I want to express my heart-felt gratitude to the ILA for giving me the great honor of being a Williams Scholar this year. It truly means the world to me! Thank you so much.
CORDIAH HAYES
University of Illinois at Urbana-Champaign, School of Information Sciences

I didn't choose to pursue a career in librarianship; it chose me and did so completely by chance. Immediately after earning my B.A., I found employment as a CyberNavigator; a computer tutor company that helps Chicago Public Library patrons with general online tasks such as job applications and resume creation. It was during this time I realized that I could help the community in a bigger way. When I became a teen library associate, I knew that I could be a change agent in more ways than one.

So far, my favorite class in library school is Youth Services Librarianship. This class delves into the ways in which librarians can serve youth and examines the social, economic, and emotional barriers young people face when visiting the library. I also enjoy the class because it allows for the cohort to draw real world experiences into the lectures, which in turn allows for interpersonal connections. My professional goal is to work in public libraries as a youth services librarian. Young people matter, and that the libraries they visit play an integral part in how they function in society as adults.

The hopes I have for my ILA membership are that I can share my creativity, organizational skills, and dedication to librarianship with fellow members. Building connections and potential friendships is important in such an autonomous and ever-changing field. My hopes for the library profession are that there is more attention paid to diversity. Representation matters. From the reading materials to staff, I strongly believe that there should be more persons of color celebrated in the field of librarianship.

Lastly, I would like to say that the Spectrum Scholarship has changed my life in various ways. Beyond the financial aspect, I have connected with potential partnerships and mentors even before I graduate from library school.
LESLIE LOPEZ HOLDER
Dominican University, School of Information Studies

My decision to become a librarian was far more than just a simple career choice. I searched for most of my life for my ikigai or "reason for being." In all aspects of life, I look for a connection to people; how to advise, mentor, and collaborate with others. And with librarianship, I found the nexus of my passion, my talents, and the public good.

While I had an idea about what type of librarian I wanted to be, it only took a few courses into my MLIS program to solidify my desire to become a public librarian. I was one of those kids who could only afford a bookmark at the Scholastic Book Fair, the eldest child of immigrants who had to navigate new terrain on my own most times. As I'm sure others will also relate, the public library then acted as a haven. I was able to take home any book I wanted, use a computer for the first time, and even bond more deeply with my mother (over the book Chicken Soup for the Soul, I must say!). And while I treasure these fond memories, I know they aren't attainable for everyone.

Information is the lifeblood of democracy, but unfortunately, this lifeblood often doesn't always circulate to communities that look like mine. A host of barriers exist that prevent certain communities from fully accessing the services provided at the library. As institutions that seek to provide equitable access to knowledge and encourage lifelong pursuits of learning, libraries must work from the inside out to dismantle these systems.

I intend on dedicating my career to providing this access and leveraging every ounce of passion and perspective I have, to ensure that libraries are not independent of the communities they purportedly serve, but rather, are the communities they serve. With the resources and network that ILA provides, I know I am unequivocally ready to contribute my voice to this mission.
KAILA RAIN THOMAS
University of Illinois at Urbana-Champaign, School of Information Sciences

As a student of American history, anthropology, and African studies at the University of San Francisco, my goal was to one day be able to tell "the people's history." Early on in my college career, I knew I wanted to give voice back to the everyday people who've made history in their communities rather than retell an already prevalent historic tale with my own twist.

I wanted to illuminate those forgotten and silenced narratives. I had high hopes but no idea how I'd make it. I gracefully stumbled into LIS work when I started an internship at the Freedom Archives during my senior year of college. Early on in my internship, I discovered a piece of my own family's history in a stack of unfiled documents and took this as a sign that I was exactly where I belonged. This was a defining moment for me. It was then that I knew that my goals as a historian were possible through archival work.

With the guidance of the director, Claude Marks, and archivist, Nathaniel Moore, as well as my advisors and mentors at USF, Kathryn Nasstrom and Candice Harrison, I was able to grow as an emerging public historian. I found my voice while preserving others'. I was a part of a larger community of people who inspired me with the work they were doing. They encouraged me to pursue a path that would allow me to continue doing this work that I fell in love with, so here I am today, working towards a graduate education in library and information science at the University of Illinois Urbana-Champaign.

This year's ILA conference will be my first conference as an emerging information professional, so I'm excited for the overall experience. Coming into this field has been both a professional and personal journey for me and I'm thrilled to be a part of this new community of fellow scholars whom I can connect with and learn from.
IDE AMARI THOMPSON
University of Illinois at Urbana-Champaign, School of Information Sciences

I first considered becoming a librarian when I discovered the glory of JSTOR. As a history major at the time, the close relationship I developed with all the library staff members, especially the reference and research librarians and the staff at the circulation desk at the college I attended allowed me to experience first-hand the power of accessible information and effective research techniques. These experiences made me see not only how interesting but also how vital the work of a college library could be.

In my first semester as an MSLIS student I am truly enjoying my cultural heritages class the most. The ways we engage with the mission but also the ideologies of different cultural institutions are vital for expanding my understanding and appreciation of how these spaces of cultural preservation and presentation influence wider cultural structures.

My goals for working in the library field are three-fold: to find new avenues of (re) presenting archival information and records in creative forms, to use writing and mixed media as tools of uncovering voices buried in archive, to developing creative, innovative ways to connect research institutions, patrons, and staff to the idea of the "living archive." To me this is intrinsically a communal, and also a decolonizing project.
CELINA TIRONA
Dominican University, School of Information Studies

I made the decision to become a librarian at the 2017 D23 Expo Disney fan convention! I went to a panel led by some of the Disney librarians showing some of the Disney parks maps they'd found for the book they'd been working on, and I was amazed to learn about some of the libraries and archives at Disney. I'd left a part-time position at my local library earlier that year and had just been offered my first full-time library position the week before and wasn't sure about how libraries fit into my future until that panel. Once I learned that I could combine my passion for libraries with my love of Disney, there was no turning back for me!

I'm really surprised to admit that my favorite course so far was my introduction to cataloging! I'd been initially intimidated by the course, but my professor picked really interesting articles for our weekly discussion posts and I found myself discussing metadata creation and classification methods with not only my library coworkers, but with my friends and family! I'd like to try working in a special library or archive, but I also love the work that I've gotten to do with my local public library and hope to build on that experience once I have my MLIS.

I look forward to being a part of ILA and participating remotely! I also believe that networking and gaining mentors will be necessary for my success, so I'm really excited about participating in the ILA Diversity Committee mentorship program. I'd really like to see how equity becomes embedded into the LIS profession. I've seen the work of BIPOC librarians in other spaces and am constantly striving to follow in their footsteps and trailblaze in my community. I'm lucky to have led a team for my library in the California State Library's Cultivating Racial Equity and Inclusion (CREI) Initiative, presented to my library board for my library to go fine free, and created a virtual bilingual storytime, but I want to see the profession change and progress so that my accomplishments are only a fraction of what's been done to make the library more equitable.
CYNTHIA MARIE WADE
University of Illinois at Urbana-Champaign, School of Information Sciences

First and foremost, I would like to thank the Illinois Library Association, the Sylvia Murphy Williams Scholar program, and the ALA Spectrum Scholars program. I am honored to be a recipient and appreciate the many benefits, opportunities, and support. My academic journey to library and information sciences began seven years ago. The introduction occurred in my first semester at community college. The counselor suggested a one-unit course to complete my class schedule. This introduction to an information literacy class revealed the importance of competency in the subject. The question in my mind was, why are these courses not a prerequisite to attain your associate degree? In addition, these courses or something comparable should be taught in high school and required for high-school graduation. That one-unit class led to working in the campus library. I completed all three information literacy courses offered and landed a job as the student assistant to Dr. Jun Wang, professor of library and information studies and coordinator of bibliographic instruction and information literacy. Dr. Wang became my mentor. The rest is history, and here I am today!

The primary motivation for attaining my MSLIS degree is recruiting and retaining Black Americans into library and information sciences and community-focused information and cultural literacy initiatives. Also, I am drawn to scholarly research in international librarianship and global education, focusing on regional collaboration in East African countries and service to African immigrant patrons in United States libraries. My academic and professional goal is to earn a Ph.D. in LIS. Honestly, I am not sure if I will enter the private sector or public education. All the courses in graduate school so far have been a joy, and I do not have a favorite. The professors have been of the highest caliber. In the future of the library profession, I hope we can achieve true lasting diversity and equity in the field. I believe this is essential for the benefit of our patrons and the future of LIS relevancy in a democratic society dedicated to truth and justice.
I enjoy archery and listening to reggae music when I am relaxing and listening to jazz and classical music, especially the violin, when I am studying. I eagerly await the ILA conference and the outstanding line-up of speakers and presentations. I am honored and look forward to being a member of this library and infor-mation science practitioners' community.