September 2021 | Volume XXXIX. Issue 3 »
2021 Consolidated Election Library Referenda Results
September 1, 2021
Diane Foote, Illinois Library Association
This year there were five library-related referenda in Illinois on ballots in the 2021 Consolidated Election, with four passing and one failing. Two that passed are the first ones related to library territory annexation to occur under Public Act 101-0099: Cahokia Public Library District and Prospect Heights Public Library District. This law, passed in 2019, requires a "front-door" referendum when seeking to annex territory to a library district. A provision to enable disconnection of territory was eliminated by amendment, however. To date the success of both front-door referenda bodes well for at least these two communities' support of their public library districts.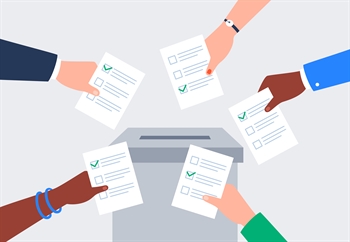 CAHOKIA PUBLIC LIBRARY DISTRICT
Shall the unserved territory of Cahokia Heights, St. Clair County be annexed to the Cahokia Public Library district, in St. Clair County?
RESULT: Pass
VOTER TURNOUT: 14%
YES: 1,655 (82%)
NO: 267 (13%)
CARTHAGE PUBLIC LIBRARY DISTRICT
Shall the bonds of the Carthage Public Library district, Hancock County, Illinois, in the amount of $1,200,000 be issued for the purpose of building and equipping a new library Facility, construction site improvements and furnishing necessary equipment in connection therewith?
RESULT: Pass
VOTER TURNOUT: 21%
YES: 358 (52%)
NO: 333 (48%)
PROSPECT HEIGHTS PUBLIC LIBRARY DISTRICT
Shall the following described territory be annexed to the Prospect Heights Public Library District, Cook County, Illinois?
RESULT: Pass
VOTER TURNOUT: 7.6%
YES: 787 (79.9%)
NO: 198 (20.1%)
SHERRARD PUBLIC LIBRARY DISTRICT
Shall the annual public library tax rate for the Sherrard Public Library District, Mercer and Rock Island Counties, Illinois, be established at 0.19% of full, fair cash value instead of at 0.15%, the maximum rate otherwise applicable to the next taxes to be extended?
RESULT: Fail
VOTER TURNOUT: 21.8%
YES: 185 (40%)
NO: 278 (60%)
VILLAGE OF MONEE
Should the Village elected officials continue its efforts to have a library facility located within its corporate boundaries?
RESULT: Pass
VOTER TURNOUT: 16.7%
YES: 487 (54.3%)
NO: 410 (45.7%)
We thank the Illinois State Library for assistance in compiling this information, available on the Illinois State Board of Elections (ISBE) web site (Cahokia, Carthage, Sherrard, Monee) at  https://elections.il.gov/VotingAndRegistrationSystems/ReferendaSearch.aspx and the Cook County Board of Elections web site (Prospect Heights) at https://www.cookcountyclerkil.gov/election-results.