September 2021 | Volume XXXIX. Issue 3 »
Mobile Partnerships: Reaching Communities
September 1, 2021
Danielle Beasley, Susan Palmer, Sarah Taylor, and Anna Yackle, Illinois Heartland Library System
A casual conversation can spark a series of impactful events. Such a moment happened during the 2021 fiscal year. Susan Palmer, operations director at Illinois Heartland Library System, and Leander Spearman, director of Belleville Public Library, were envisioning what library service could and should look like. Spearman was discussing his vision of beginning a "co-op" of neighboring libraries to share mobile outreach and bookmobile services. Each community would provide a vehicle that would rotate among their communities on scheduled stops and the vehicles would provide wi-fi access, as well as resources and items specific to a theme. He mentioned to Palmer that vans and vehicles are needed within communities for outreach. This casual conversation got the wheels in Palmer's head turning.
Libraries have continuously worked to grow and expand their ever-evolving services to engage and further meet their communities' needs. Many libraries in central and southern Illinois have or are just beginning to find ways to extend their services to reach those in need; whether it is the various rural communities or the more highly populated areas where the presence of the library is not as easily known or seen. One solution is for libraries to implement the use of vehicles, such as a van or a bookmobile, to provide different services such as mobile hot spots, access to technology, homebound deliveries, signing up people for library cards, promotion of the library at special events (including farmers' markets, festivals, and parades), or sharing a permanent or rotating collection of library materials.
Illinois Heartland Library System (IHLS), which services 28,141 square miles in southern Illinois, is charged with the task of providing the best possible services and resources to libraries to make sure that each library in the southern half of the state has access to as many of the available resources and services as possible. IHLS does this by partnering in a statewide interlibrary delivery service. Resource sharing has been the foundation of statewide library service in Illinois for more than 50 years, allowing any Illinois resident with a library card to freely request and obtain materials from any other library in Illinois. Pooling together resources is standard practice in IHLS to offer more to all patrons. And sometimes, brainstorming ways to share resources leads to an unexpected and impactful series of events.
Every year, IHLS offers surplus vehicles to member libraries through an auction at 75% trade-in value. This gives libraries the opportunity to purchase affordable vehicles for their communities. Using Spearman's input as the starting point, as well as her vision for this grant to be a way to give back to IHLS member libraries during the COVID-19 pandemic, Palmer constructed the IHLS Surplus Vehicles Grant. By December 2020, a grant proposal had been written. Out of the 15 libraries that applied, five libraries were awarded a 2017 Ford Transit Cargo van. Each of the winners has developed a concept for how the van will impact their communities while coming up with creative funding and partnerships.
For the East St. Louis Public Library, having a van gives the community and library patrons the ability to connect to the internet to conduct business or schoolwork, or have entertainment without having to add it to their monthly budget. Millicent Cason, director of East St. Louis Public Library, worked to partner with the city, city council, and local schools to assist in raising money, which has allowed them to wrap their van making it more eye-catching and recognizable as a vehicle used by the library. The Rotary Club in this community has helped with funding as well. East St. Louis Public Library has plans for the van to go to schools to pass out free books, sign up kids for library cards, and provide a mobile wi-fi hotspot. Another goal is the ability to visit housing complexes and senior communities allowing the library to reach members of the community with limited ability to travel to the library otherwise by providing homebound deliveries.
Other libraries were on a tight budget, such as Danville Public Library, and the plans to purchase a van three to five years down the road turned into a three-to-five-month possibility. They were able to help their local school district in hosting a dress giveaway event to people in their community, and it was all made possible by having a big enough vehicle to do so. When the 2021-22 school year begins, they hope to meet with the local high school librarian to establish a mobile mini library in the high school and talk about the library's upcoming programs and events for teens. The van has also been used at a variety of local events over summer 2021 and has allowed the librarians to attend more community events and still keep up on their normal senior residence deliveries.
At the Crab Orchard Public Library, the library director, Erin Steinsultz, has spent five years working tirelessly to improve services for her district. She started a discussion on how to best serve their district's needs, and the bookmobile grant has allowed them to provide additional services. To cut costs and stay within budget, the library opted for magnets to attach to the side of the van instead of the more expensive wrap to be placed on the vehicle. When faced with an unexpected challenge regarding who would drive the van and provide outreach, Steinsultz looked  to her board and advocated for approval of a new hire to fill this need. Her hard work and dedication paid off with the board's approval. Design ideas have been presented to the board, and tubs are being added to the van. The library has  plans to start homebound deliveries, is also sponsoring a movie night, and the van will be available and stocked with books.
Janet McAllister at Rochester Public Library looked to her community members for support with the implementation of the van program and was able to obtain sponsorship from these community members. The library surpassed its goal amount, and the project has been fantastic for their library overall. Materials have been gathered to be delivered to an assisted living community through a homebound delivery program. A wi-fi hotspot is another goal, as well as taking the van to festivals, local farmers' markets, and daycare centers.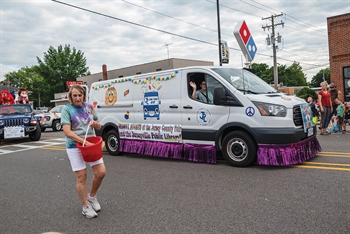 Anita Driver, director of Jerseyville Public Library, pictured with van in parade.
In Jerseyville, Anita Driver had huge success promoting their library at the local parade as a showcase for their van. They have bought pop-up shelving and are starting a homebound delivery program as well. The Friends of the Jerseyville Public Library have even taken to using the van. The program name that they have come up with is JPL. If you see this van out-and-about, please give them a wave, as they have come up with magnets for their vans to promote JPL, so they are easily visible. Driver stated that this van has served as a great marketing tool for the library.
Belleville Public Library was not one of the winners of the grant, but Leander Spearman was able to purchase two vans for the library during a recent IHLS surplus vehicle auction and his vision, which inspired the grant, for a shared vehicle co-op has led to the development of the Metro East Mobile Library Services Cooperative. The program was started by three neighboring libraries that entered into an intergovernmental agreement to provide mobile library services within their shared communities. Room for expansion has been left in the program for interested libraries to eventually opt in. The ultimate goal of the Metro East Mobile Library Services Cooperative is to have a fleet of vehicles that can provide mobile library services anywhere within St. Clair and Madison County and beyond.
When looking for new and innovative ideas, libraries can come up with invaluable ways to serve their communities. As needs form within these communities, libraries' dedication and creative thinking help make it possible to fulfill whatever goal needs to be achieved, whether it is homebound deliveries, sponsoring events, wi-fi hotspots, signing up kids for library cards, or just an old-fashioned bookmobile.
All these stories give us hope. Hope that a little creativity, collaboration, and community partnership and engagement makes anything possible to find a way to work through the hurdles libraries face every day. Hurdles like understaffing, budget restrictions, and time management. Hope that these hurdles can be overcome so libraries can continue to do what they do best: giving back to their communities and being a beacon of light for those in need of their remarkable resources, while simultaneously highlighting the unmeasurable value libraries hold within the communities they serve. Sometimes, all it takes is a moment in a conversation to spark innovation and opportunity.