September 2020 | Volume XXXVIII. Issue 3 »
You Know You Want Volunteers: Successful Strategies to Achieve Effective Volunteer Assistance
September 1, 2020
Tana Petrov, Fountaindale Public Library District and Kim Tipton, McHenry County College
While library staff are answering phones, providing readers advisory, teaching computer classes, and running craft programs; shelves start to get untidy, DVDs need cleaning, and homebound patrons are waiting for deliveries. For a library with limited resources and over-stretched staff, volunteers can be like a breath of fresh air. With a wide range of experiences and skills, they are ready to lend a hand. With proper planning, management, and recruitment, your library can build a team of volunteers who become treasured community collaborators.
NEW ROLES FOR LIBRARY VOLUNTEERS
Volunteers' work includes tasks such as the traditional shelf-reading, dusting, disc cleaning, craft programs preparation, helping with events, summer reading program registration, pick lists, straightening shelves and books, and wiping down computers and tables. But while volunteers shouldn't be expected to take on the responsibilities of experienced library professionals, it is important to remember that volunteers have a wide range of skills that can and should be implemented.
Libraries are taking a new direction in tasking volunteers with roles that are more diverse and unusual, such as tutoring, landscaping, collection management (weeding, inventory, statistics recording, and displays), book club service (gathering, organizing, and preparing groups of materials for outside book clubs), and home bound deliveries.
This is the case with the Prospect Heights Public Library District, where high school volunteers tutor at the Library's Study Buddy Homework Center and assist with the Library's Marvelous Math programs as math tutors. The Gail Borden Public Library District also utilizes volunteers' talents for various non-traditional tasks. Five volunteer pianists play the piano for an hour on a weekly basis, entertaining patrons. In addition, the library's outreach programming serves the community by going into various facilities for help with memory care, brain trauma, senior and developmental care. This service is staffed by one library professional and the rest of the team is made up of volunteers who receive training prior to being assigned to these activities. Another team of volunteers brings stories, dramatic play, crafts and music to daycares, preschools, local parks, and laundromats. And the library's volunteer-supported program, Device Advice, provides help with technology questions.
While there is much discussion in the library field whether libraries should be run entirely by trained staff or or with help from passionate volunteers, libraries with limited resources and over-stretched staff have no choice but to rely on volunteers' work. At the Mississippi Valley Library District, in addition to the more traditional tasks of overseeing book sales and prep for children's crafts, volunteers help with landscaping job duties and genealogy projects, such as local history indexing—jobs that are typically reserved for trained professionals at libraries with healthier budgets. At the O'Fallon Public Library, volunteers play a large role in managing library donations and hosting book sales. "Volunteers sort the items and list them for sale on Amazon," says a staff member. "Our volunteers bring in more than $20,000 for us annually through Amazon sales and traditional book sales. If it wasn't for them, I'm not sure how we would manage the constant flow of donations."
Keep in mind that some libraries may not allow certain tasks to be performed by volunteers, so before assigning non-traditional tasks, check with the library director, or have a solid policy on hand to prevent legal issues.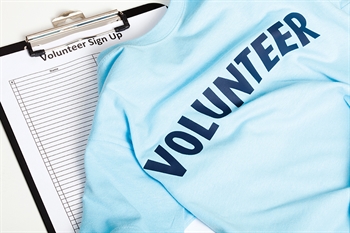 RECRUITING VOLUNTEERS
While some libraries don't need to recruit volunteers (typically libraries are known to draw volunteers without actively recruiting), others seem to prefer more established methods of inviting people to consider library volunteering in order to attract people with a wider spectrum of skills. Newsletters, social media, email blasts, and volunteer forms on libraries' websites are some of the methods libraries use to recruit volunteers. Volunteer Paloozas, Volunteer Fairs, and Volunteer Fests are also ways libraries bring attention to their communities. According to staff at the Morton Public Library, simple word-of-mouth is also an effective form of volunteer recruitment. The O'Fallon Public Library also has many volunteers who are active members of their Friends of the Library group, and new volunteers are often friends of those members.
Regardless of recruitment methods, meeting with volunteers before bringing them on board is important. Some libraries have an established process for hiring volunteers. The Vernon Area Public Library District utilizes a five-step process for hiring volunteer candidates: 1) Interested candidates are initially considered via an application, submitted either electronically through the library's homepage or as a hard copy available at the circulation desk. 2) Volunteers complete a personal interview with the volunteer coordinator, either one-on-one or in small groups. 3) Volunteers must pass a mandatory background check and returning references is customary. 4) Volunteers attend orientation and training with departmental staff, related to each open position best suited to, or of interest to the volunteer. 5) Volunteers are hired upon completion of training, providing the volunteer is well suited to position needs.
RETAINING VOLUNTEERS
How do you create and maintain an atmosphere where volunteers wish to continue to contribute their time and skills?The Arlington Heights Memorial Library has found that posting open opportunities on volunteermatch.org has helped with both recruiting and retaining volunteers. This website matches nonprofit organizations with people who are passionate about volunteering and are committed to their work; therefore, they are more likely to stay longer at the library.
Also, make a personal connection with each volunteer. Let them know they matter and that they make a difference in your library and in your community. The Mississippi Valley Library District finds that volunteers who feel valued "are more committed to supporting the library in other ways." Treating volunteers as valuable assets to the organization, planning an annual recognition dinner, encouraging staff to make volunteers feel as if they are part of the team, and being flexible with volunteers' schedules are some of the approaches the Round Lake Area Public Library and the Morton Public Library take to retain volunteers.
"Our volunteers are our biggest advocates. They take time out of their busy day every week to help make our library better," explain staff at the Morton Public Library. "In return, we make an effort and find ways to let them know they are making a difference and that we appreciate them."
At the Gail Borden Public Library District, the volunteer coordinator creates a volunteer spotlight poster to show pictures of volunteers serving the community. For every four hours of service, each volunteer receives a "Gail Sale Book Buck" to use in the book sale room. The library also organizes a volunteer celebration each year to honor the many hours volunteers contribute to the library.
CHALLENGES IN VOLUNTEER MANAGEMENT
What are some of the challenges libraries have experienced when working with volunteers? For starters, effective communication is not to be taken for granted. A well-planned volunteer program requires a good communication plan in place in order for library professionals to schedule and manage volunteers. Some of the online software tools for volunteer management known to libraries are SignUpGenius.com (New Lenox Public Library), Volgistics (Round Lake Area Public Library, Vernon Area Public Library District, Gail Borden Public Library District), Wufoo (Park Ridge Public Library), and libraries' event pages (Prospect Heights Public Library District). Volgistics is the preferred software tool because of the ease of use to maintain all the aspects of volunteer management according to the Gail Borden Public Library District, including assigning opportunities, keeping track of hours and creating reports for board and staff statistics.
Tips to eliminate these challenges:
• Evaluate your current needs before recruiting new volunteers.
• Think about your future projects and events.
• Reach out to all staff and ask if they need assistance
with projects.
• Make a list with assignments for volunteers and determine how
many volunteers you will need for each assignment.
• Create a wait list for volunteers.
Also consider the following: Are there any new programs that you have been wanting to do but never had the time to plan and organize? Is there a project that you have been wanting to complete but never had a chance due to lack of time and/or staff? Perhaps it is now the time to look at your pool of volunteers and see if they are able to help. Other challenges include last minute requests for community service, failure to commit to scheduled hours, and lack of
passion to complete assignments. The Mississippi Valley Library District is among the libraries that have experienced inconsistent volunteers, both in performance quality and commitment. Also, many volunteers are very short lived. There are volunteers who don't stick around long enough to properly train or invest in. Some of them need only few hours of community service but staff still need to provide them with training. This adds to the workload of already over-stretched staff and it is a common issue for most libraries.
Failure to fully understand the work environment is another challenge libraries face when it comes to volunteers. Coming from outside the organization, volunteers don't always understand what type of work is available to them. Many volunteers want to do very specific jobs like "answer phones" or "read to children," explain O'Fallon Public Library staff. Similarly, the Morton Public Library had volunteers who wanted their time volunteering to be social and didn't realize that their tasks would be solitary. Not surprisingly, the best volunteers the Morton Public Library has had are retired library staff because they already have understanding of the work environment.
These challenges can be eliminated by having a solid volunteer policy in place. Do you have a probation period? Have you set expectations of appropriate behavior and performance levels? What about volunteer dismissal? Volunteers bring varying work ethics to the job. Some view it as a time to socialize, while others are just trying to get the necessary hours to graduate or fulfill requirements. As one library puts it: "The biggest issue is when parents 'make' teens volunteer. I can tell right away they are being forced. Also, when they call on Wednesday and need 15 service hours done by Friday! Ouch!"
SOLUTIONS IN VOLUNTEER MANAGEMENT
Most libraries seem to have some sort of a volunteer policy or procedure in place that includes things such as training
points and orientation checklist. At the Mississippi Valley Library District, volunteers are subject to the same policies and procedures as library staff. The Gail Borden Public Library District's policy includes a waiver and release to allow those under 18 to volunteer to help with outreach programs. Along with a background check, the library also asks volunteers to sign a release for media consent. In addition, the library's volunteer application has a disclaimer on it for the expectations of a person as a Gail Borden volunteer. At each interview, volunteers are given a Volunteer Handbook which outlines policies, procedures and expectations. While issues with volunteers are rare, they shouldn't be ignored, especially if volunteers need extensive training, staff intervention and supervision to complete assignments. Volunteers bring different skill sets or lack of skills to the job. What may seem like simple tasks for one volunteer can be very difficult for others. Knowing your volunteers and having that personal connection with them is something volunteer coordinators seem to find helpful, in addition to having the ability to deal with a diverse range of people.
And there are also situations where volunteers feel they are better equipped than staff members to perform certain tasks, such as leading library programs, especially when the volunteer is a retired teacher, instructor, or professional in that area. In cases like this, a conversation is needed to remind volunteers of their boundaries. Libraries have also let volunteers go because of conflicts with staff members. To prevent from such issues, especially when a large body of volunteers is involved, at the Arlington Heights Memorial Library, each volunteer role has a staff member who oversees the day-to-day work of volunteers in that department. And what about volunteers who become staff members but want to continue in their volunteer roles? Make sure that there is a great enough difference in the duties of their paid and unpaid roles so there is no conflict.
WHY LIBRARIES NEED VOLUNTEERS
While the volunteer may come to the library to fill a specific need, like completing community service hours, the library also benefits from having volunteers. As multiple library staff note in the survey responses, volunteers allow libraries to expand their programs and offer more personalized service to those who attend. "Using the high school and middle school volunteers as program assistants allows staff to open program attendance to a greater number and participants seem to love the extra help and attention," explain Prospect Heights Public Library staff. Volunteers can also bring skills and experiences not present in current library employees. "Their experiences are priceless. Their time and talents seem endless when I call upon them," says another respondent from Gail Borden Public Library. Volunteers can also have a lasting effect on the library they serve and eventually become paid staff or have community connections that benefit the library in other ways, such as bringing awareness to services and programs. Volunteers often become passionate advocates who help libraries meet the needs of their communities by recognizing and offering advice on local issues or by helping staff identify the need of a new service. Volunteers also bring to libraries new perspectives, fresh ideas, and perhaps—most importantly—the unique opportunity for human collaboration and connection. "Learning and experiencing our volunteers' life story is a rewarding benefit," says a staff member at the Vernon Area Public Library. "As volunteers provide much needed assistance and lightening workloads, appreciative staff form and strengthen community bonds, library advocacy, and friendships."
FINAL THOUGHTS
Why do people seek out volunteer opportunities in their local library? For some, it's an opportunity to remain active or use their professional skills again after retirement. Others may see volunteering in libraries as a way to get involved in their community and help out with community events through library work, perhaps at a local festival. For some volunteers, helping with a specific program, like a computer class, can enhance their own skills. For younger volunteers, helping with certain tasks can give them a chance to become involved in a real-world work environment. It can also expose them in new ways to other people and ideas. For example, involve your teen volunteers with a technology program for seniors, or your older volunteers with a storytime program for toddlers.
Opening your library to volunteers is a rewarding experience for the library, its staff, the volunteers, and your community. Get to know them so you can assign them tasks that match their interests and skills. Create policies and set expectations to minimize problems. Most of all, let your volunteers know they are appreciated!
ACKNOWLEDGMENTS
The authors would like to thank staff members from the following libraries for taking the time to complete our survey and to share their experience and knowledge with us: Addison Public Library, Arlington Heights Memorial Library, Gail Borden Public Library District, Mississippi Valley Library District, Morton Public Library, New Lenox Public Library, O'Fallon Public Library, Park Ridge Public Library, Prospect Heights Public Library District, Round Lake Area Public Library and Vernon Area Public Library District.