October 2019 | XXXVII. Issue 5 »
Strengthening News Media Literacy in Libraries
September 27, 2019
Kendall Harvey, Illinois Library Association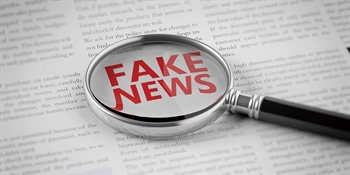 In August 2019, Illinois Prairie District Public Library in central Illinois began a partnership with an organization by the name of NewsGuard, a news literacy startup committed to combating "fake news." NewsGuard technology is being implemented on patron computers throughout all six of the library's branches.
The purpose of NewGuard is not to limit accessibility in any way, but to provide users with tools to assess the reliability of news websites, via a browser extension that can be installed on Chrome, Firefox, Edge, or Safari browsers on any computer. NewsGuard analysts—a team of trained and seasoned journalists with varying backgrounds—monitor news websites and produce "Nutrition Labels" for each site, which serve as reviews of the credibility and transparency of the news provider. The browser extension then makes these reviews available to computer users.
The Nutrition Labels are named as such because they address several different factors when analyzing news and information websites. Websites will receive what is essentially a "pass" or "fail" rating based on the following criteria:
• Does not repeatedly publish false content
• Gathers and presents information responsibly
• Regularly corrects or clarifies errors
• Handles the difference between news and opinion responsibly
• Avoids deceptive headlines
• Website discloses ownership and financing
• Clearly labels advertising
• Reveals who's in charge, including any possible conflicts of interest
• Provides information about content creators
The rating process is designed to be apolitical. Analysts award weighted points to each criterion and then add up the points. If the total score is less than 60, the website "fails," and earns a red flag, although it is not blocked. If the score is more than 60, the website "passes" and scores a green flag. These flag icons are displayed on the websites rated by NewsGuard, as well as in search results and social media feeds. Users are also able to read explanations of each rating.
Illinois Prairie District Public Library is the first library in Illinois to collaborate with NewsGuard. The library consists of six branches that serve eight townships in Woodford County; according to Director Joel Shoemaker, the partnership with NewsGuard will do "with online content what librarians have been doing with printed content since the invention of libraries—give readers the basic information they need about what they are about to read."
Other public libraries throughout the country have also been partnering with NewsGuard. Once such library is the Toledo Lucas County Public Library in Toledo, Ohio, which has been using NewsGuard's free browser extension since November of 2018. According to the library's digital strategist, Andy Lechlak, the library chose to collaborate with NewsGuard because "Libraries are a connector of people to information. We try to provide the best and most accurate information." Lechlak noted that the library had been emphasizing web literacy in its programming for two years, so adding the NewsGuard extension to its computer browsers was a natural step. The Hawai'i State Public Library System also teamed up with NewsGuard in late 2018. There are 51 branches within this library system, and the NewsGuard extension has been installed on more than 700 computers throughout all branches.
According to a Gallup study released in early 2019, NewsGuard has been effective in "countering false information, misinformation, and disinformation" with its ratings of news websites. In fact, 91% of those surveyed found NewsGuard Nutrition Labels helpful, and 83% of respondents said that they want social media sites and search engines to integrate NewsGuard ratings and reviews into their news feeds and search results. Macaela Bennett, NewsGuard's senior analyst and director of news literacy partnerships, confirms that NewsGuard also conducts its own feedback surveys among libraries with whom it has partnered. As of the most recent survey, 90% of library staff responded that NewsGuard helps them better understand news information websites, and 80% of library staff said that patrons better understand news information websites.
Bennett, herself a central Illinois native, emphasizes that NewsGuard is still a rather small start-up operation, which provides an advantage. "We strongly encourage our library partners to provide us with feedback, whether positive or negative—we want constructive criticism," she says. "Because we are a start-up with a small team, we're able to make changes and improvements quickly. Feedback from librarians about what their patrons find helpful is key."
NewsGuard was first launched in March 2018, as the brainchild of longtime journalists and media entrepreneurs Steven Brill and Gordon Crovitz. Brill is the founder of the monthly magazine The American Lawyer, as well as the cable channel Court TV. Crovitz is a former publisher of The Wall Street Journal and a current and former board member of several high-profile journalism companies and publishers, such as Houghton Mifflin Harcourt and Business Insider. In April 2019, NewsGuard expanded its ranking system to include major UK news websites. The browser extension also recently began providing informational ratings in German, Italian, and French. According  to Bennett, ratings in Spanish will be available in the near future. These upgrades could be particularly useful for libraries that serve diverse communities with multilingual patrons.
Despite its rapid growth and overall positive feedback from partner libraries, NewsGuard has faced some concerns from librarians and patrons as well. Bennett says the most commonly raised concern is that by using the NewsGuard browser extension, libraries are labeling content, and thus, not adhering to the American Library Association's Library Bill of Rights. However, according to ALA's Labeling and Rating Systems: An Interpretation of the Library Bill of Rights, "labels on library materials may be viewpoint-neutral directional aids designed to save the time of users, or they may be attempts to prejudice or discourage users or restrict their access to materials." NewsGuard representatives stand firmly by the notion that their labeling system falls under the former description, rather than the latter.
This stance is backed up by the ways in which the organization makes clear its dedication to transparency and credibility. On its official website, NewsGuard plainly and explicitly lays out its rating process and criteria, credentials and backgrounds of all staff and contributors, and descriptions of updates made to specific news providers' ratings. In addition to posting updates on its website, NewsGuard keeps all Nutrition Labels up to date. The website also includes details of past and upcoming library-centric conferences and events at which NewsGuard has been or will be present.
Overall, NewsGuard seems to be gaining traction within the library community, especially in an era during which libraries are increasingly prioritizing media and news literacy. Co-CEO Steven Brill has said that NewsGuard's goal goes hand-in-hand with the purpose of libraries: "Giving readers information about sources of information is what librarians have always seen as their mission. That's why these NewsGuard-library partnerships make so much sense and why they are now happening so quickly."
REFERENCES
Enis, Matt. "Toledo Lucas County Installs News Literacy Browser Extension." Library Journal. MSI Information Services, April 8, 2019. https://www.libraryjournal.com/?detailStory=toledo-lucas-county-installs-news-literacy-browser-extension.
Howell, Jason. "Local Library District Partnering to Provide News Literacy to Residents." 25 News Week.com. Week, August 6, 2019. https://week.com/news/2019/08/06/locallibrary-district-partnering-to-provide-news-literacy-to-residents/.
Li, Kenneth. "NewsGuard's 'Real News' Seal of Approval Helps Spark Change in Fake News Era." Reuters. Thomas Reuters Foundation, February 1, 2019. http://news.trust.org//item/20190201171329-7awqi/.
Molla, Rani. "It Will Take More than NewsGuard's Team of Journalists to Stop the Spread of Fake News." Vox. Vox Media, February 13, 2019. https://www.vox.com/2019/2/13/18220746/real-journalists-fake-news-newsguard.