August 2019 | Volume XXXVII. Issue 4 »
Readiness Roundup
July 29, 2019
Erica Hanke-Young and Kate Kite
SouthWest Advocates for Youth Services (SWAYS), a special interest group of the Illinois Heartland Library System, contributed this roundup of kindergarten readiness activities taking place in southern Illinois compiled by Erica Hanke-Young and Kate Kite of the Six Mile Regional Library System.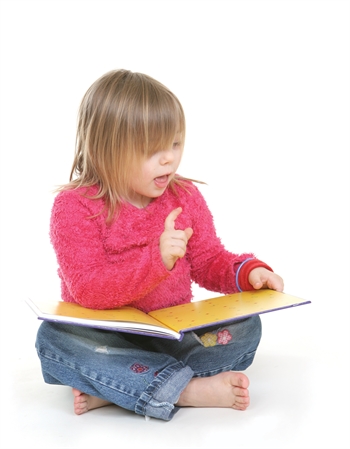 Cahokia Public Library shares their donated books with the HeadStart Early Childhood Center to help prepare the students for kindergarten. No budget is needed since the books are donations to the library. This program serves all children enrolled in the HeadStart program. A representative from the early childhood center comes to the library to pick out books. Picking out the best books for the students from a wide variety of donations is the biggest challenge. The biggest success is when the students graduate from the HeadStart center reading on a 3rd grade level. In the next school year, the library will go into the centers and set up story times with the different classrooms. Stay in contact with your local HeadStart Centers for tips on what they need.—Valerie White
Forsyth Public Library has an ongoing 1000 Books Before Kindergarten program. The budget for the program is approximately $25 per year. 239 kids have participated since the program started. Outreach is done through posts and pictures on social media of other children completing the program. The biggest challenge has been getting those who signed up to finish the program; more than 50 children did not complete the program before kindergarten. The biggest success is that 51 children have completed, and 188 are still working towards reading 1000 books. The library plans to continue the program in the future. The 1000 Books Before Kindergarten and the Demco websites offer great resources. Prizes are awarded for reading books in increments of 100: Each time a child reads 100 books, they bring in their log and get a sticker and their picture taken before we give them the next log; at 500 they get a 1000 Books Before Kindergarten tote bag; and when they complete the program they get their name in a book of their choice at the library. —Marissa White
Mississippi Valley Library District (MVLD) in Collinsville conducts several kindergarten readiness programs, all united in that they don't require a large budgetary outlay; successful outreach is conducted via in-house fliers, Facebook, and word-of-mouth; and the library plans to continue all of them. MVLD's 1000 Books Before Kindergarten program follows the typical format: Log 100 books at a time, when children reach 1000 we put the child's name on our LED sign, take their picture to go on our Facebook page, give them a bag with a book, and a local bakery, Kruta's, provides a free dozen donuts. We purchased bags, but the books are donated and Kruta's Bakery sponsors the donuts. We have had about 250 children signed up since we started about two years ago, and at least 150 have completed. It can seem inconvenient to update charts, take pictures of "completers," and that sort of thing, but it's not onerous at all. All the kids (and parents) who complete the program are big successes. We make a big deal when they turn in that final reading log. It's a great way to promote reading without major expense or time. Starting good reading habits with the very young helps so much with language development. As a former teacher I have seen too many kids with vocabulary gaps and how it hinders their learning. This program can be an incentive to some parents who wouldn't normally read to their kids.
MVLD also offers Preschool Storytime each Tuesday morning. We generally have anywhere from 5–18 or so. The biggest challenge is conflicts for families with work schedules and preschool. The biggest success is seeing the kids who return week after week and get excited about the stories. I'm always looking for ways to improve language development and to make the literature meaningful to them. It's very easy to do, so much fun, and not costly at all. 
MVLD also offers Baby Boogie, during which we read three very short, interactive stories sandwiched between fingerplays, songs, and a variety of movement. We usually have 10–15 children in attendance. The biggest challenge is keeping those little active minds and bodies engaged. The biggest success is when those little tiny ones who can barely talk know how to say your name and get excited about coming each week. I'm always looking for new songs and ways to engage them. It's a great way to begin teaching young children how to be in a group situation. We are informal, but try to set a certain standard of behavior. It's fun to see everyone enjoying all the kids and working to keep them engaged. Although when I began I was apprehensive about doing this, it's become my favorite program of the week. I love the kids who participate, and enjoy seeing how some of the adults form friendships with others in the group. —Ginny York
Louis Latzer Memorial Public Library in Highland has three storytimes during the week, hosts a Paws for Reading program, offers TumbleBooks (online, interactive versions of existing picture books) to their patrons, runs a 1000 Books Before Kindergarten program, and offers volunteer tutoring. The budget is based solely on donations. Outreach is done through Facebook, calendars with events, and flyers given out at community events. The biggest challenge is accommodating a range of abilities and behaviors of the participants. The biggest success is having approximately 30 people participate each week.—Josie Elliot
Six Mile Regional Library District (SMRLD) in Granite City offers an ongoing 1000 Books Before Kindergarten Program. Parents are encouraged to read with their children; for every 100 books read, the child gets a special sticker and their name placed on a display in the library. At the halfway point, 500 books, the child receives a book and when they finish the program they receive a backpack. The budget is minimal, just for display materials and prizes. Currently 59 children are registered for the program. SMRLD has a quarterly brochure that goes out to our schools, HeadStart, housing authority, and other businesses and organizations. We do outreach at various community events such as the Melting Pot Market and TWIGS barbeque. We also market through fliers and social media. 1000 Books Before Kindergarten is a new initiative, started in December 2018. Our biggest success is that we should have our first finisher soon. One participant has reached 800 books. We plan to keep this program going well into the future. My pro tip would be just do it. This is an easy program to start and maintain.
SMRLD also does monthly storytimes for both our local HeadStarts. HeadStart classes either walk to the library or a youth services staff member visits the HeadStart locations. We read stories and sing songs with each class and we bring coloring sheets for the students. This doesn't require a budget, just staff time. We saw approximately 250 HeadStart students last school year. The biggest challenge is finding the staff time to travel and do the storytimes at the HeadStart locations. The biggest success is when the children are excited about the library and make their parents bring them there. We plan to keep doing this as long as HeadStart lets us. It takes some scheduling but it is worth it.—Erica Hanke-Young