June 2019 | Volume XXXVII. Issue 3 »
Exhibits for All: Fostering a Creative Culture for Community Growth
May 30, 2019
Carol Ng-He, Arlington Heights Memorial Library
As the public library shifts from its traditional role of book repository to a dynamic community hub, learning happens more kinetically and interactively. Exhibits have become increasingly popular among many public libraries as a way to engage visitors of all ages and backgrounds. More libraries are embracing exhibits as a conduit to facilitate dialogue and raising awareness of various topics. Exhibits can be small in scale, low budget, made in-house; they can also be library-wide, of museum quality, or be rented or borrowed from other institutions. Some of them are as simple as information panels while others are hands-on and immersive. Regardless of the size and form, developing and hosting exhibits in a public library is exciting and at times challenging due to the numerous practical and logistical considerations. Nonetheless, the value of presenting exhibits for the community far outweighs those concerns.
What are the benefits of having exhibits in public libraries? What are the challenges and how can they be overcome? How can we measure an exhibit's impacts? In light of the "makerspace" phenomenon, what role do exhibits play in the public library?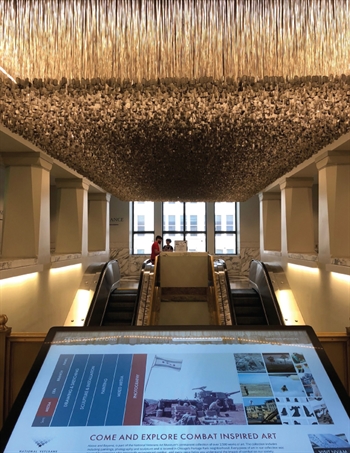 EXAMPLES OF EXHIBITS IN PUBLIC LIBRARIES
Exhibits can be found in urban and rural public libraries in Illinois. Some are aesthetically driven while others encourage participation. Libraries collaborate with local and national organizations in delivering exhibits that commemorate and celebrate specific causes. For example, Harold Washington Library Center of the Chicago Public Library in downtown Chicago has the Above and Beyond art installation in collaboration with the National Veterans Art Museum. This is a four-year exhibit running from 2016 to 2020 that features over 58,000 hand-stamped replicated dog tags representing U.S. soldiers who lost their lives in the Vietnam War. The exhibit includes an interactive kiosk where visitors can look up veterans' names and find the location of their hanging dog tags.
The public library in Orland Park, a suburb on Chicago's southwest side, hosted The Shuttle Legacy to salute NASA's Space Shuttle program through displays of artifacts, touchable hardware, space suit parts, models, and videos. At Gail Borden Public Library in Elgin, Extreme Deep: Mission to the Abyss in 2018 took over the main floor lobby area and part of their KidSpace to bring the ocean floor to life through a great mix of stimulating elements such as full-scale models, a puzzle, real footage from the ocean floor, and even a green screen for photo-taking.
Carbondale Public Library and Chester Public Library of southern Illinois brought in The Crossroads: Change in Rural America, a traveling exhibit from the Smithsonian Institution and Illinois Humanities, to connect the community with history and provide a look at the uniqueness of America's rural life over the past century.
The Hayner Public Library District's Genealogy and Local History Library in Alton holds local, state, and national research collections as well as nine museum displays featuring the art and history of Alton, Godfrey, and Foster Township. Several important artifacts, including a portion of abolitionist newspaper editor Elijah P. Lovejoy's printing press, are on permanent display.
One of the earliest exhibits at Arlington Heights Memorial Library was Origins: The Dawn of Dinosaurs  in 2011. Created by Project Exploration, this interactive exhibit showed the life of two earliest dinosaurs through life-size models, replica skeletons, expedition equipment, original fossil wood and volcanic ash, hands-on activities, and video. In recent years, the library has hosted more traveling exhibits such as Once Upon a Time: Exploring the World of Fairy Tales  from The Magic House, XOXO: An Exhibit About Love and Forgiveness from the Children's Museum of Pittsburgh, Bravo! Chris Raschka from the National Center for Children's Illustrated Literature, and Chagall for Children  from Kohl Children's Museum. The library also developed two homegrown exhibits for its annual One Book One Village initiative, including Building da Vinci for The Geography of Genius: A Search for the World's Most Creative Places from Ancient Athens to Silicon Valley,  by Eric Weiner, and #beinthecircle for The Circle by Dave Eggers. While most exhibits targeted children and families, adults enjoyed them just as much.
THE VALUE OF EXHIBITS
Each of these exhibits was unique in scale and the level of interactivity. Three main benefits of presenting a variety of exhibits in a library include:
1) Free and unlimited access. General admission to nearby children's museums ranges from $12 to $15 per person. At the library, the economic barrier to a museum-quality exhibit experience is completely removed. There is no limit to the number and the length of visits to the exhibit for anyone.
2) Community resonance. Exhibits can engage the community's interests. They offer collaboration opportunities, such as Arlington Heights' partnership with a local food pantry for a food drive during the XOXO exhibit.
3) Expanding collections. Libraries can curate special book displays for youth and adults to go with each exhibit's theme. New items acquired to enhance and extend patrons' learning experiences remain in the library beyond the exhibit time.
There are other intangible values of exhibits for library visitors and the community. Similar to museums, library exhibits also have the potential to "provide memorable, immersive learning experiences, provoke imagination, introduce unknown worlds and subject matter, and offer unique environments for quality time with family," as Rebecca Gross notes in her National Endowment for the Arts' Art Works blog post "The Importance of Taking Children to Museums" (June 20, 2014). The power of exhibits in the library cannot be underestimated.
OPPORTUNITIES PRESENTED
Exhibits are wonderful incentives for schools to repeat library visits. We guide teachers in matching exhibits with the national learning standards. Schoolchildren can enjoy an enriching learning experience in their own "backyard" while at the same time learning about using library resources.
Programming plays a huge role in exhibit planning. Exhibits provide a powerful springboard for programming for people of different needs. For instance, in Arlington Heights Sensory-Friendly Exhibit Hours were designed especially for those on the autism spectrum and with sensory processing disorders. In both Once Upon a Time and Chagall for Children exhibits, additional art-making stations offered even the youngest visitors and their caregivers opportunities to create art together to take home. To promote exhibits is to promote the library and its services.
Each exhibit provides a marketing platform for sharing the library's varied resources. Through press coverage, community blogs, and social media mentions libraries can reach out to households and attract visits that might not occur otherwise.
Involving staff in the exhibit logistics planning has been highly instrumental in ensuring pleasant exhibit experiences for everyone. Staff from across the library—such as youth services, marketing, and circulation—gather to review proposals, discuss concerns, and brainstorm solutions. Such collaboration boosts morale and promotes positive work synergy.
Library exhibits cannot be done successfully without the help of volunteers. They are important contributors to the exhibit experience. The roles span from facilitating art activities companied in the exhibit, maintaining exhibit tidiness, to collecting evaluation data. In return, these volunteers gain workplace and specific job skills while building their social network.
ASSESSING IMPACTS
Arlington Heights Public Library applied several methods to gauge exhibit impacts, including direct observation, onsite survey, and door count. Staff focused on gathering data about visitor demographics, dwell time, visit purpose, and overall experience satisfaction level. Analyzing visitors' dwell time specifically yields a sense of their interest level in the exhibit—the longer the stay, the more interested. Visitors are encouraged to leave comments about their takeaways from the exhibit at our customized survey kiosk. Library staff continues to experiment with approaches to assessing tangible and intangible impacts, namely any change of attitudes or behaviors moving forward.
CHALLENGES AND CONSIDERATIONS
Public libraries may face challenges in multiple facets. The first is physical: Libraries such as the one in Arlington Heights were not necessarily built with exhibit hosting in their original plans. Therefore, careful considerations need to be made regarding the dimensions and specifications of the loading dock, doorways, and placement of exhibit elements. The second is the impact on the library's daily service operation and customers. The timing of installation and de-installation is also important to avoid disruption and preserve public safety. Ideally it could be done outside of the library's opening hours. Consistent and advance messaging to staff and patrons would be a preventive measure.
FUTURE OUTLOOK
Exhibits in public libraries may not be new to many librarians but the practices of developing, designing, and packaging exhibit experiences for customers could still be further documented and studied. To make the exhibit experience work effectively, museums could be a source of learning as we share goals in serving community, celebrating diversity, and promoting accessibility. Existing museum research on visitor studies, exhibit curation, educational programming, and evaluation could bring insights and help build up the field.
On a smaller scale, homegrown exhibits could be a fun way to engage community. Different types of exhibits such as community curated ones or digital ones can shed light on stories generated from the community. Unlike traveling exhibits, which are pre-packed and often last for only a short time, homegrown exhibits might allow for longer display time, could become part of the library's collections, and make a lasting legacy of the stories told. Exhibits create a nurturing environment and cultivate a culture that brings community together, inspires collaboration, and enriches lives. With these valuable benefits they are something worth investing in.
The American Library Association's Public Programs Office


ALA's Public Programs Office is a good place to start for libraries interested in hosting traveling exhibitions. From its website at www.ala.org/tools/programming/exhibitions: "In communities of all sizes, traveling exhibitions are special events that help identify libraries as important cultural centers. Libraries hosting traveling exhibitions present many related public programs, including lectures by scholars, panel discussions, book and film discussion series, school and college class tours and curriculum activities, essay contests, and concerts. The ALA Public Programs Office coordinates traveling exhibitions for libraries across the country." Recent exhibition topics have included "Exploring Human Origins," "Thinking Money" and "Thinking Money for Kids," "Changing America, " and more. To be informed about upcoming Public Programs Office exhibition and grant opportunities, sign up for ALA's Programming Librarian e-newsletter at programminglibrarian.org/newsletter.