April 2019 | Volume XXXVII. Issue 2 »
Partners in Technology: Growing Technology Skills and Creating Learners of the Future
March 25, 2019
Lyndsey Carney and Danny Rice, Normal Public Library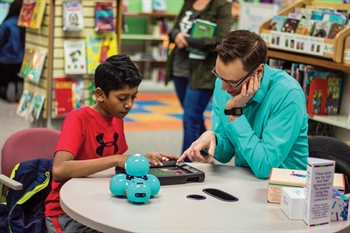 At the Normal Public Library you are sure to hear small voices reading and playing, but you might also see robots zooming across pathways, DIY computer and tablet kits being built, or kids who are experiencing new lands through virtual reality. These are the tell tale signs that our technology mentor program Partners in Technology is in full swing. This new, innovative program enables our public (and even our staff members) to reevaluate the role public libraries play as a bridge connecting children and teens with cutting edge technological resources.
Our library has been fortunate enough to be able to offer a bevy of successful technology programs in the past, from classroom-style drop-in programs to larger hands-on events, but our patrons wanted more. More technology resources, more classes led by tech professionals, more robust programming that covers a wide array of tech fields and keeps pace with the ever-changing landscape of modern devices. In response to this desire we submitted a grant proposal to join the American Library Association (ALA) and Google in their Libraries Ready to Code initiative. Through a lengthy submission process we were accepted as one of thirty libraries nationwide that would start programs, create content, develop strategies, and collaborate with other libraries, professionals, and educators to devise recurring programs that lay a strong technological foundation on which young minds can build.
As a jumping off point our library was awarded a $25,000 grant to develop a program or programs that would highlight computer science and computational thinking skills. Modeled after an established NPL reading program, Partners in Reading, we decided to start Partners in Technology. The Partners in Technology program pairs children and teens wishing to learn computer science and computational thinking concepts with local technology professionals, hobbyists, and college students studying in technology fields. Pairs meet for 60 minutes each week over an 8-week season and work on projects that marry the child's interest and the mentor's expertise. Our pilot season in January 2018 was conducted with 14 pairs of technology professionals and students, but has since grown with our current season consisting of 25 pairs.
In the past, we have provided technology programming for the beginner user, but now we have a program specifically designed to help children and teens reach beyond the basics and see themselves as programmers and designers of future technologies. As a bonus, since this program takes place at the library and is free to all participants it encourages access and sparks imagination in all children, no matter their economic situation. Children and teens then get to take their projects a step further with one-on-one expert instruction and ample time to experiment with the technology of their choice. These recurring learning experiences have already created computational learners and creators, as well as social connections that will last beyond the end of the program and benefit both student and mentor for years to come.
I mention the mentors in this context because we heard from the majority of our adult mentors that they learned as much as the students did. By design, this program invites mentors to view tech resources through their partners' eyes and approach them as new learners themselves. We also learned that many of our mentors had never visited our library before, and that they were surprised to find a public library with "such a twenty-first century approach" to tech literacy. Our mentors were clearly positively impacted by the Partners in Technology pilot program, as many of them returned in January 2019 for our current season.
There have been challenges, including small numbers of mentor registration, having more children interested than mentors available, and mentors that were confused about how to get started. However, our team of librarians has risen to meet these different challenges through collaborating, brainstorming, and thinking outside the proverbial box. One such change was the choice to allow college students to become mentors instead of limiting participation solely to tech professionals. This not only saw a significant rise in mentor registration, but also gives children and teens real-life examples of the people who are studying fields that they may have not considered or even heard of until that point. When one mentor explained that they were studying cybersecurity, their partner responded, "I didn't even know you could do that!"
We also heard from a few mentors that they felt stuck after a few weeks with their partner. To combat this, we have developed some example learning tracts for teams to explore. These are available online and provide resources to free or open-source programs that allow students to track their progress from week to week. These learning tracts are used as a starting place for our mentors, who will then provide context or give real-world examples of how this lesson can be applied in a broader sense. Our ultimate goal is to provide a program that is continually evolving and growing to meet the needs of our participants.
The Libraries Ready to Code project and the Partners in Technology program allowed us to re-think our role as a technology resource, provided a way for us to meet a desire of our community, helped us reach out to professionals in our community, and gave us a sustainably growing program. Participating in the Libraries Ready to Code project and developing the Partners in Technology program has gifted our community with technology resources, access, and a mentorship program that is truly unique. Partners in Technology will continue to grow, creating lasting relationships and technology professionals of the future. And, just maybe, create a new generation of library users who are not surprised that their local library has modern, innovative resources.