April 2018 | Volume XXXVI. Issue 2 »
Two New Legislative Meet-Up Locations in 2018
March 26, 2018
Illinois Library Association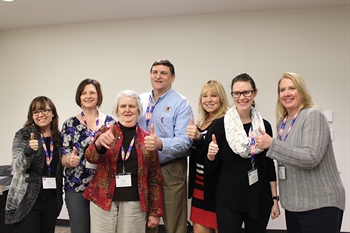 Two new locations for library supporters and legislators to "meet up" were added this year; one representing a newly served region and the other a new location in a region added in 2017: Galesburg in Western Illinois and Effingham in Southern Illinois, respectively. Both events were held at the local public library, which enables legislators to see firsthand the environment in which we deliver services to their constituents. The new region—Western Illinois—joined the seven other locations from previous years: Buffalo Grove in the North Suburbs, Edwardsville in Metro East, Bloomington-Normal in Central Illinois, Oak Brook in the West Suburbs, Chicago, and Tinley Park in the South Suburbs.
The Galesburg event was well-received, with Galesburg Public Library Director Jane Easterly noting, "People often feel western Illinois is the forgotten part of the state, so I think it's fabulous that this year we have one of these lunches out here." Easterly worked with volunteers from Knox College and Carl Sandburg College—Jeff Douglas and Amy Caulkins, respectively—to help host the event and recruit participating legislators.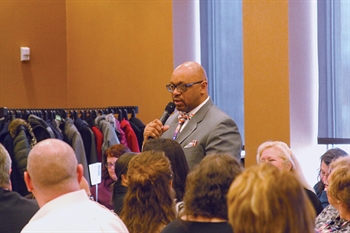 Another first: The meet-up at the Tinley Park Public Library was broadcast via Facebook Live, an enhancement made possible by Advocacy Committee Co-Chair Denise Raleigh and her staff from the Gail Borden Public Library.
At each of the meet-ups, proposed property tax freezes were the highlight issue on the state level, along with general opposition to unfunded mandates and support for two state bills, both dealing with how libraries manage their finances. The first would allow parity among libraries organized under the Illinois Local Library Act with district libraries in terms of flexibility to redirect budgeted funds between line-items midway through a fiscal year; the second preserves the prerogative of local units of government, including libraries, to use their preferred method of accounting when preparing audit statements. On the federal level, legislative priorities include support for reauthorization and full funding of the Institute of Museum and Library Services and its Library Services and Technology Act; support for a Resolution of Disapproval under the Congressional Review Act for the FCC's repeal of net neutrality rules; support for the Fair Access to Scientific and Technological Research Act (FASTR), which would require federal grant funded research results to be published online and made available free of charge; and opposition to elimination or reduction of the Public Service Loan Forgiveness Program.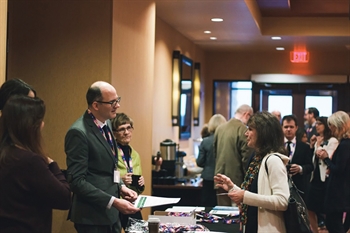 The 2018 meet-ups series was characterized by a slight decline in attendee participation over 2017, but a sizable increase in legislator participation, which remains high with a majority of legislators appearing in person rather than sending staff. In all, 476 people attended the events compared to 530 in 2017, representing a 10 percent decrease but still higher than the 418 who attended in 2016. Legislator participation totaled 48 in 2017 and 65 in 2018, a 35 percent increase. Participation patterns may be due to attendees' extreme concern about the state of Illinois's budget in 2017, and legislators' interest in connecting with constituents in an election year in 2018. Thanks to all who attended, and special thanks to the area library volunteers who work so hard to make these worthwhile events happen. We look forward to seeing results from deepening our relationships and connections to each other.