April 2017 | Volume XXXV. Issue 2 »
Podcasting: Everybody's Doing It!
March 23, 2017
Eric Edwards, Illinois State Library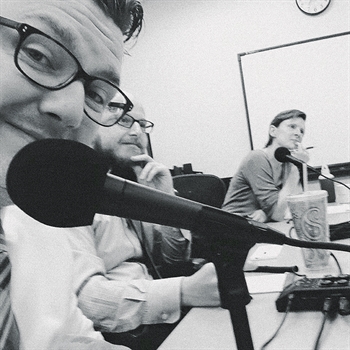 Podcasting is not a new technology by today's standards of course, and it has a lengthy history in academic libraries. According to Max Anderson, University of Illinois College of Medicine, the term "podcast" was originally used to refer to lecture recordings, and there were two separate terms, one for audio (podcast) and another for video (vodcast). Today the term includes a wide range of digital files that can be downloaded from the web to a variety of devices.
The technology has improved significantly over the last decade, particularly in terms of sound quality. But a podcast is much more than just the finished product. From deciding to create one in the first place, to using it as an opportunity to promote a library's resources and programs, to managing the "behind-the-scenes" work necessary to make it an interesting and enjoyable listening experience, what are the best strategies?
WHY PODCAST?
For academic librarians, podcasting offers a method of reaching students outside the classroom setting. Zaray Buenrostro, Career Education Corporation, is in the early stages of producing a podcast series. She learned from students that, while they found the instructional sessions useful, the hour-long format took up too much of their time. Podcasting enables librarians to distribute the information in more "bite-sized" chunks, to which students can listen at their convenience.
Podcasting can also be a way for a library to inform members of the campus community about programs and events taking place both inside and outside of the library. This can be especially effective at a non-residential college, with many students not spending much time on campus outside of class. The length and format of a podcast also give guests an opportunity to discuss their work in greater detail than would be possible through a newsletter, for example.
Additionally, podcasting can be an opportunity to engage fellow librarians in professional development discussions. Jennifer Lau-Bond and Martinique Hallerduff, both of Harper College, noticed that the number of podcasts produced specifically for librarians was relatively small. Their program, The Library Sessions, gives academic librarians another opportunity to exchange advice or ideas on professional development topics outside of conferences or other face-to-face encounters.
TIMELY TOPICS, PERSONAL INTERESTS
A topic might focus on a particular event or theme, such as
a February episode on Black History Month. If a library is hosting a speaker or exhibit, the podcast can be an effective way of promoting events or providing follow-up information and perspectives for people unable to attend. David Bell at Eastern Illinois University helped created a podcast version of Frankenstein for an exhibit titled "Frankenstein: Penetrating the Secrets of Nature," and it was also a tie-in for the library's "One Book, One Campus" program. In many instances, however, the topic can simply be anything that might be of interest to listeners, such as a current trend in a particular field.
For librarians starting a podcast not directly related to their professional position, the possibilities are virtually endless. Lynne Thomas, Northern Illinois University, has hosted several award-winning science-fiction podcasts based on her personal interest, knowledge, and enthusiasm for the subject. Even though there were already many science-fiction podcasts available, she and the other members of her podcasting team found their niche. Thomas discovered, for example, that there were few Doctor Who-related podcasts featuring any women (and none featuring all women), so they stepped in to fill the gap. Since that time, the number of Doctor Who podcasts hosted partly, or entirely, by women has increased significantly.
In coming up with topics, keep the subject matter fresh and seek feedback from listeners. If the podcast is designed for students, ask them ahead of time what topics would interest them most, particularly those directly related to academic success. One of the advantages of a team production is that members can bounce ideas off each other and provide alternate perspectives on a particular topic.
IT TAKES TIME…AND TEAMWORK
The time commitment to produce a podcast can often end up being more than initially expected, especially
taking into account all the stages of the production process. For Lydia Howes and Karli White, both at Southern Illinois University Medical Library, producing a fifteen-to-twenty-minute episode of their podcast, Sound & Query, takes between five and ten hours. This includes researching a topic, coming up with questions, preparing guests, actual recording time, and then editing it. That time frame does not include additional "behind-the-scenes" work, such as selecting topics, finding guests, taking photos and recording documentation during production, and uploading the finished product to the website.
Having enough staff to produce a podcast is crucial for long-term viability. In particular, technical support is critical for dealing with equipment breakdowns and installing updates. A liaison with the campus IT department brings needed expertise and support into podcasting production, while also removing some of the burden from library staff. Another benefit of having a podcasting "team" is that members can step in for each other if someone is unable to complete a specific task.
BIGGER AND BETTER BAG OF TRICKS
In addition to highlighting campus events, a podcast can promote a library's resources, particularly if the recording studio is on-site and is available for students to use. If a library does not already offer podcasting support for courses, adding the technology gives the library an opportunity to both expand services to students and collaborate with faculty. Spencer Brayton, Blackburn College, notes that faculty needed to use the technology in their courses, particularly media and journalism classes, and asked the library for assistance. In addition to improving students' information literacy and technology skills, podcasting support can also make a library seem more "exciting" for today's students. A "students-only" podcast is another way to engage students, while providing necessary technical support.
If a library is adding podcasting resources as part of a larger renovation, that presents an opportunity to promote podcasting and the library-wide improvements at the same time. Scott Walter, DePaul University, notes that a renovation project at his library will include major improvements to technology for media content creation, including podcasting support.
ADVICE AND COUNSEL
If this is your first experience with podcasting, listen to existing podcasts and make a note of what you liked and disliked about them. Better yet, talk to an experienced podcaster directly, if you can. Find out what triumphs or setbacks that person has experienced. As far as the technical aspects of producing a podcast, do your research beforehand and become as familiar as possible with the equipment you will use and the technical jargon that will arise, and if possible, take a workshop or online training course.
As you start producing and releasing episodes, seek feedback from listeners. Make certain that the sound quality is good and you are speaking clearly. No matter how engaging the content might be, that won't mean anything to listeners if they can't make out what you are saying. Keeping the podcast reasonably short is another good idea. In today's world, people have more hectic schedules, and attention spans are not as long. To engage the listener, make the person feel as if she or he is actually part of the conversation, instead of merely hearing a lecture.
No matter how outstanding the podcast, few people may actually bother listening to it unless the library spreads the word. Troy Swanson, Moraine Valley Community College, whose library has hosted a podcast since 2006, distributes it through a number of media. These include not just the library's website, but also YouTube, iTunes, and Stitcher. In addition, the podcast is cataloged in OPAC and preserved in the college archives, so future listeners will have access to current and past episodes.
There is no "right" way to design or produce a podcast. It often depends on personal experiences and the intended audience, in addition to the broader needs of the library or the institution. Even for experienced podcasters, experimentation is sometimes necessary, particularly as new technology becomes available. The podcasting journey is always a learning experience, and taking chances or experiencing setbacks comes with the territory.
[In addition to the individuals mentioned in this article, special thanks to Evelyn Cunico, independent information specialist and writer on consumer health, for providing background resources and recommending several experienced podcasters to contact.]